Establishing an online presence has become a mandate for any growing business or individual looking to get their message to a wide audience.
Social Media services like Facebook, Twitter, Instagram, are all useful tools to help you get started, however, to help you stand out, you'll need your own customized website… a website that can help your audience better understand your mission statement.
The process of creating a professional website, for business or even for personal use, has drastically changed over the last few decades… in the past, you'd need to have knowledge of complicated coding and a lot of time on your hands.
Today, there are more than 50 different website builders that simplify the process so that anyone can understand how to create and publish their website.
With all the different website builders on the market, you might wonder, what are the best website builders to use?
You can certainly design a website using a free website builder but, in all honesty, most free builders will pale in comparison to some of their paid counterparts. Most paid website builders include phenomenal 24/7 support and a number of other features that can be of value.
Picking the right website builder for yourself can be a tough decision. To help you make an informed and easy decision, here are the top 10 website builders.
Wix.com is one of the oldest and well-renowned website builders on the market. Founded in 2006, Wix.com has grown to have more than 150 million users and developed itself into the leading website builder.
To get a detailed overview of Wix, read out Wix review as well.
The Wix web builder comes equipped with more than 700 unique themes and templates, that can be a perfect match for your business or personal website. Wix has about every template imaginable for any industry; restaurants, construction, personal blogs, travel, photography, online stores… the list is almost endless!
The user-interface of the builder, for customizing the details on your site, is easy to use and understand. Using drag-and-drop interactions, you can easily organize information on your website. Wix has a library of more than 100 different fonts and thousands of stock images at your disposal.

One of the features that truly stands out with Wix is the Artificial Design Intelligence (ADI). The ADI feature is an artificial intelligence that will create the website to suit any of your needs. The AI will guide you step-by-step, asking a couple of questions, and completely design a unique website with ease.
Wix also features mobile editing. Using an iOS or Android device, you'll be able to modify your website from anywhere. This is perfect for anyone that's on-the-go and still needs to maintain their website.
Wix offers a variety of plans, including a free version that anyone can use. Whatever package you select, your data will be hosted on Wix and they provide free SSL security, ensuring your soon-to-be website is safe and secure.
The free version is rather limited in terms of hosting… only allowing for 500mb of bandwidth & storage usage, provides an "assigned" URL for your domain name (ex: username.wixsite.com/yoursite), and Wix will include their own ads on your website.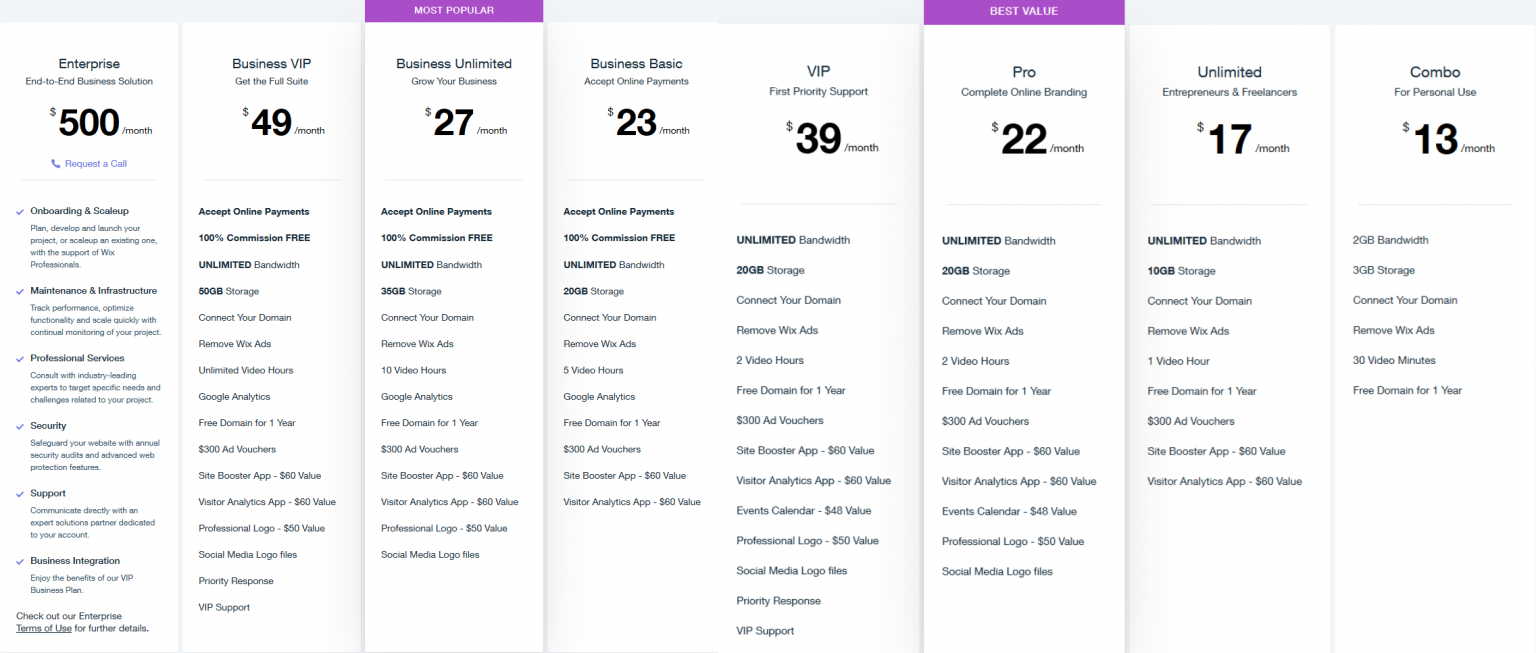 The Premium plans, starting at $13/mo… include a 14-day free trial, 30-day money-back guarantee, removal of Wix advertisements, and a free domain name for a year.
Another major contender in the website building market. SquareSpace has been around for more than 15 years, providing more than 2 million customers, with a stunning interface and a number of tools to help create their webpages.
Make sure to read our detailed Squarespace review, to find out more about Squarespace.
Designed to be all-inclusive, SquareSpace brings all of the tools you could ever need into one platform.
The SquareSpace web builder interface is perhaps the best looking out of any web builder I've seen… although, it might not be the most intuitive for newcomers to web design.
While you can easily select, one of the hundreds, of professionally crafted templates… many of the elements and mechanics to edit the page are difficult to use and not as easy to comprehend as its competitors. Overall, the web designing experience with SquareSpace can feel a bit restrictive.
Luckily, SquareSpace has a 24/7 live support team, a huge knowledge base of tutorials and a community forum to help get over any learning curve.
Another pretty big disadvantage is the lack of support for integrating third-party apps and extensions. SquareSpace does allow for the implementation of apps and extensions however, unlike Weebly and other web builders, it is not as simple as a drag-and-drop.
SquareSpace has four different plan options, all available with 14-day free trials. Their pricing is a bit more on the expensive end compared to many of their competitors… there is also no free plan available either.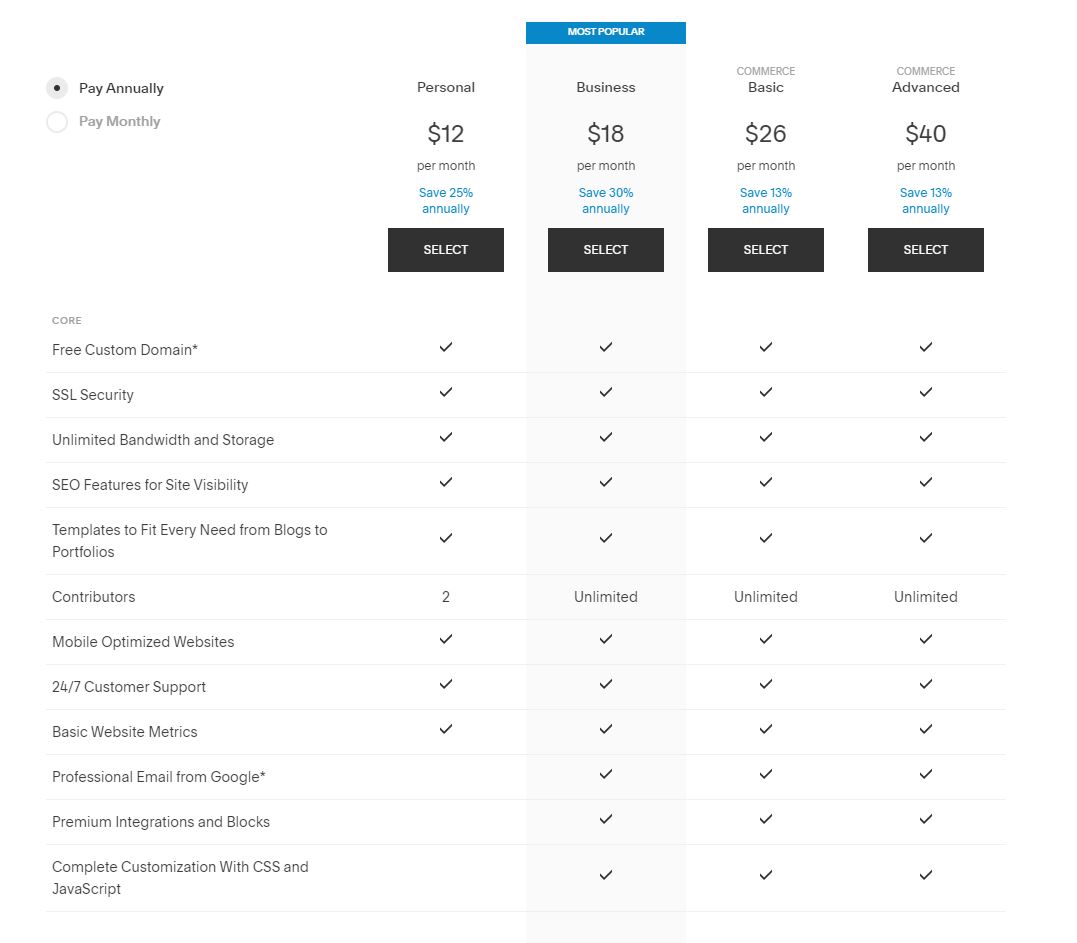 Paying annually, their most basic plan is $12/mo scaling up to $40/mo.
All SquareSpace's plans include Unlimited bandwidth, pages, blogs, storage, SSL security, and a free custom domain name.
Weebly is an outstanding and free website builder that's perfect for beginners. Probably the most popular website builder, with more than 25 million unique visitors per month and hosting more than 30 million websites… Weebly provides the easiest, most flexible, and seamless, web designing experiences on the market.
To get detailed information about Weebly, be sure to read our Weebly review.
Much like Wix, Weebly's web builder supports an easy to understand, drag-and-drop interface, that will allow you to create unique websites and online stores. While their selection of templates leaves much to be desired, their library contains more than 70 professionally designed templates.
What sets Weebly apart from the others is, everything you could possibly need is provided in this one platform.

Weebly includes their Search Engine Optimization (SEO) tools, for free, to make it easier to get traffic from search engines.
The best part about Weebly, that helps this web builder stand out from its competitors, they offer a built-in "App Centre." The App Centre allows more than 250 third-party integrations and marketing apps that can be added to your webpage. If there's a feature missing from Weebly's built-in interface, you can likely find an alternative on their App Centre.
Weebly has three premium packages, a free version, and all packages include a free SSL certificate for security.
The free version is suitable if you're just testing the waters.
Being a free package also means being pretty limited in hosting options. Weebly will provide an "assigned" URL for your domain name, automatically install their own ads on your website, and only allows for 500mb of online storage… however, they do provide unlimited bandwidth which can help with growing traffic.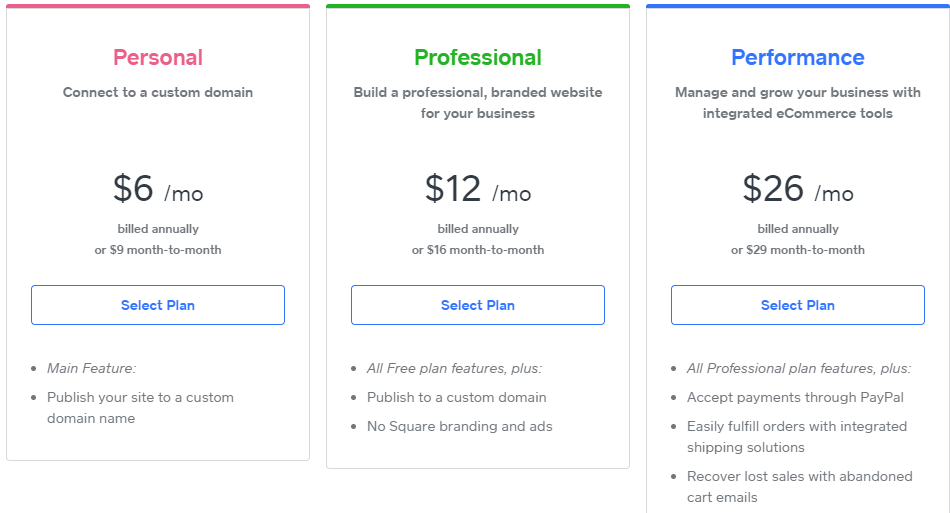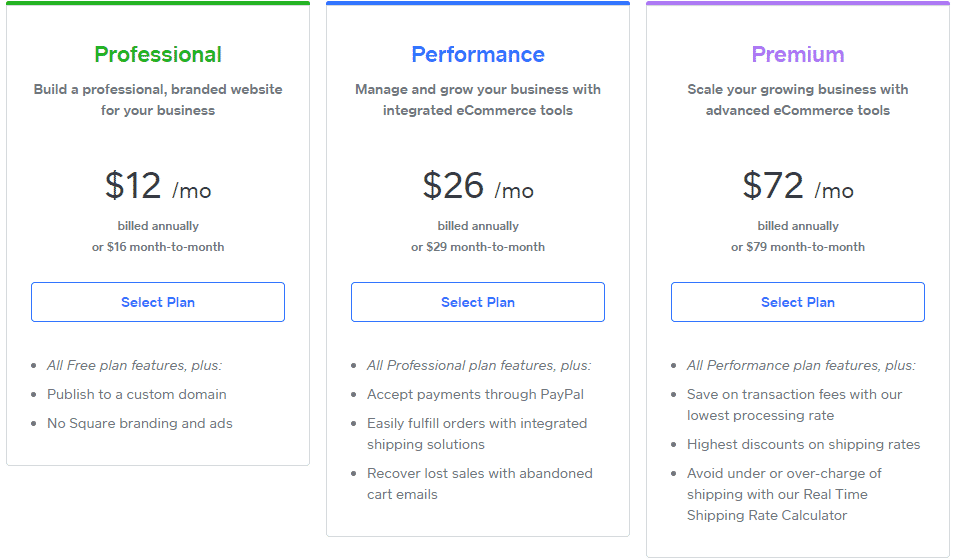 Their premium plans start at $8/mo… All of which include a 14-day free trial, 30-day money-back guarantee, removal of ads (with the exception of the basic package), and a free domain name for 1 year.
Webnode is another great free and easy to use website builder. With more than 20 million registered users across the globe, Webnode supports more than 20 different languages and allows for multilingual websites. In addition, they provide multiple web building solutions for business, personal and eCommerce websites.
Webnode targeted and marketed its services towards beginners in web design.
It's a simple, easy to learn drag-and-drop website builder. Webnode has a library of about 60 different templates… although it's not an extensive library to choose from, they do offer a wonderful blog feature to keep things simple. Creating blog posts is great in conjunction with Webnode's built-in SEO tools.

Another one of Webnode's great strengths is its multilingual website support. Webnode is available in more than 20 different languages, you'll be able to create a website that caters to any of them.
Given Webnode was aimed at beginners, there's currently no way to modify any of the HTML/CSS sheets on a template. This means you're stuck using the proprietary editing tools Webnode provides.
Unfortunately, Webnode doesn't support any third-party integrations for their builder either, which can be a huge disadvantage and further limits usability.
Webnode has 4 different premium plans and a free version.
Like with most other free web builders, the free version, you're limited to using an assigned domain name, limited bandwidth, storage, and your created webpages will display an intrusive Webnode ad.

Premium plans range from $3.95/mo up to $19.95/mo. While this pricing is on the low-end many of the features such as bandwidth, storage, email addresses and such, are limited to every plan… they also do not include any 24/7 live support
The only package that will provide unlimited bandwidth is the top-dollar plan, and unfortunately, this does not include unlimited storage.
Strikingly is one of the newest web builders to hit the market. It's an extremely basic editor and probably the easiest for a beginner to use. Within minutes, you can have a professional-looking website published and running. This web builder is ideal for personal, small business or even blog.
Strikingly takes a unique approach to designing a web page. It utilizes a scrolling single-page format with multiple content sections for your audience to navigate through.
Much like other web builders, it uses drag-and-drop functionality to help to modify content your page. It features a hefty list of brilliantly designed templates to choose from.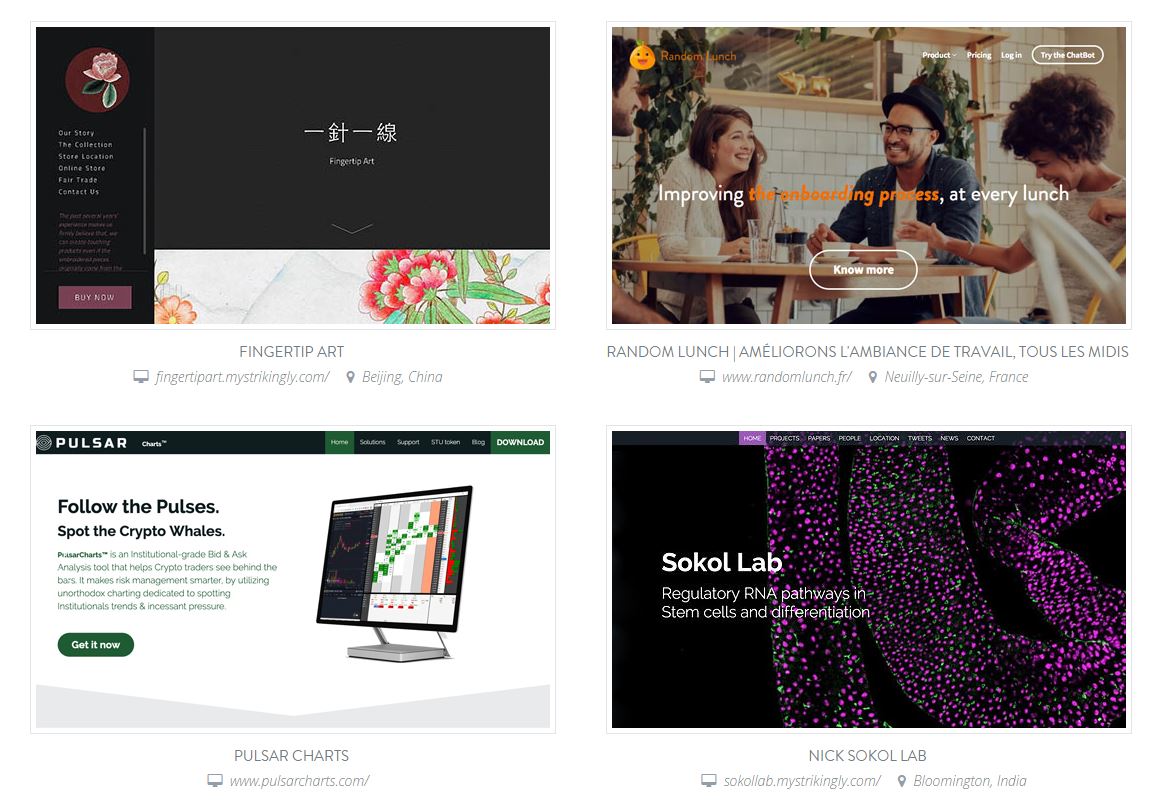 It's important to keep in mind, Strikingly was designed to be quick, easy to set up and visually appealing. Due to this idealism, designing a page can feel rather limiting in its customization.
Strikingly has three different premium plans and a free version. All of the plans have a 14-day free trial, so you'll be able to try Strikingly out and make sure it's a good fit for you.
The Free version only allows for 5GB of bandwidth usage per month and gives you the ability to make unlimited sites. As with most free plans, you will be subjected to intrusive Strikingly ads embedded to your page and forced to use a Strikingly assigned URL.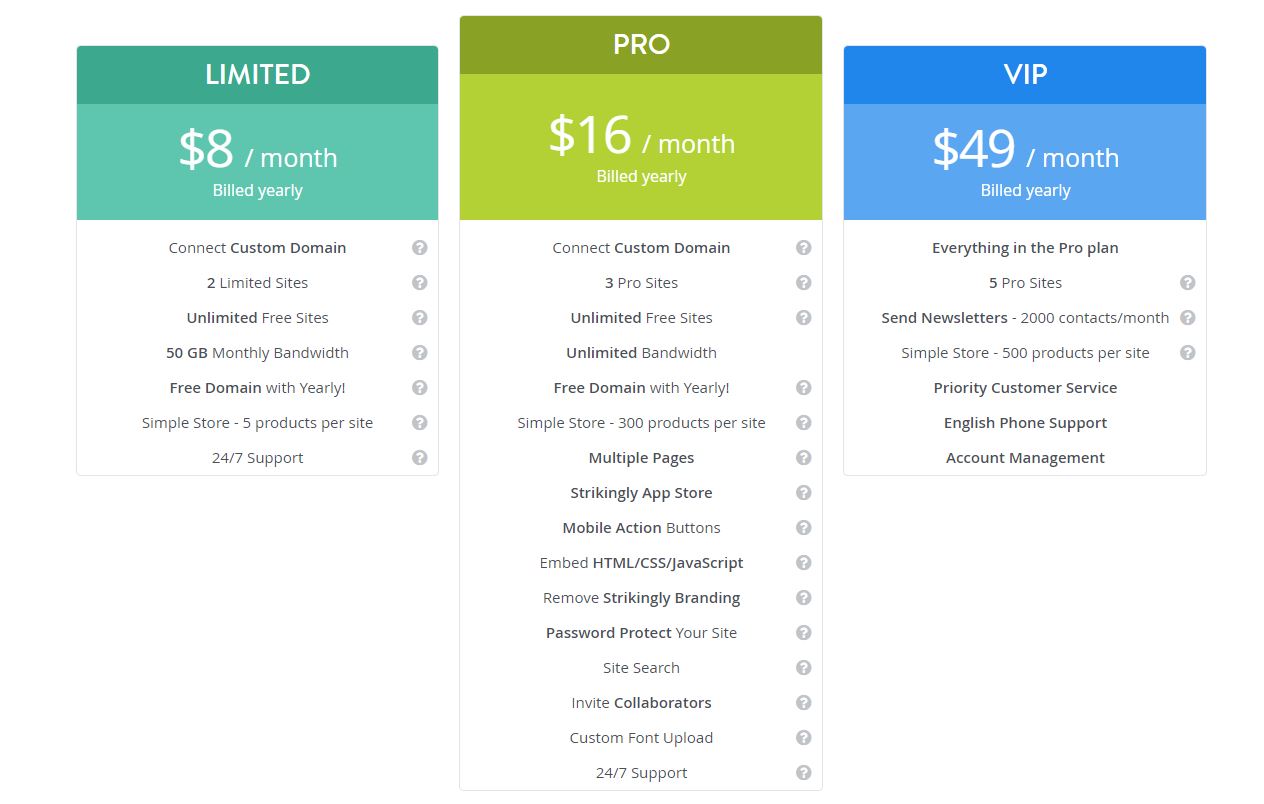 One of the biggest downfalls with the free version is the lack of an SSL security certificate. This can put your site's data at risk from cyber-threats.
Premium plans, billed annually, start at $8/mo and scale up to $49/mo.
Ucraft is a lesser-known, free website builder. It's designed to be simple to use for most applications… whether you're making a single webpage or setting up an eCommerce store.
This website builder is unique, to say the least. Ucraft was created as a "block-based" web builder. While it does utilize drag-and-drop functionality, in Ucraft, you build pages by stacking content "blocks" on top of each other. Within each block, you can customize the content to your exact specifications.
Ucraft does offer pre-designed templates to create your website however, they are not as intuitive or customizable as some of its competitors. When you select a template, you will need to use blocks to modify the template to fit your needs.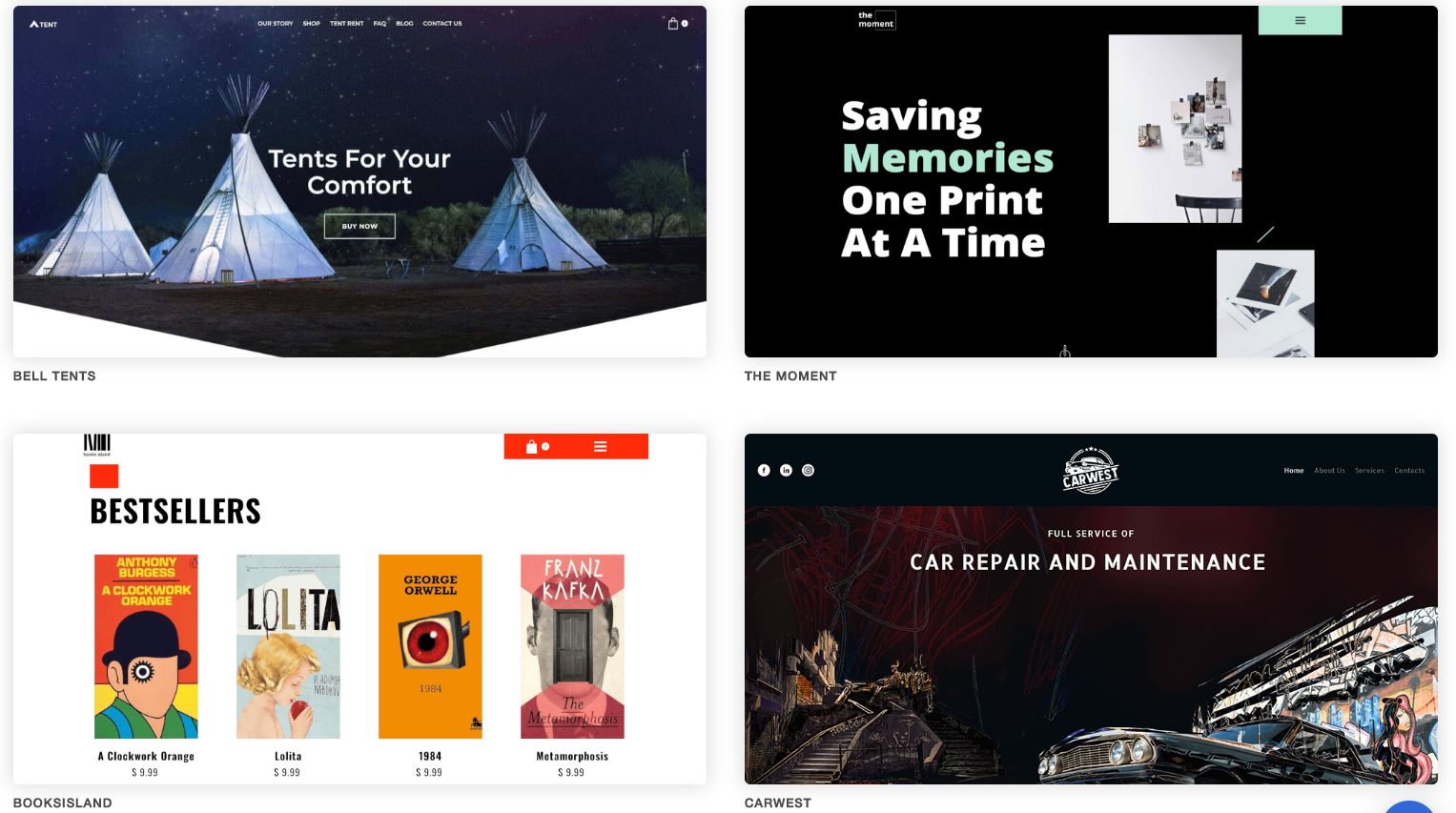 The web builder interface itself is extremely clean and easy to understand. Another feature that stands out with Ucraft: it gives users all the tools to create an online store, generate logos, create articles and blog posts in one place. This can save a tremendous amount of time when going back to modify the content on your pages.
Being a free web builder doesn't come without downsides… when you create a page using Ucraft, it will have an intrusive Ucraft watermark. While this isn't a bad thing for personal pages, it does not suit well for businesses or eCommerce sites.
In addition, Ucraft does have a 24/7 customer support team, however, they do not have live phone support. The only way to get support is either live chat, e-mail or their support forum.
Ucraft is split into four different plans, including the free version.
All of the plans include unlimited bandwidth, 24/7 support, SEO tools, and an SSL security certificate.

Unlike many of its competitors, the free Ucraft plan allows you to connect to your own domain! Meaning, your website URL will be "yourwebsite.com." This can be a big advantage when dealing with SEO and brand legitimacy.
The premium plans range from $10/mo to $39/mo for a big eCommerce site. Ucraft will have a plan to fit any of your needs.
Exactly as its name suggests, Site123 is made to be a simple, basic, easy to use website builder. With Site123, it's never been easier to make a website, however, with increased ease and simplicity, you can expect a lack of customization and limits.
Site123 is an extremely straight-forward web builder. It contains a decently sized library of templates and will guide you through a Wizard, step-by-step to help design your site.

The Wizard will ask you several questions and generate a template based on the information you provided. The rest of the customization is done using the builder's drag-and-drop functions.
Site123 only has two plans… free and premium. Both plans come with a free SSL security certificate and premium comes with a 14-day money-back guarantee.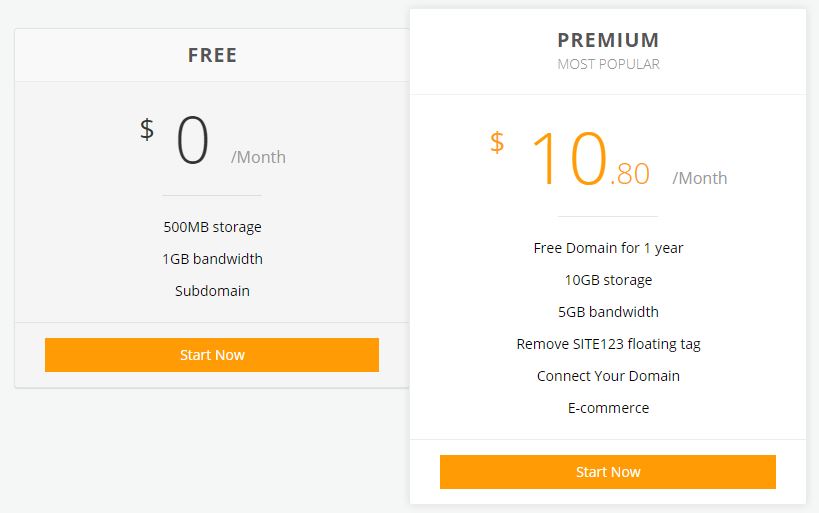 The free plan is extremely limited in its function… only providing 1GB of bandwidth per month and 500mb of storage… like the other free plans, there will be a Site123 watermark displayed on your pages. If you're not expecting much site traffic, this plan can be viable.
The premium plan is priced at $12.80/mo. It comes with a free domain for 1 year, 5gb bandwidth, 10gb storage, and eCommerce functionality.
SimpleSite is exactly what it says in the name. It's a simple, straight-forward, basic website builder that gives users an easy way for the creation of a website.
SimpleSite's greatest strength and the feature is simplicity. With almost no technical skill, SimpleSite is easy to understand and utilize all of its functions to design a web page.
SimpleSite will guide you through the whole building process step-by-step… from selecting a layout to adding images and text, its web builder does the work for you.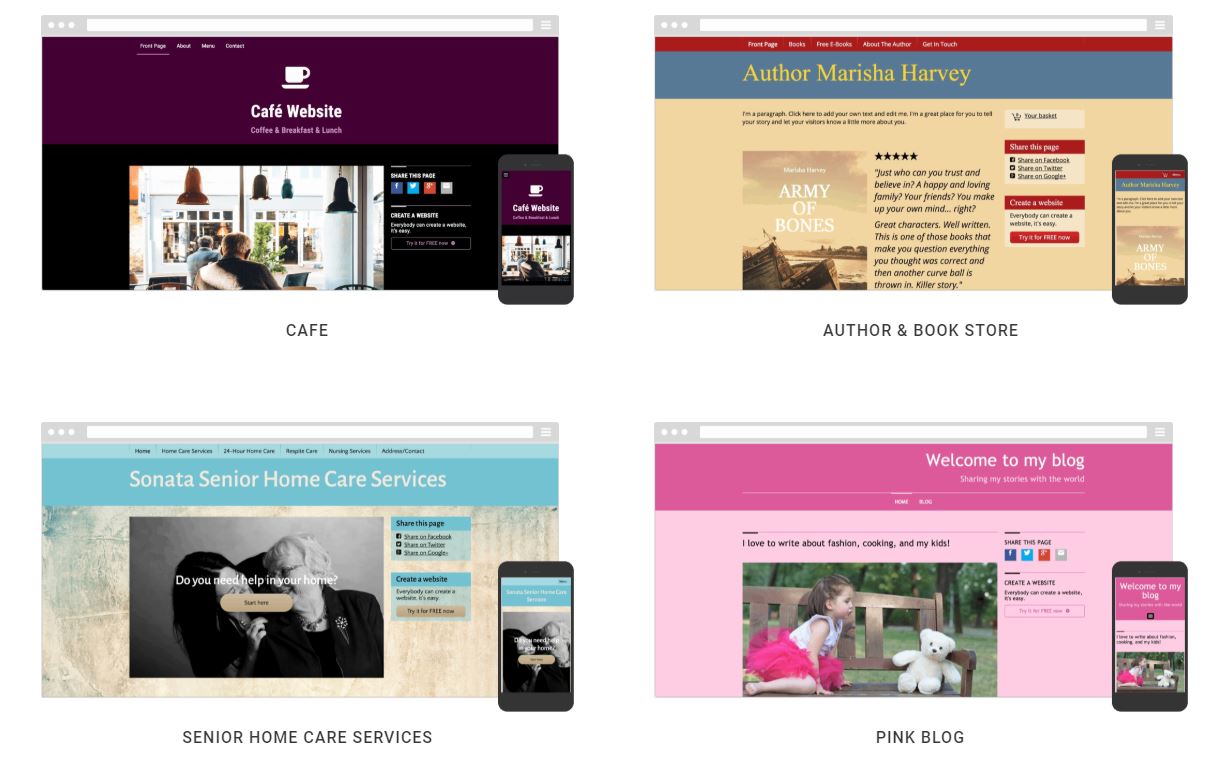 Given the simplicity, having free-range creativity is almost out of the question. Unlike some of its other competitors, SimpleSite has a very limited range of features… this includes things like lack of any third-party app integrations and out-dated SEO tools.
SimpleSite has 2 premium plans and a free plan. While SimpleSite does not have a 14-day free trial, they do offer a 14-day money-back guarantee.
All plans come with eCommerce features as well, this includes the free plan. Although limited, even if you set up a free plan, you can host up to 5 online store products!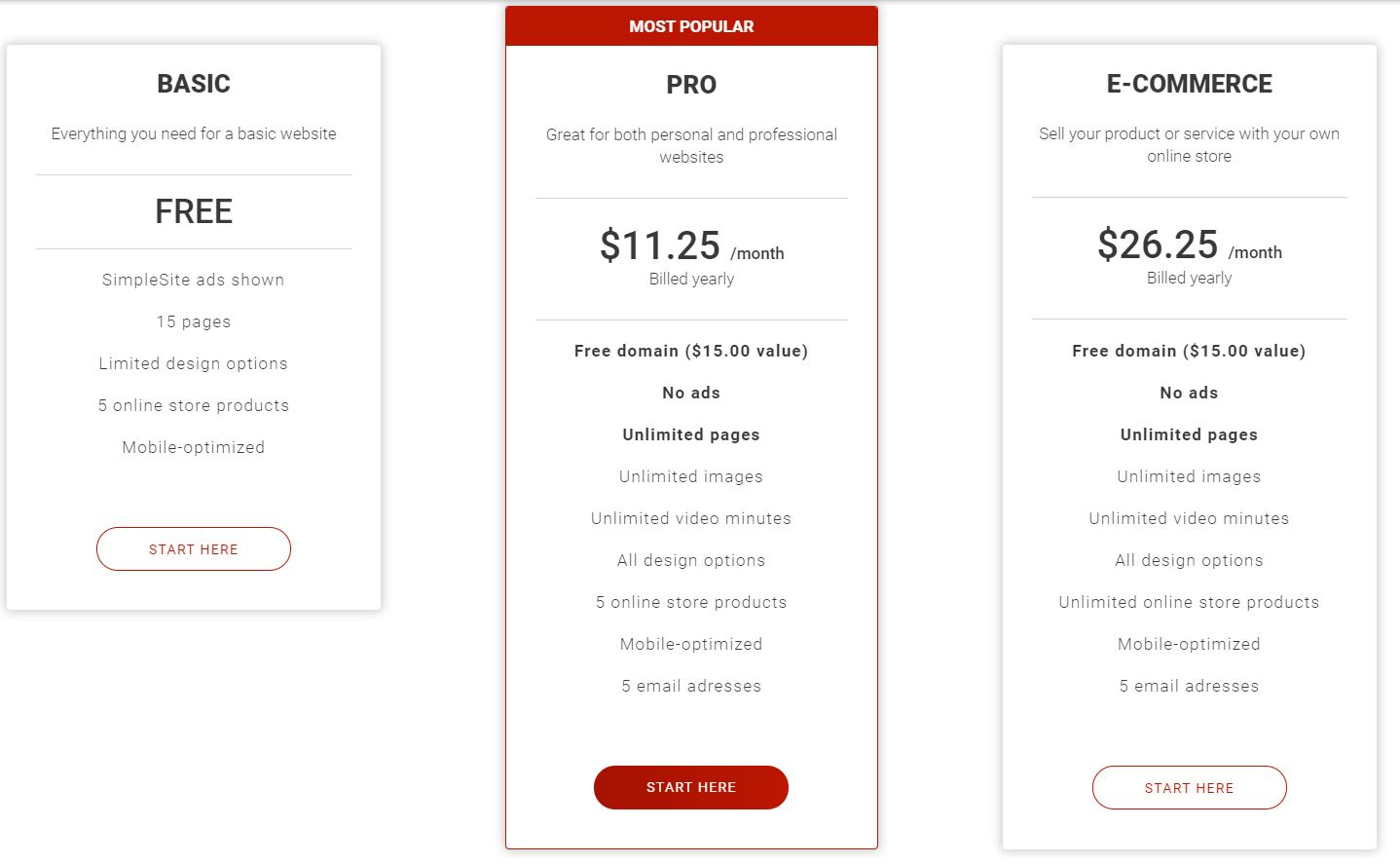 The Premium plans billed annually are $15.49/mo and $30.49/mo … while both plans are a bit on the pricier end, they include unlimited bandwidth, free domain name, and a multitude of other features.
Actually this goes like WebsiteBuilder, SiteBuilder, Sitey, and Sitelio because these are all the same website builders. All of those are owned by the same brand.
This is an extremely standard website builder.
Nothing of notability that stands out with this builder. It features a drag-and-drop interface, mixed with block-based content creation, and a limited number of templates for modification.

It isn't designed to be the most intuitive web builder, however, they do provide a knowledge base to help you figure out how to use the builder.
There are 4 plans to choose from including a free plan.
All plans include unlimited storage, bandwidth, SSL security, 24/7 live support, and even eCommerce capabilities.

Plans start, billed annually, at $11.00/mo to $20.00/mo
Unfortunately, WebsiteBuilder and its constituents have been known to have issues with billing practices.
Last on the list, is Google Sites. If you have access to a google account, you can get started right away!
Designed as a drag-and-drop website builder, Google Sites is fairly simple to use.
Unfortunately, there are only 6 available themes with Google Sites and there are no premade templates… so while a page can be easy to set up, it will not have that professional touch like most of its competitors.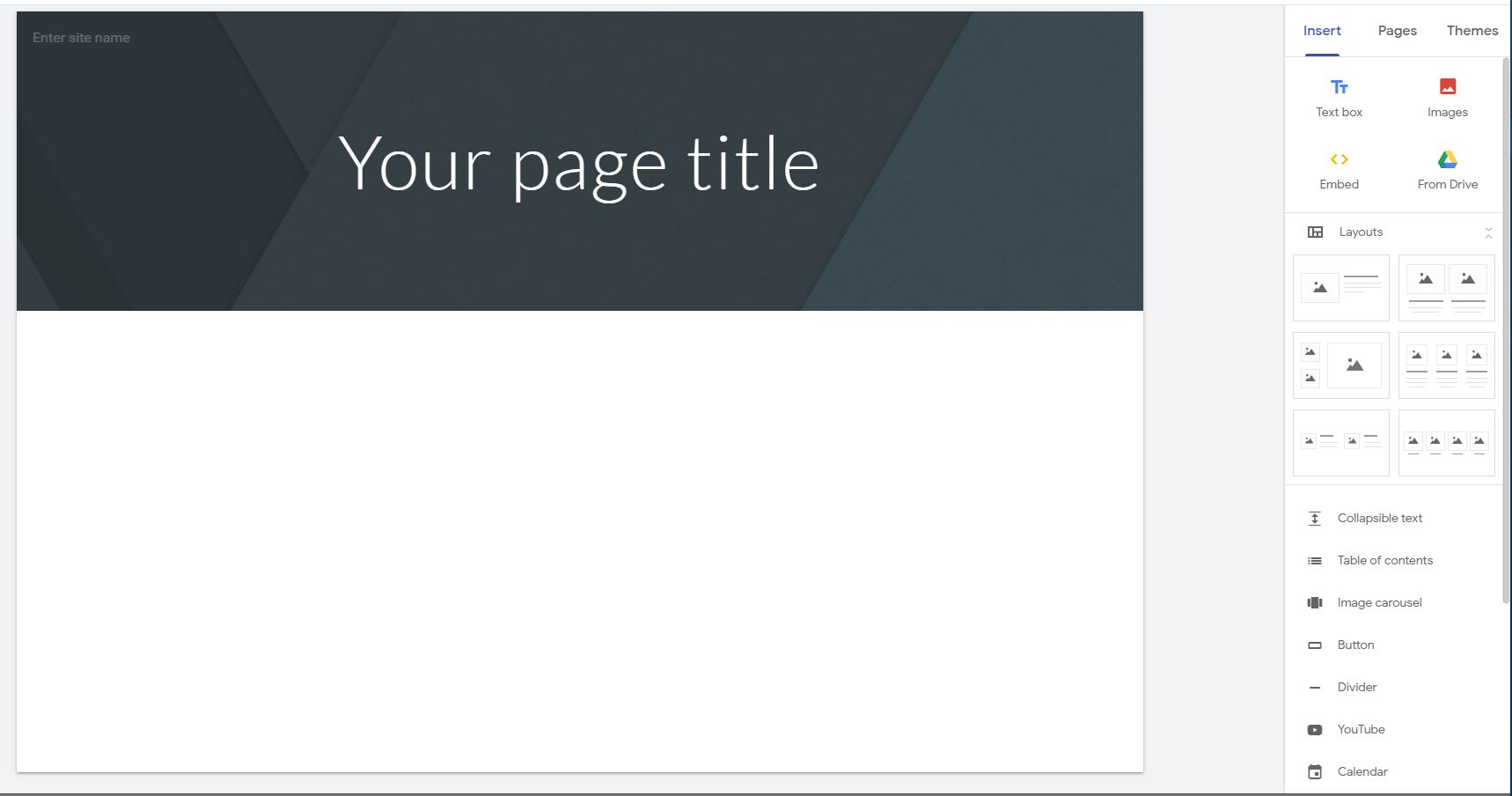 What sets Google Sites apart from all the other builders are some of its unique features.
With Google Sites, multiple users can be on application editing and sharing information at the same time! This is great for any collaborative projects.
Additionally, with Google Sites, you'll have integration with all of Google's other services like Google Hangouts, Google Drive, Google Sheets and much more.
As long as you have a google account, you can use Google Sites. Google does provide additional paid features, most of the features extend out to Google's other integrations. Visit: this link for more information
There are a number of website builders out there, while a lot of them might not suit your needs, the big three (Wix, Weebly, and SquareSpace) in this list are your best bets for having all of your web design needs to be met, either for free or a reasonable price.
Have any further questions? Feel free to leave a comment, our team at WebpageScientist is always happy to help out!