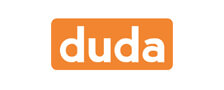 Duda Review Conclusion
The Duda Website builder is perfect for Agencies and freelancers who create websites on behalf of their clients/customers, hosting providers, and SaaS platforms looking to offer it as a service. And yes, you can also build a personal website, business site, or set up an online shop as you will get to see in this Duda Review.

Duda templates are modern, intuitive, and you get a simplified editing dashboard, which makes everything easy to use.

But its major selling point is its advanced features like client management and team collaboration tools for agencies and freelancers. In addition to this, it has a free widget builder and an integrated app store to expand your offerings.

So, if you are looking to build websites on behalf of other customers or for your business, keep reading our Duda website builder review, you are in the right place!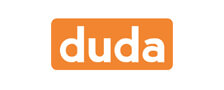 Pros
User-friendly Drag and drop editor
Responsive, Versatile, and modern templates
Ability to edit HTML and CSS and JavaScript
SEO friendly websites with geo-targeting
Multi-lingual support (55+)
Team collaboration
Free widget builder
Ability to switch templates without losing data
Super-fast website hosting; use Amazon's CloudFront CDN and servers
Excellent e-commerce store and blog support features
Cons
Pricier plans vs other builders
Limited templates designing and editing features
No live chat support
No 100% free plan, only a 14-days trial plan
What can you expect on the Duda website builder?
I am going to extensively touch on Duda features (eCommerce, blogging, SEO, Analytics), website building process, including the use of Duda's templates, as well as its Ease of Use. To wrap things up, I'll talk about Duda Pricing (plans) compared to other builders, Customer Support service you can expect, plus I've included an FAQ section.
Read on for all the above details.
Let's kick things off
The Duda Website Builder: What Is It?
Duda got launched in 2010 by a few college students who called themselves "The Dudes." Its headquarters are in Palo Alto, California, but the company also has 4 more offices in London (UK), Florianopolis (Brazil), Louisville (USA), and Tel Aviv (Israel).
Please don't get fooled by its late launch, though; the Duda website builder has grown massively over time:
It hosts over 14 million websites
450,000+ businesses use the Duda website builder globally
Fun Fact
The name Duda is based on "The Dude," the main character in this company's founders favorite film, The Big Lebowski.
Started to help small businesses with better mobile websites, this builder is currently the leading platform for companies that offer web design services to other small businesses.
It serves all customer types from business owners, freelance web professionals, digital agencies, to the top hosting service providers and publishers.
All this is made possible by Duda's robust collaboration and client management tools, which enable its users to design multiple websites with rich features. All of Duda websites are automatically optimized for fast speed and SEO performance.
Did I say fast?
Duda is the only website builder to be supported by Google PageSpeed, which is a status bestowed upon websites that stick and follow Google's best practices of enhancing and maximizing web page load time. More on this later.
The Duda website builder is equipped with capable tools to help the following groups of people build websites:
Business owners and professionals – to build Websites, online shops, and blogs for their business and companies as well as online portfolios for themselves.
Freelancers and Web-design Agencies who create websites on behalf of other clients. Duda is equipped with a client management suite that comes clutch amongst many builders.
SaaS platforms for building multiple websites like property management, SMB management platform, and CRM & Online Booking Providers.
Hosts – Duda provides high-end website solutions that get integrated with your core domain and hosting services. Your company gets to create gorgeous sites, in sync with the customer data on your platform, through Duda's API.
Blogging Support with Duda
The Duda website builder lets you easily add a blog section from your dashboard's side panel. Here you can add multiple posts that get displayed on a different section from your main website. The number of blog articles you can add is unlimited.
Which blog post features do you get? You can:
Add, edit, and publish your blog posts.
Edit post metadata and add alt texts to images.
Add posts descriptions and tags.
Edit post title and author.
Schedule blog posts.
Use nested URL paths, such as blog/my-first-post.
Under blog settings, you get advanced blog tools, including:
Autofill tags that ensure your post tags are consistent and error-free. Tags help ready quickly find what they are looking for.
Atom and RSS feed that gets automatically generated and updated for every new blog post.
Blogging themes and layouts. You can edit them with changes taking effect on all your posts. As a note, Duda templates are fully responsive to provide a seamless experience for your blog readers across all devices.
Blog stats and analytics – enabled by Duda's automatic visitor tracking to help you know the number of people that visit your blog.
Multiple authors collaboration. It enhances the scope of your blog by allowing you to add contributing authors.
Social media integration (add icons to your blog) and sharing. Facebook, Instagram, Pinterest, Reddit, Whatsapp, Twitter, and Linkedin are all supported
Disqus Comments – You can integrate Disqus Comments System to enable readers  to share their thoughts and feedback
Twitter Feed – Duda lets you display a live twitter feed for your websites. This helps your site visitors keep up to date with your new content and tweets.
eCommerce Support: Can You Build Online Stores With the Duda Website Builder?
When it comes to online shops, Duda gives you the option of accessing eCommerce tools even on its cheapest plan (not the free plan, though). You don't get this everywhere. Most builders don't throw online shop support at your disposal with the low plans, but there's a catch;
You've got to Pay for the add-on. The three e-commerce add-on plans to choose from are: Standard, Advanced, and Unlimited.
For all of the above e-commerce plans, you get:
No transaction fees charges
Freedom to create unlimited categories
Strong SEO
Unlimited bandwidth & storage
Pre-configures the online store on your behalf with dummy sale content and buy buttons to give you an easy time editing it.
To support your eCommerce gig, Duda enables you to:
Add Multiple product images and create product categories.
Use Pre-designed products page layouts.
Use an integrated design for your e-commerce storefront alongside your general website.
Enable more than 30 payment platforms like PayPal, Square, Stripe, and more.
Use coupon codes and support Gift cards.
Upload Digital downloads when selling digital products.
Integrate Shipping options (FedEx, UPS, USPS) and set customizable shipping rates
Use Tracking codes to monitor the effectiveness of affiliate and pay-per-click campaigns.
Benefit from Automated tax calculation in the US, Canada, UK, EU, and Australia.
Automatically manage stock with low stock notifications for buyers.
Add Click to call buttons and email for your site visitors to contact you in a single click.
Manage your store on the go by downloading the Duda dedicated app. With it, you can add new products to your online shop, manage orders, and get store notifications directly on your phone.
Zapier integration that automates actions and enhances your workflow by integrating the apps you use every day like Google Spreadsheet, CRM, and more.
Display your stock count that, in turn, creates a sense of urgency to customers to act quickly before stock runs out.
Add Popups that encourage email sign-ups and subscriptions, thereby promoting your sales. You can even personalize your site for specific visitors.
Integrate Email Marketing, which boosts your clients' sales by letting them send direct emails to their site visitors and fully customize their brand.
Sell to your customers on social media channels with Facebook and Instagram stores. This gives your store more exposure.
Maximum/minimum purchase – You can set a purchase limit, for example, the minimum or maximum amount a customer must spend to complete a transaction.
Display discounts by indicating the slashed original price alongside the discounted price.
Overall the Duda website builder has some pretty nifty tools to support your online shop.
Verdict: it's worth a shot.
Duda's App Market and Integrations
With Duda, you can integrate the following apps and 3rd party tools to extend the functionality of your site.
Google Analytics, and Google Sheets and Google Places
PayPal
Social media and video apps (Facebook, Instagram, WhatsApp, Twitter, Pinterest, Daily Motion, Vimeo, and YouTube)
Map box
Mailchimp
Constant Contact
Soundcloud and Mix cloud
Zoom and more…
But if you're building websites for clients using the Duda website builder, you get access to their new app store. It contains apps that help  your team sell a value-added service to your customers.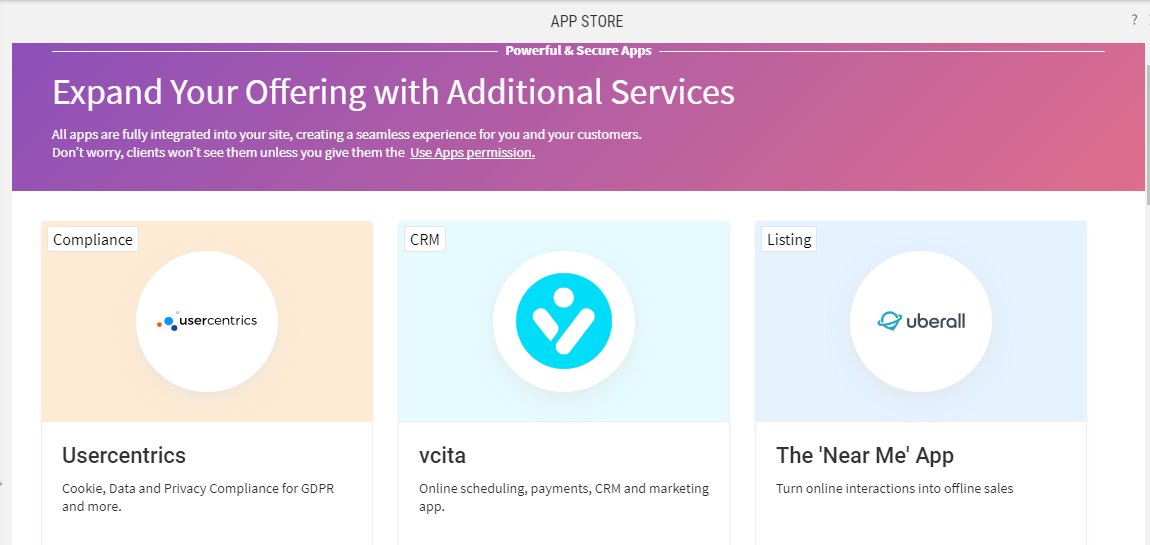 User-centric – For cookie, Data, and Privacy Compliance for GDPR and more.
Vcita – helps in online scheduling, payments, CRM, and marketing.
Uberall – Turn online interactions into your offline sales
Audioeye – ADA/WCAG digital accessibility compliance solutions.
Agendize – It's an online booking and appointment scheduling software
Neustar localize – Site integrated listing management. Get found across local search platforms. Network includes Google, Apple, Bing, YP, Nextdoor, Yahoo!, and more.
To integrate an app to your website, access Duda's app store on the left side menu of the editor. Click on the Apps icon, then "add" your desired app(s). Some are free, while for others, you need to purchase. Your app gets installed on your site automatically.
App Suggestions
To make up for the lack of a super-rich Appstore, Duda is open to your suggestions! Contact them in a "Let Us know" section to let them know of your great idea.
All Duda websites come with pre-integrated Google Analytics that show stats like:
Site traffic
Pageviews
Impressions
The device used for site visits and more
You're well covered— Google Analytics is the best-in-class software for analytics functions.
Beyond that, there is an in-built stats tool. To access it, go to the Dashboard > Stats tab. It lets you see site information such as:
Visitors location,
Most viewed pages,
Bounce rates,
Average page visit duration,
The device used (browsers and OS used) and much more.
You can receive all this data directly in your mailbox for offline use.
For a fact, when it comes to SEO, Duda doesn't offer much of advanced SEO tweaking; it just covers the fundamentals of SEO, which is decent as some builders like SimpleSite don't even allow you to touch anything on SEO.
You can customize site titles, Meta descriptions, page URLs, and can add ALT texts of images.
It enables you to create a responsive website (mobile optimized)
Duda has Google Page Speed optimization and Amazon Global CDN, which boosts your site speed. According to Google stats, every second your site takes longer to load, you get approximately 7% fewer conversions
Has Free SSL certificates included.
Dynamic Serving – Your website's content is automatically optimized in terms of speed load up time, depending on the type of device (desktop, tablet, or phone) it's viewed from.
Robots.txt a search engine indexing tool included in your Duda website. It informs the search engine pages that should or should not be indexed.
301 Redirects – helps in maintaining a strong SEO when switching from your old site to a new one by redirecting your old page URL to the new one.
If you have the knowledge of how Google's algorithm works, you know the above features help to boost your rankings immensely.
Duda offers three domain options;
First, with the free trial plan, you can only use the default subdomain. Downside? You get a tacky "multiscreensite.com" trailing on your website URL, which isn't good for SEO and having a professional look.
Second, if you have a custom domain you already own, you can import and connect it to your brand-new Duda website.
Lastly, you get an option to purchase one from Google Domains or Hover, since Duda is not a domain registrar. To help you with this, there's an integrated Google Domains search tool to help you check for domains availability.
Website Security Features and Tools
Duda's security features are decent. Let us break them down.
You get a HTTPS/SSL encryption certificate that ensures all your visitors' information and data submitted via browsers is kept safe.
Individual Pages Protection feature. It lets protect your page(s) with a password.
Backup and restore feature. Duda automatically backs-up your website once you publish it, but you can create a manual backup and custom name it. With the restore feature, you can revert your site back to any of the supported 20 automated backups or 10 for manual backups versions.
Duda Pricing: Are the Plans Worth It?
When it comes to pricing, value for money is what matters. Overall, the Duda pricing for all its plans not competitive if you're looking to use it for personal use.
But for a business, development team, or agencies, there's a good bang for your buck.
Duda offers three plans; billed either monthly or annually, namely
Basic Plan – $14/month, 1 website
Team Plan – $22/month, 1 website
Agency plan – $44/month, up to 4 websites
Monthly billing is a bit pricier. Annual billing saves you up to 25%. Added to these plans is an Enterprise plan meant for clients with multiple websites and need a custom quoting.
The major downside in this Duda review is that you don't get a free forever plan, thumbs down Duda! But don't rant yet; with their free trial policy, you can test drive not only the Basic plan but even the Team plan for 14 days.
After that, you can pay to continue using it. Standard features you get across all plans are;
Amazon cloud hosting
Website personalization
HTTPS encryption
Multi-language websites
App store
Millions of free premium images
eCommerce add-on (optional)
Multiple team collaboration and client management are only available to Team plan and Agency plan users, with the Team plan being allowed a maximum of 4 members collaboration and Agency plan gets a maximum of 10 members collaboration. The basic plan only allows 1 extra member in team collaboration.
The Agency plan enjoys advanced tools like instant websites, site export, widget builder, API integration (limited), and Dynamic pages connection (Google sheets & Airtable).
For all subscription Services, Duda offers a full, thirty (30) day money-back guarantee.
Duda offers sufficient support for its different plans. But the higher the plan, the better the support priority you get.
All customers receive top-tier support through:
Phone,
Email,
Self-help portal that contains 100+ articles, videos, and tutorials.
The wait time for phone support is a maximum of 2 minutes, while Email response time is about 2 hours.
Unfortunately, there's no live chat; what you get is access to a chatbot once you click the "Help" button on the majority of pages. What it does is to only give you a link to articles on the query you have.
But that's not all,
The Duda website builder has a help center (searchable Knowledgebase) and a blog available to all plans, where you get articles and guides. Con? It's not extensive, only has 9 categories, with very shallow information.
Multilingual support service
Duda support is available in only 3 languages, English, Portuguese, and Spanish. Also, Webform, phone, and chat support are available all through working days (Monday-Friday) from 12:00 AM to 6:00 PM PST.
Duda's Website Design Tools and Features
Duda Panel
On the left side panel of the editing dashboard, you find the following design tools:
Design – Most of the elements you edit here, and the changes get applied to your global website. You can edit fonts (size, type, color, format, text direction, link text format & color) site's header texts, buttons (layout, style, and text), images (layout, border, corners, and shadow), rows (background, row spacing, and column spacing), background( for all pages or per page), and your Duda website layout.
Additionally, you can reset everything on your website but keep your site data.
Pages – Helps you to edit all settings related to pages(even pop-ups). You can add more pages, rename, duplicate, delete, hide them on the navigation menu, lock for client editing, set password, convert to a dynamic page, and edit anchor.
While here, Duda also lets you add site languages.
Widgets – Find Duda's widgets that you can drag and drop anywhere on your website, e.g., image, click to call, map, image slider, photo gallery, and more
Content – Add content by importing it from another website or collecting it from your customer.
Personalize – Personalize by choosing from a set of available rules where each is customizable. Duda also lets you add your own rule and build it
eCommerce – Here, you can add a store to your site
Blog – You can manage your blog and posts
App Store – Helps you seal with apps and integrations – Choose an app you want to integrate on your website from the ones available.
Settings – For tweaking most of your website related settings .ie. Site icons (favicon, social networks image, home screen icon for mobile & tablet), URLs, SSL, SEO settings, Google Analytics, URL Redirecting, Head Html(Ajax page changing and custom body head HTML/CSS), Backup and export your site, Site language, privacy settings(privacy page and cookie notifications), 404 page, and Progressive Web Apps.
At the top panel of the dashboard you'll find the following buttons:
Preview & editing mode – There are 3 preview modes for desktop, tablet, and mobile devices. Here you can edit how you want your Duda website layout to appear on each device individually and edit each view separately.
Search tool – This is a quick editor search tool that lets you find anything you want to add to your website.
Info & Tools – Once you click this icon, you'll get information on;
Show site comments – Here, you can enable or disable site comments. By clicking it once, a small panel pops up to the right where you can add comments (available to Team and Agency plans), reply to comments, hide comments and change notifications settings. These comments come handy when multiple users (team collaboration) are working on one website. It's a communication channel.
Save all changes – Once you make any changes, you can click here to save the changes. Hovering your mouse over this icon also gives you an "All Changes Saved" status.
Undo and redo – You can use these buttons when you go to the previous or current status of your Duda website during the editing process.
Add HTML/CSS codes (developer mode) – By clicking here, you are taken to Duda's developer mode, where you can edit your websites HTML and CSS codes. While here, you can preview changes you make before saving.
Warning
If you are a novice in coding, steer off this button. Messing around with codes can distort your website. But you can always undo changes.
Preview mode – This button takes you to the preview mode for desktop, tablet, and mobile (Android and IOS)- both landscape and portrait mode.
Publish – Make your website live the world to see.
Help – you can contact Duda's customer support either through the support portal or contact support.
How to Use the Duda Website Builder to Create Your Website
1. Go to Duda's Website and Sign up
Get to Duda's homepage. Click on the "Let's Build Websites!" button, and you are off the races. On the sign-up page, input your first and last names, email account, and a secure password.
Once you click on the "create account" section at the bottom of the page, there s a pop-up that requires information like your company name (website URL), mobile number, and the description that best fits you, with options being:
I'm freelancer,
I'm a digital web design agency,
I want to integrate Duda into my SaaS solution, or
I'm looking to build a website for my business.
Whichever description you click among the four, a few more questions will get asked. For this Duda review, I went with the freelancer option where I also had to answer:
How many sites do I want to create?
My role with options being; web designer, web developer or both
At this point, I know you're almost tired due to these questions. Calm down, it's the last of them. Finally, click on "start now," and you are all set.
Use the activation link sent to your email, which takes you straight to Duda's dashboard.
2. Choose your Duda Template
It's about time to choose a sleek Duda template for your website.
On your dashboard, click on the "create a responsive site" button to access Duda's templates.
As I stated previously, there are about 98+ pre-filled Duda templates to pick from, including blank templates if you prefer editing everything from scratch. And I have to admit Duda's templates are intuitive and sleek in design.
Do not break a sweat if you find these templates too many to navigate through and can't make a decision which one to part with. Duda goes the extra mile and lets you filter them by category.
What's more?
These templates are mobile responsive with a modern design. And you can preview them in three modes: desktop, tablet, and mobile.
Pro Tip
If you get a change in mind about your template choice, you can always go back by resetting your website.
3. Edit Your Duda Website
Are you content with your template choice?
Click on "start building" to kick start editing your Duda website. The Duda editor prompts you to enter your website name, and now, you can start using Duda's drag and drop editor.
This is where all magic happens,
Click on the section of your site you want to edit, and the editor pops up, or you can hover your mouse on the section you wish to edit, then right click. It even lets you search to quickly find anything you want, instead of maneuvering through the panels. This saves you time.
You can edit pre-filled content quite easily, not to mention adding new sections, including gallery, contact forms, and testimonials. What's more? Make changes to border widths, Background color, change menu layouts, change images, and more. All this in just a few clicks.
What about editing HTML/CSS code? Simply click on the "</>" icon at the top panel of your dashboard, and Duda editor takes you into developer mode. You can alternatively use keyboard shortcuts Ctlr+Alt+C. This code editor is available across all plans, even the free trial plan.
And if you get stuck midway, there is a help button that gives you an option of two available Duda support systems, namely Support portal and Contact Support.
4. Publish Your Duda Website
This is the final step in the web building process. At the top panel of your editing dashboard, there is a publish button you can click to take your Duda website live.
Think we're done? Not yet
You've got to set up your domain. After publishing your site, you'll get the prompt for selecting a domain, save it, and boom! You receive a notification that your site has been published.
Congrats!
Ease of Use and Simplicity
This is one of the key area where Duda ticks most of the boxes. And it's not just a cheesy phrase. Let me break it down for you.
Quick sign up process – You are required to sign up by filling only your personal details and answering a few prompted questions in just 2 pop-up forms.
User-friendly editor dashboard – Every detail on your dashboard is indicated clearly, including advanced tools like team collaboration and client management tools.
A Startup Wizard to help you set up your site quickly.
Editing tools are accessible easily – You don't need to go deep into Duda tabs to access their editing tools. They are accessible from the word go.
Beginner-friendly editing – Duda website editor strikes across all users, from web experts to novices.
Drag-and-drop editor – You don't even need to have any coding knowledge; simply edit your site in 4 steps; click, drag, drop, and finally type to edit your site's page to your satisfaction.
Modern Intuitive Duda templates (98+), you can filter by categories, and they come with pre-filled content to help you hit the ground running.
Template saving and resetting – You can build a customized Duda template for reuse. Additionally, Duda lets you quickly redesign templates for your clients.
Edit on the go – Duda lets you edit your website using either your mobile phone or tablet. On your mobile phone, you are allowed to upload photos, white-label management, and edit widgets. There is not much at display for tablet editing, but you can build, edit, publish your site, and add/remove widgets.
An integrated photo editor saves you the stress of going offline to edit your photos using another editing software.
Site duplication (Copy and Paste) – Speed up your site-building process by duplicating your site you've created and edit it as needed for another course. Additionally, you can copy and paste your website's content
Multi-lingual support ideal for international teams (collaboration) and your site visitors.
Duda Website Builder Review Conclusion
Without a doubt, building a website with Duda is such a breeze. It's pretty easy and straightforward. And with Duda's advanced features, they give you more control to your site, making it a solid builder for small business websites, agencies, and DIY people who need easy to use websites that can also scale.
If you would instead jump ship and try Duda, I would recommend using Duda through tailored brands to get more access to their advanced tools.
Here are direct links to other solid website building alternatives.