Ready to get started building your website?
That's what this Strikingly review is all about. You probably already know that website builders are the way to go; especially if you want to quickly create a website.
Fast – In a matter of hours, or dare I say, in minutes.
Easily – using beginner-friendly tools
Without spending lots of money
Without any coding knowledge
Good news: Strikingly already ticks all the above points.
And if you're looking to use it, I've done all the research on it, uncovered all the details you need to consider, and simplified everything on the Strikingly website builder.
In this post, you're going to learn:
What is Strikingly? Whom Do We Recommended to Use Strikingly?
Strikingly Templates & How to Use Them Create A Website
Ease of Use and Simplicity: How Easy Is It to Use Strikingly?
Strikingly Support for Blogging, and eCommerce
Strikingly SEO and Security features
Strikingly Pricing
Strikingly Customer Support and more…
But first:
A word of warning…
There are essential points up until the end; make sure you time for a bit of serious (but fun) reading before paying for it. Despite this, I won't save the best details for last, here are some few points to warm you up for this Strikingly review.
Oh, one more thing …
Make sure you read the FAQ section and leave your thoughts in the comment section.
Now, let's get started…
Strikingly is a relatively new (free) platform for building websites – David Haisha Chen, Dafeng Guo, and Teng Bao founded it in 2012. It is mainly focused on single-page mobile-friendly site creation.
Yes, you heard me right, there's actually a market for long-form one-paged websites, e.g., product landing pages, online portfolios, and presentations where vertical scrolling gets highly utilized.
Think of it this way;
People love social media sites because they can access cool content on a feed; they only have to scroll down. Strikingly is perfect for creating websites-based on that concept. Scrollable pages are convenient for your visitors and easy for you to design. Who wouldn't want that?
Summary; here's how it works:
It has one of the most straightforward site editors and possesses exceptional ease of use because of its typical "drag and drop" functionality. You get access to a diverse bundle of templates to get a simple and easy start. To further improve on this, it helps you utilize its pre-designed page sections, blocks, and elements to create sleek websites with minimal fuss, a welcome feature in website builders for users without any technical or design background.
Strikingly has been making waves in the website building space because of the above points. That said, its focus on scrolling page websites helped it to connect with for the right audience when every other new website builder seems to be competing only in the multi-page websites sphere.
Given the above points, should you make Strikingly your first choice for creating websites?
If you want to get website creation done right, easy and fast, you've got to have the best tool.
Here's the deal:
Go with Strikingly if you want to build a website that
Has a single webpage
Is in long-form layout format (scrolling page)
Is Mobile-Friendly
As you will get to see in this Strikingly review, there's little to no room for error with such a tool. Its made precisely for that and helps you achieve such goals exceptionally unlike other half-baked website builders which focus on a wide range of functionalities (pages) but end up helping you create a cookie-cutter website.
Still not convinced?
Allow me to explain whom one-page websites work for and how they help.
Personal Sites – you can use your website as an online business card, especially if you're a personality looking to gets gigs fast and easily.
Online Portfolios – if you're a professional, there no need for multi-page websites. You include all your information on a single page. Visitors – especially those on mobile – would prefer scrolling down to read more rather than opening another page on your website. What's more? Strikingly supports connecting your LinkedIn details.
Small businesses – showcase all crucial business information on just one page. Also, if you're selling only a single product or service, single page websites are light and load fast. You don't want to lose out because of having a sophisticated website that's adding little value.
Product landing pages – perfect for online marketers who want to eliminate all complexities that work negatively against conversions.
Event pages – you can show all your information on one good-looking page that's designed to make your event attractive.
Companies – best approach for a product launch, product presentation, or even countdowns to a service (product) launch.
A cool feature with Strikingly:
You add a menu where when a visitor clicks a menu item, the website gets automatically scrolled down to the matching designated area on the same page instead of getting transferred to a new page.
What if you want to use Strikingly for a multi-page website?
It's possible but with a catch. You've got to pay for the Pro and VIP plans, which unlock all Strikingly features.
Such a buzzkill.
Honestly, for multi-page websites, there are lots of better options out there like Wix, Weebly, and Squarespace, to name a few. This builder is not good at this function.
I almost forgot to say advanced users will get disappointed with limited customization. Strikingly is mainly for those building their first website.
Now, the fun part, creating your Strikingly website. The website creation alone sets Strikingly apart from the competition.
It's super easy!
Here are the steps to go about it.
Strikingly's website is modern and built to be intuitively none of those clunky looks. True to its promise, Strikingly makes everything easy for you from the start. Most builders hide their sign-up page under a "Get Started" button, but not this site builder. You can sign up right there on the homepage.
Just fill in your details, i.e., first name, email, and password, or alternatively sign-up using your Facebook account. Pretty straightforward, huh? Most people like it that way
But first, what's good about Strikingly's templates?
There is a decent variety of them (over 60). Not very extensive but enough to cover most needs and industries.
They are eye-catching, modern, and professionally designed. I can't complain about the visual quality.
You can preview a template before selecting it. Just click on the "View example".
All are mobile responsive; they work as intended on any type of a site visitor's screen (phone, tablet, and desktop).
Strikingly supports switching templates later on in your editing process without losing any content which makes it stand out from the crowd of website builders which don't.
At the top, there are 6 categories (Store, Business, Startup, Creative, Personal, and Blog) you can use to filter your Strikingly templates. After you've narrowed down to your choice, click on "Start Editing" to get access to Strikingly's editor.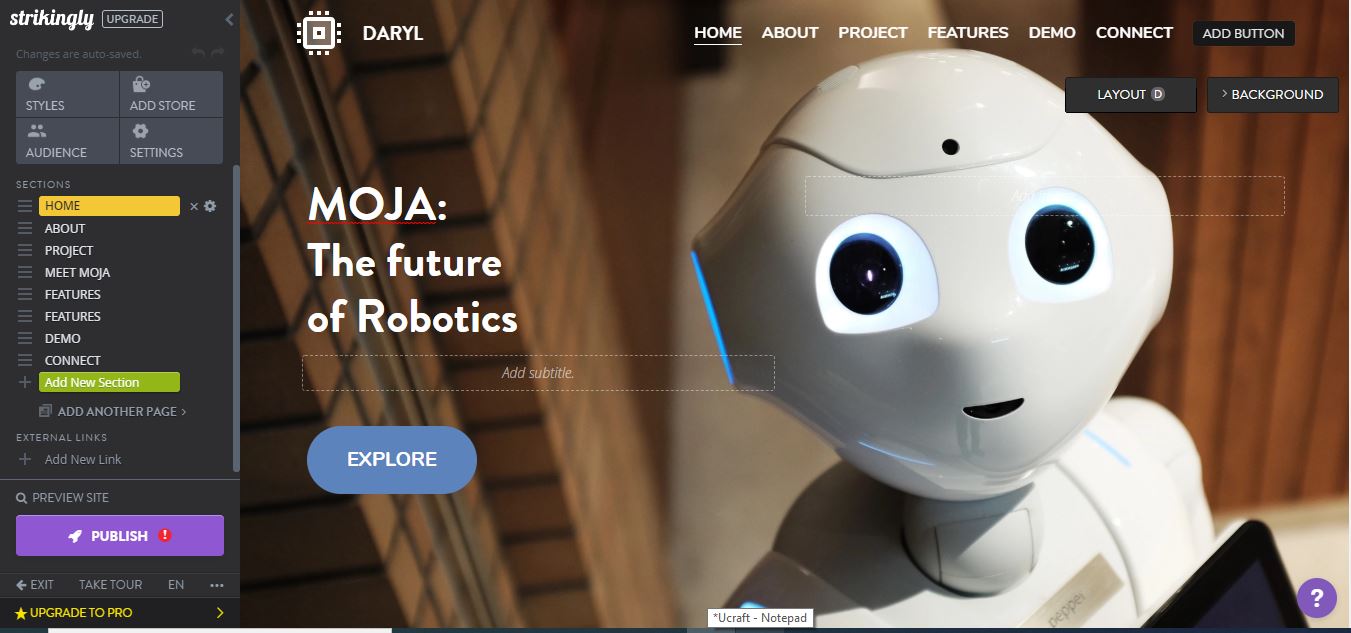 Strikingly opens with a quick tour prompt, which quickly explains its design and editing tools. Let's go through them before we get to the actual editing. On the left is where you get most of the tools. At the top, there are save now, undo and redo icons; self-explanatory.
Styles Tab – Here you can:
Change your Strikingly template.
Change Primary and Secondary colors. You're not limited; there is an option to use Hex codes or their color picker.
Change Fonts – there are decent font options for free users, premium subscriber access 100's of them.
Change and edit both website Header and Navigation Menu, i.e., the layout, transparency, padding, font size, and more.
Edit sections – set a section as either full, normal, or large, change its shape, and it's content width. This freedom is rare in most site builders.
Edit Site Buttons, i.e., their color, shape and fill.
Change text size and color.
Set Animations for page scrolling and more.
Add Store Tab – here is where you integrate an online store section to your page.
Audiences Tab
Set and collect outreach information from your visitors using forms
Live chat your site visitors (paid plans only)
Create and manage site memberships
Promotions Tab
Send newsletters
Add SEO settings for your page, e.g., favicon, title, and meta description. More on that in the SEO section
Analytics Tab – view all data related to your site, including traffic sources, countries, unique visitors, and devices used.
Settings Tab – Here is where the majority of your site settings are.Below is what each setting is for.
Domains – for managing, i.e., registering and connecting domains.
Basic Site Information – for editing Site Title, Category, Description, setting Language (9), Social Share Image, Favicon, and also Enabling and Disabling Twitter Card.
Accept Payments – for setting payment methods either PayPal or Stripe.
Mobile Actions– for setting actions, e.g., Tap to Call. Only with (Pro Plan).
Header and Footer – for managing the Navigation Menu (Turn on & off).
Multiple Pages – Adding And Managing Multiple Pages (Pro Plan).
Custom code – for adding custom HTML code (Pro Plan).
Site Search – for setting a site search function (Pro Plan).
Privacy & Legal – showing or disabling Terms & Conditions, Privacy Policy, European Union Cookie Notification, and General Data Protection Regulation (GDPR) Compliance.
Services – for verifying your site with Google Webmaster Tool and connecting Google Analytics.
Multi-Language – for adding a Language Switcher to your site's navigation menu with support for different languages (Pro Plan).
Extras – there some more tools such as
External Links
Layout Button– floating on the right hand side.You can change the Call to Action prompt to be for visiting an App Store or signing up. An extra option is setting where media gets aligned (left or right).
Background Button – for changing the background image of your page.
Publish button – for making your site accessible to the public.
Creating your Strikingly website is very simple!
Despite design customization being very limited, it is effortless for beginners.
In fact, with Strikingly, you're working only with pre-built components, i.e., .they come with the Strikingly template (or section) you add. Sections are the main building block, then you go-to elements in a section.
For a typical multi-page website, you have a navigation menu at the top for different pages, e.g., Home, Services, Contact. With Strikingly, that navigation menu is for different sections of your single-page site. Strikingly templates come with these sections already added, but to add a new one, you only have to click on the "Add New Section" button below the existing sections on the left panel. Notably, you have very limited control over how where the elements get automatically placed in the section.
When it comes to dragging elements on your website, it is only possible within the column that they started in. I know advanced users will cringe after hearing that.
And what about resizing elements?
If the element can't fit the preset section layout, which mostly turns out to be the situation, you cant do it.
Editing elements involves pointing and clicking them to see your editing options and then performing the edits, e.g., if its an image you can:
Edit the image
Remove it
Add a link
Add ALT text
Or replace it
On the right of the editing page, you're shown exactly how the site looks like to avoid having to preview it every time and switch from the editor. But if you prefer a full-page preview, just tap the "Preview Site" button at the bottom of the left panel.
If you get stuck, click on the Help button on the bottom right for support, more on that later.
For those who want to switch their current Strikingly template, just go to the Styles tab. "Change Template" is the first option. On the new template, there's an option to preview it before switching to it. Click on the "Switch To This Template" button on the far right in preview mode to start editing it.
How about adding HTML code? As mentioned earlier, this feature is only available for Pro Plans subscribers, and the edit option is available in the Settings panel. Even the "Mobile Action" tool is there.
There is a Publish Button like the majority of the other website builders. It pushes your site live to be accessible on the internet.
Make sure you check if you're satisfied with your Strikingly website before clicking on Publish. There are preview modes (phone, tablet, and desktop) for checking how your design changes look on different screens, as mentioned above.
First impressions count, and Strikingly doesn't disappoint!
It's one of the easiest to use site builders in the market right now; website creation is painless and effortless. Moreover, you don't need to know how to code or be a Pro webmaster (developer); anyone can use it.
Starting from the Strikingly website, you get an intuitive and sleekly designed sign up page. From there, time to access the editor dashboard is only limited by the speed you type in your information.
Note: There are website builders out there that have interfaces resembling Excel.
Moving to its editor, it has a fluid design. All the tools are well-organized and labeled perfectly to make everything straightforward. You won't require much effort or time to figure out how it works. Unfortunately, Strikingly doesn't have tips for their design tools (those you see hovering your cursor over them), but you're welcomed by a tour guide prompt, which is great for those using Strikingly for the first time.
Another cool feature is the ability to switch between a light and dark mode. This option helps in easing the strain on your eyes, depending on the time of day. Still on the switching concept, it's also possible with templates without having to start over as i just mentioned above. If I seem repetitive on this point, it's because its an amazing feature. Most of the website builders I've come across don't support this. Better yet, you can preview Strikingly templates before selecting them.
Strikingly was created to eliminate complexity from the website builders. It doesn't fail in this. As you have seen in the website creation section of this Strikingly review, it doesn't bog down the process with too many unnecessary tools and options. Changes get saved almost instantly; there are handy undo and redo buttons, and editing elements is simplified.
Lastly, to make sure more people can use it, it supports 9 languages.
But it's not all rosy.
Their iOS app doesn't support editing like some of the other builders.
The drag and drop functionality is kind of limited to only columns in a section.
Making resizing adjustments is restricted.
Apart from that, Strikingly is great.
Bottom line: ease of use is where Strikingly truly shines! Don't be afraid to make it your first website builder.
Strikingly has a decent app center, but its real let down is that some of the Apps can only get integrated when you're using their Pro and VIP Plan.
With a free plan, you don't get access to MailChimp (for newsletter integration), ECWID (an E-commerce Shopping Cart), and Facebook Pixel for campaign management.
Despite limitations, you can hook up the following to your Strikingly website:
Google Analytics
Google Maps, and Calendar
Google Forms,
Wufoo forms
SoundCloud
Paypal
Disqus for comment sections
Eventbrite ticketing
Baidu maps
Tawk.io – a Live Chat app
Other than the above, the App store is limited compared to what you get with other site builders like Weebly.
To optimize your Strikingly website for success on the internet, you need solid data to inform your decisions. This is where Analytics comes in.
And not surprising, Strikingly has a basic built-in Analytics tool to help you with this.
You get data points such as:
Traffic Sources
Page Views
Countries
Unique Visitors
Devices used to access your Strikingly website
But who can compete with Google Analytics and win?
The truth is very few.
Strikingly's solution is not among those few. Compared side to side with Google Analytics. Theirs seems like a knocked together sub-par tool.
It seems Strikingly acknowledges its shortcomings; you're allowed to integrate Google Analytics even on the free plan. Most of Strikingly's competitors lock this option to force you to pay for a plan.
On top of the data points above, you also get information on:
Bounce rates, i.e., how long people stay on your site,
Channel acquisition,
Click-throughs,
Visitor flow, and more.
For starters, Google can't properly index your Strikingly website if you fail to take care of basic SEO. All you need to do it tweak and edit a few subtle – yet crucial- rules in your webpage and its content.
With Strikingly, you can optimize SEO by editing and changing website parameters such as:
Titles
Image alt texts, and descriptions
Meta description and Meta tags
Favicons
Using custom URL
Page categories
And also Verifying your website in Google.
Downsides? There is no mention of support for features such as 301 redirects, and automatic site mapping. Also, Strikingly doesn't provide help with keywords.
So, if you're expecting outstanding SEO results, you'll get crushed. As a matter of fact, don't get your hopes up because single-page websites influence SEO performance negatively.
How is that?
Since your entire content is only gets displayed on one webpage, against a multi-page website, you're at a big disadvantage as your content gets watered down for Google.When it comes to marketing tools, you've got to pay for the Proor VIP plan. With it, you can
Integrate a MailChimp for sending out newsletters.
Add "Mobile Call To Action" buttons for allowing a prospective client to call, text or email you.
Integrate Facebook Pixel to market on and connect your Strikingly website on Facebook.
Use Twitter Card to steer traffic to your Strikingly website.
So, how do blogs work when created by Strikingly?
I'll keep it brief;
You can add a blog section to your Strikingly website the same way as any other section. There are expansive text blocks to add and share your thoughts with the world. Posts are shown on a different section on your website, where you can set the number of blog articles per page.
Supported blog features:
Adding new post, edit, and publish
Adding post title and Subtitle
Saving drafts
Changing a Blog Post background
Adding, renaming, and deleting blog categories
Previewing Posts
Publishing Posts
Unfortunately, you cant schedule posts to auto-publish in the future.
Most of the other features supported are under Blog settings are:
Membership subscriptions on Paid plans where only members receive an email post an article.
Blog specific templates are available
Google Analytics for audience analysis
Adding a sign-up function for email lists and newsletter subscriptions.
Enabling a comments system. You can also integrate Disqus.
The integration of social media feeds and social media sharing buttons gets done via the app store.
Can an online shop get managed on a single page?
Well, Strikingly supports it even on the free account, and it's very easy to use.
With the free plan, you can only sell 1 product; there are such uses cases, e.g., selling a book. To accept payments, you can add PayPal, Stripe, or. offline payments. Strikingly won't charge you any extra transaction fees.
eCommerce supported functionality covers:
Adding product items and setting parameters like weight, size, color, etc.
Importing and exporting products
Adding, renaming, reordering, and deleting product categories (Pro Plan)
Setting shipping options, tax rates, and pre-orders options
Creating discount and coupon codes
Missing features include not being able to sell digital products and automatic stock management.
Looking at the above points, online store support has just enough functionality for someone only starting out.
Domain services are under Settings. You have the option to buy a domain from Strikingly ($24.95) within the dashboard of the website. But with such high Strikingly pricing, it's better to go with a registrar like NameCheap. Alternatively, you can connect your custom domain.
Free users only get to use a subdomain, which greatly affects the professional look of a website.
Unlike web hosting platforms, with website builders, you don't get much in terms of security features.
But there's one essential you should be on the lookout for; an SSL Certificate. It ensures any data submitted and accessed on your website is via secure connections. With it credit card transactions, sign-up and log- in information as well as data transfers, are kept safe. Luckily, Strikingly gives you an SSL certificate.
If you want to keep your page private, Strikingly supports the use of password protection on their highest plan.
A big miss in terms of security with Strikingly is a restore option for previous versions of your saved Strikingly website.
Strikingly has a free plan which has decent options but feels quite limited if you are looking for advanced features.
Here is what you get:
50GB bandwidth
Sell 1 product in your store store
Build only a single page website
free strikingly.com generic subdomain
For advanced features, there are paid plans. Strikingly pricing is above the standard ballpark of other website builder prices, but is it worth it?
Here are the features you get:
A 14-day trial covers all paid plans.
Strikingly customer support is not award-winning, but it's not terrible, either. You can contact their team through:
Email (using the contact form on the website). Email responses are within 24 hrs, but for paid support, it only takes 1 to 3 hours.
Live chat
Phone support is missing except for the VIP plan where it's supported only in English
When editing, there is a live chatbot at the bottom right; it points to you the right self-help materials on their Knowledgebase in case you're stuck.
For DIY solving, Strikingly has created a list of over 40 starter videos.
You can ask any additional niche questions on their community forum, but note members are only active from time to time.
We've reached the end of this Strikingly review, am glad you made it up to this point.
As you've seen, Strikingly is not perfect for fully-fledged, top-tier websites, but for single page websites, it's the king. Its user-friendliness and ease of use, even for novice builders, are its main selling points.
However, Strikingly pricing is on the expensive side compared to most popular site builders. So, if you want advanced features and more freedom of customization, we recommend considering website builders like Weebly, SquareSpace and also Wix. If you've decided to create a Strikingly website, just follow our guidance and tips in this post, and I wish you the best of luck.