BigCommerce is a leading eCommerce website builder that enables you to launch your very own eCommerce store easily and run it without having any coding knowledge.
Sorting through the various existing eCommerce software and their various features can be very overwhelming. That's why we've done all the research, created this BigCommerce review, and presented everything in a well-organized, and properly explained manner to help know the eCommerce features you can expect and if BigCommerce is a good fit for your business or online sales needs. We start with the main BigCommerce features like Themes, eCommerce features, Plans, and Pricing, then jump into SEO, BigCommerce's App Store, Analytics, Security, Customer support, and more.
Does BigCommerce deliver on everything that it promises?
Read on for our comprehensive BigCommerce Review.
Let's dive deeper.­­
BigCommerce Review Conclusion
BigCommerce has almost all the essential selling features you need from the start. It's works well for fast growing small businesses, mid-sized to large eCommerce stores. Some of its strong areas include SEO, pre-integrated selling features support, security, customer support, eCommerce themes among others. No eCommerce builder is perfect, in this BigCommerce Review you will discover that its weak points include blogging tools support, general-website tools and not being extremely beginner-friendly. Its plans are priced same Shopify's but the more expensive ones have even lower price tags. It's the perfect alternative to Shopify
BigCommerce Pros and Cons
Pros
A highly scalable eCommerce platform
Decent range of eCommerce Themes
Lots of robust built-in eCommerce features
Brilliant support for developer features and resources
Competitively-priced plans
Stellar Customer Service
No transaction fees
Extensive Multilingual and multichannel support
Top-notch SEO, Analytics and Security features
Manageable learning curve
Cons
Premium Themes can be expensive
Sales per year cap for plans
Lacks a vast App Store
Needs external POS integration
Limited inhouse Blogging tools and features
No money-back guarantee for subscriptions and domain names
Not the most beginner-friendly platform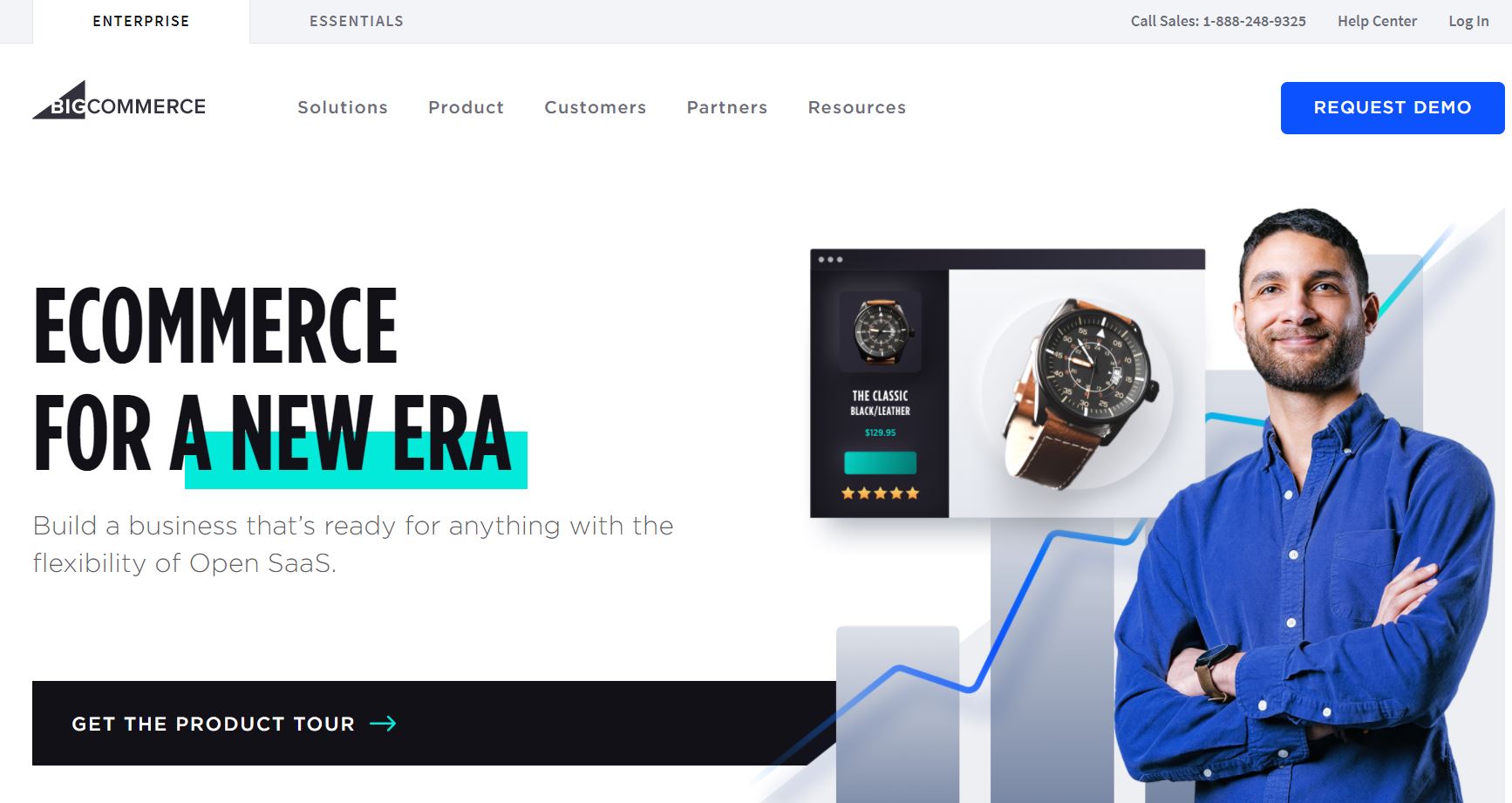 As stated above, BigCommerce is one of the most popular and feature-rich eCommerce software suites. It allows you to create a full-fledged online store from scratch without any coding knowledge or worrying about hosting. BigCommerce got founded as an Australian company by two Texans (Eddie Machaalani and Mitchell Harper) in 2009. It has become one of the fastest-growing e-commerce software companies and now generates over $17 billion in sales (14 million transactions). To date, this very mature eCommerce suite has been used by over 100,000 eCommerce stores in almost 150 countries worldwide. Its main offices are located in Austin (Texas, USA), San Francisco (California, USA), London (UK), and Sydney (Australia).
All types of online shops can be created using BigCommerce, from small merchant stores to those used by large merchants. Some of the high profile BigCommerce clients are
Martha Stewart
Ben & Jerry's
Toyota Australia
SkullCandy
Hess and CamelBak
Kodak
After its 2016 drastic rebranding, it got plenty of new built-in eCommerce features and became one of the best and easiest solutions. But who BigCommerce meant for?
Who Is The BigCommerce eCommerce Builder For?
To be honest, BigCommerce is not the most suitable eCommerce website builder for very small eCommerce stores or merchants looking to sell only a handful of products.
BigCommerce can work only for small eCommerce businesses that have a medium to large inventory since its value and extensive feature-set are the best-taken advantage of by such volumes. BigCommerce's many built-in tools are still great for beginner businesses looking to hit the ground running.This platforms ability to scale with a growing business makes it even more ideal for online stores anticipating fast growth that don't want to hit a brick wall soon.
Medium and large eCommerce businesses, as well as Enterprises, are the recommended users who can utilize BigCommerce fully.
BigCommerce Themes (Templates)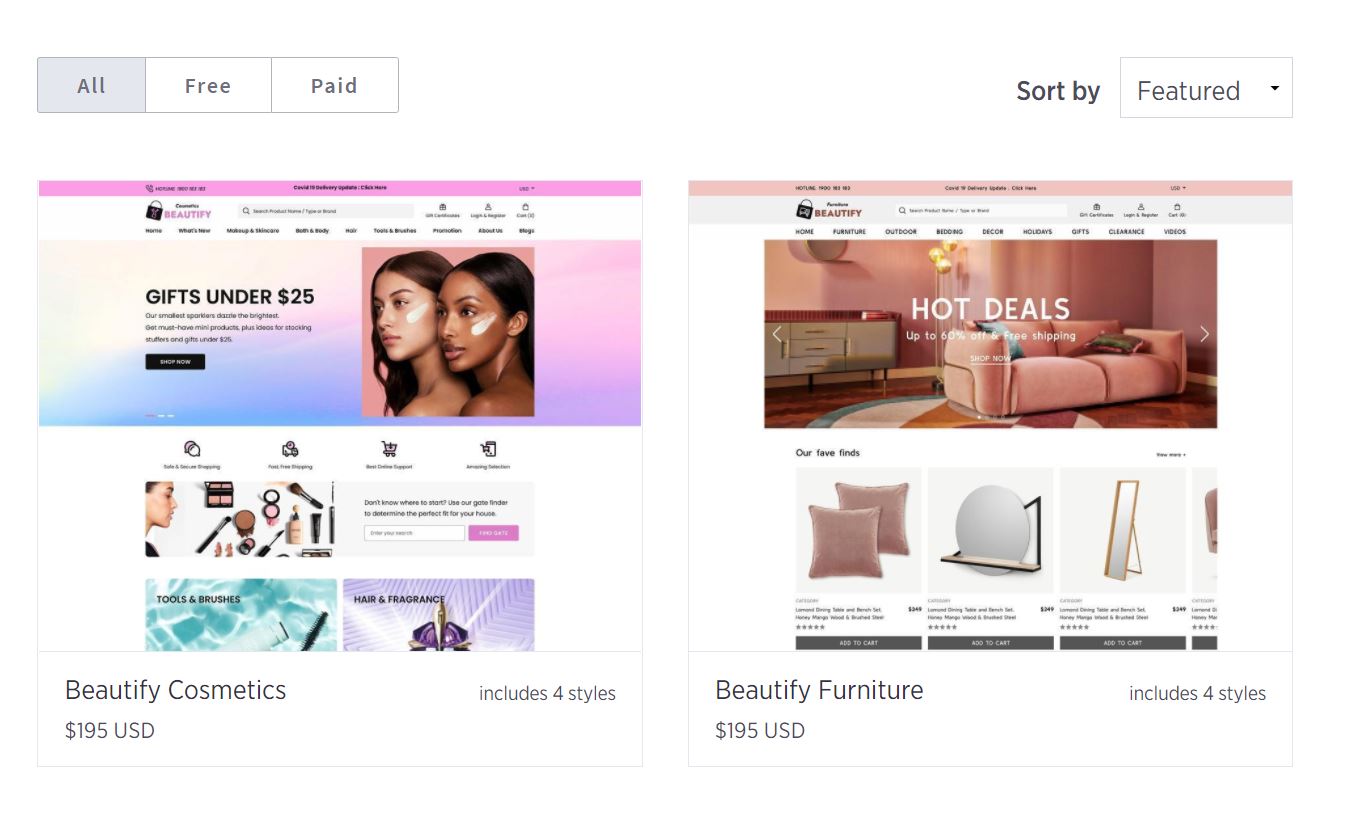 Right off the gate, BigCommerce assigns a default design to your store. However, you can also use BigCommerce's premade themes referred to as Stencil themes. Premium BigCommerce Themes are around 150 and cover a wide range of industries and eCommerce store niches. 12 extra themes (36 styles) are 100% free. Since 3 or 4 styles/theme are supported, all BigCommerce Stencil themes yield around 500 total variations or "styles" – this a different feel or color scheme of the theme. What's more, even uploading 3rd party or custom themes is allowed.
Paid BigCommerce themes look sleek, as well as modern and professionally designed. On the other hand, free themes are less exciting and minimalistic but still look cleanly designed. All BigCommerce premium themes are responsive which means they are automatically optimized to fit layouts and screen sizes of various devices (Desktop, tablet, and mobile view).
How much do premium BigCommerce themes cost?
Between $129 and $245 which is expensive but still closely in line with what's charged in the eCommerce industry. BigCommerce makes Store theme selection easy as you can filter and search based on industry, cost, layout, and more. Beyond that, another nice touch is that you can preview themes beforehand and even switch afterward without losing added content.
Overall, compared to Shopify, BigCommerce's Stencil Theme Editor has limited customization capability, it only helps you tweak the overall layout and style (font and color) and live preview the changes. But the editing and customizing process aren't hard, just navigate to "Home Page Carousel" where you can additionally change your logo, images, headings, buttons, and text.
If you have coding skills, advanced customizations include support for changing HTML and CSS code. If you're not a developer, don't be gloom, you can get in touch with 3rd party developers and designers in the BigCommerce Partner Marketplace who will help you out in fully customizing your store using HTML, CSS, and JavaScript.
BigCommerce eCommerce Features
BigCommerce eCommerce builder has a wide range of powerful of e-commerce features that help you sell physical products, digital products (downloads), events, and services without too much hassle.
Here's a breakdown of the supported BigCommerce eCommerce features
Cart and Checkout Page Features
Only the base BigCommerce plan (Standard Plan) lacks support for your shoppers to check out on your online shop's custom domain, with the rest, they can. All plans have single-page checkout great for reducing the number of buyers who drop off before making a purchase. The checkout page is fully customizable where you can even add upsells and down sells.
Products and Orders Management Features
On the main dashboard, there is an all-in-one order management panel where you can take care of
Shipping and tracking details
Process returns
Refunds
Managing your products is also straightforward as there's a dedicated "Products" section. Here you can see all the products and their details like product name, SKU, price, images, and stock level. What's more, BigCommerce has mobile apps (Android and IOS) for management on the go.
Adding Products – adding a product and its details is a comprehensive process that allows you to include its name, price, stock-keeping unit (SKU), weight, category, description, tax class, delivery method/fee, and availability. If you need more options, you can create Custom Fields
Featured Products – using a star setting, you can set a product as the featured product for your eCommerce store
Product variants – it's not as effortless as using Weebly or Shopify but it's more advanced. Variants can be added with almost no limits – up to 600 variants and up to 250 options for a single product
Product Search – a faceted (filtered) search tool is available for helping your site's visitors find products faster using filters like color, size, and price
Customer Product Reviews – They are supported but only for select high-end plans
Product Images – Unlimited product images and videos (not unlimited) can be added which allow a shopper to view zoomed-in, high-resolution versions of the product
Importing Products – It's possible using CSV files. You access the database's files with BigCommerce's WebDAV client on your computer. Exporting and Importing customer and order data in XML format is also supported
Digital Products – you can set the max number of downloads for a single sale, set expiration dates, and more. Uploading is through a control panel or the BigCommerce WebDAV tool and the maximum file size supported is 512 MB
Customers Management Features
BigCommerce stores can support guest checkout, but for those customers that want to create an account, they can do so in the Customer log-in area. The platform also has a very detailed approach when it comes to customer management.
You can
View, filter and manage customer accounts – includes adding, deleting, and editing accounts
Assign store credit to specific customers
Create customer segmentation lists based on location, demographics, and purchasing trends
Export customer information for marketing purposes
Look into a buyer's journey
Thanks to various apps on BigCommerce, performing targeted, and segmented marketing, using emails is very achievable.
Multichannel (Omni Channel) selling is one of BigCommerce's biggest selling points, it's support is the best in the eCommerce website builder space. You use its Channel Manager for this where you can link and sell to other eCommerce platforms like
Amazon
Google Shopping
eBay
Pinterest
Facebook
Instagram
Walmart
Beyond that, it supports centralized inventory management for other online marketplaces and integrating your online store with physical store systems like ShopKeep, Springboard Retail, and Square.
With the Channel Manager, after making your sales on another channel, you can process the orders straight from your BigCommerce dashboard. The unified channel management features extend to helping you with online advertising and marketing tools, and social media connections for multiple selling channels.
BigCommerce supported payment gateways (pre-integrated) are over 60 – no transaction fees charged. Some of the payment options on BigCommerce include
Square
PayPal
Stripe
Authorize.net
Klarna
Adyen
credit card payments (powered by Braintree).
In addition, even mobile wallet options like Amazon Pay and Apple Pay are covered. Payment flexibility also allows you to accept offline payments like bank deposits and cash on delivery. Multiple currencies support doesn't require adding apps.
Transaction Fees and Credit Card Charges
As pre-stated, a big advantage of going with BigCommerce is that there are no transaction fees imposed. However, note that there are still fees for Braintree's credit card processing which decrease as you climb up BigCommerce's plans
You're provided with a suite of BigCommerce marketing tools to help you promote your eCommerce platforms on-site and offsite using search engines and social media advertising. They include
Discounts and coupon Features – BigCommerce has a highly customizable coupon and discount creator that can help you apply discounts to specific products, brands, product categories, or cart total. Three options for coupons are available; fixed amount, percentage, and free shipping. The expiration date for coupons can be set
Gift certificates – offer them for purchase by your store's visitors who want to gift their friends and family
Google Customer Reviews (Pro and Enterprise plan only) – this tool gives you the ability to display your store's rating in Google search results
Google AdWords and Yahoo Search Marketing integrations for automatically promoting your products on Google and Yahoo
Onsite Banners – this tool helps you add promotional images and links for your offers on your e-Commerce website
Promotion rules – for creating promotional offers in the form of rules e.g., "buy 2, get 1 free"
Abandoned Cart Saver (Plus plan and above) – for helping you send 3 automated re-targeting emails to shoppers who left without buying or left items in their shopping cart
Newsletters – this feature allows you Email Market by creating newsletter subscriptions, export newsletter subscribers, show your newsletter summary, and even tick the newsletter checkbox by default
Tracking and managing inventory is advanced on BigCommerce, you can
Filter out products based on inventory levels
Track your stocks using product options like color and size
View and reveal the stock levels of products
Set up redirects or hide products depending on their availability
Enable stock-level notifications for yourself and your customers
All the above get done in a dedicated section for inventory management where you can perfectly handle and update everything.
There aren't baked-in Dropshipping features on BigCommerce, but you get different free and paid apps for specific dropshipping niches. They include Printful, Spreadr, Sunrise, Wholesale, and AliExpress ($10/month).
Point Of Sale System (POS) Support
BigCommerce doesn't have native POS features but you can use and integrate apps and hardware from their partners like Springboard Retail, Shopkeep, and Square POS for your brick-and-mortar store. The support extends to payments and synced inventory management.
BigCommerce shipping support covers 150 plus countries and each of your buyers will be informed about the tracking options and whole shipping process. It's pre-integrated Shipping Manager tool (free for all plans) that enables you
Track and ship products using major shipping companies like UPS, DHL, USPS, and FedEx
Show Real-Time Carrier Quotes for UPS, USPS, and FedEx at checkout
Get special and bulk discounts on shipping around the world from leading companies like DHL, USPS, FedEx, and more
Set specific shipping methods for different shipping zones
Keep your shoppers happy by providing in-store pick-up, and next day delivery options
Define shipping costs per weight, items, and total order value or flat-rates
Give free shipping offers to buyers
Also, you can print shipping labels via the BigCommerce supported third-party integrations like ShipperHQ.
BigCommerce Tax calculations support in excess of 150 countries globally, however, setting up taxes on the platform is a bit cumbersome because of the number of options available like
Hiding and unhiding hiding taxes on products, shopping carts, and invoices
Creating Tax Rates and Tax Zones per state, country, or global zone
Creating tax classes (e.g. non-taxable, VAT, or gift wrapping) that depends on the specific product
Fortunately, your BigCommerce store can get you advanced automatic sales tax calculation via Avalara – a BigCommerce recommended partner that straightforward to use.
BigCommerce Blog Features
A blog integrated into an eCommerce site helps it boost its search engine rankings, and provide useful information to visitors which might help them decide on which products to buy. With BigCommerce, there are two ways you can have a blog. The first method is using the built-in blog tool and the second is integrating a WordPress blog (much better).
BigCommerce's blog features and non-store content settings found on the "Content" section on the main dashboard are rather basic and only support
Adding, editing, publishing, or deleting blog posts
Saving drafts
Adding images to blog posts and managing them via the Image Manager
Sharing posts on social networks
Managing comments e.g., using built-in settings and also modifying the settings
Downsides?
The text editor is boring-looking and outdated
You can't customize blog posts URL for proper SEO
The essential blog features needed to make a blog successful like blog tags, categories, RSS feeds, social bookmarking, and more are missing
We recommend toggling the visibility of the blog off and adding a WordPress-based blog instead. It gets hosted on the main domain name (not subdomain) and you will have access to the best blogging tools on the internet.
BigCommerce Pricing and Plans: Which Hosting Plans Should You Go With?
There are 4 full-featured eCommerce plans with support for
Unlimited products, storage, and staff accounts
Unmetered bandwidth
Single-page checkout
3rd party POS (point of sale) systems support
Multi-currency features
They are perfect for merchants with moderate to large amounts of sales. For small businesses, the entry-level Standard Plan is cheap considering the number of features it has. Each higher-level plan gets you reduced credit card rates plus a higher yearly sales cap and some exclusive features like Google Reviews integrations and Abandoned Cart Recovery.
BigCommerce pricing structure is very transparent – no hidden fees. You can pay month-to-month billing with no setup, cancellation fees. But you're better off paying for a full-year subscription (up to10% off) if you're already convinced it's the best platform for your needs. If you're not sure, BigCommerce offers a 15-day free trial (no credit card required) where you're given access to all features available below the Plus plan.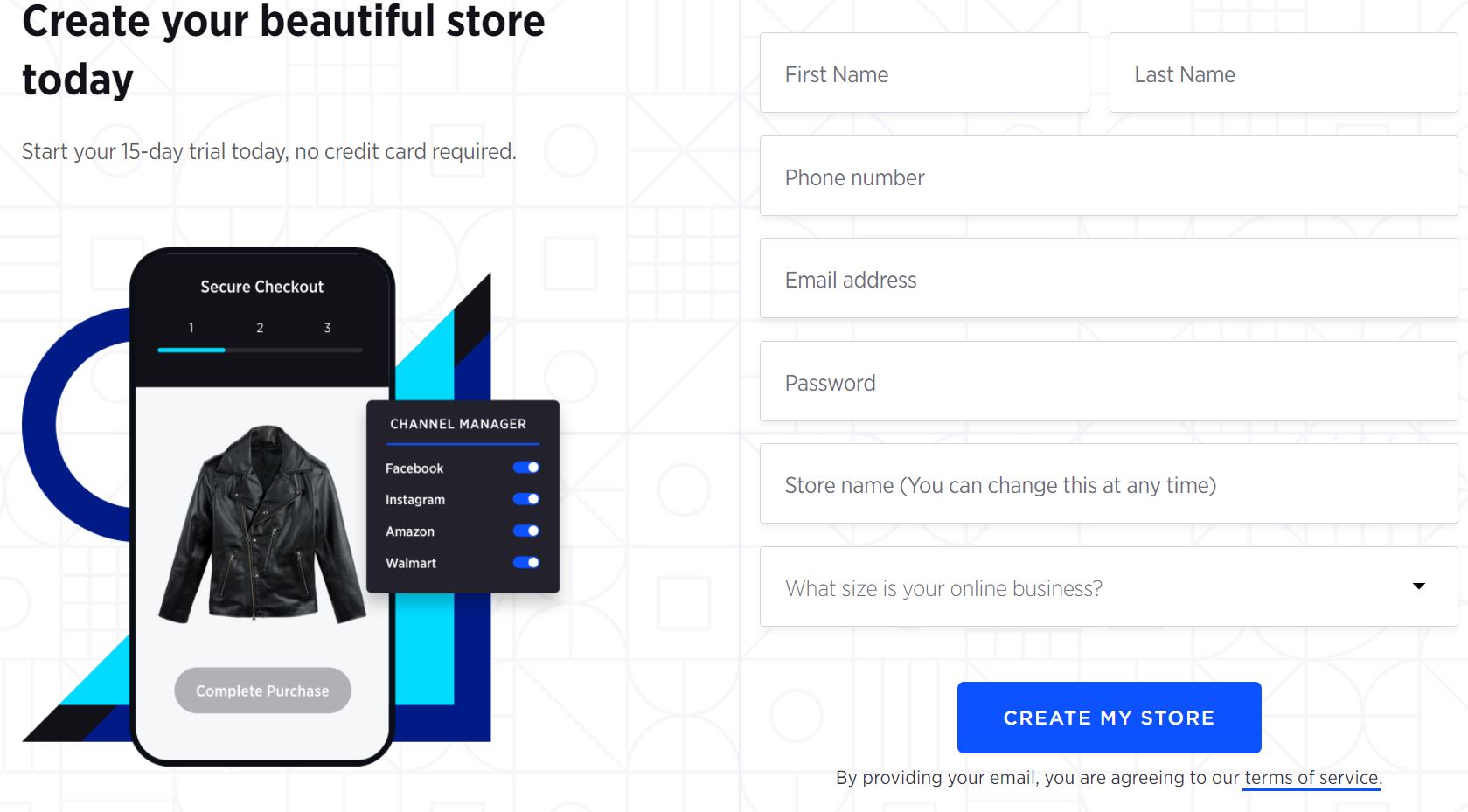 BigCommerce eCommerce Plans
Sales Cap
If you exceed the set sales threshold for your plan, you get automatically upgraded whether you like it or not. The result will be an increase in your monthly plan costs
A while back BigCommerce plans were extremely affordable but there was a price hike that left some previous customers a little sour. Still, across the board, BigCommerce's pricing remains more competitive and gets you decent features for your money compared to Shopify offerings.
BigCommerce Refunds
BigCommerce doesn't offer refunds, this should be a consideration when decided between paying per month or per year if you're new to this eCommerce platform.
BigCommerce Review – Ease of Use and Simplicity
Ease of use should be one of the factors you prioritize when choosing an eCommerce website builder; how does the BigCommerce builder in this section?
For absolute beginners, you start by answering a few simple questions which enable BigCommerce tools to guide you, lists tips, and suggested the next steps for creating the best online store effortlessly. You don't need any coding knowledge or prior experience with the platform.
Since the admin area is fairly intuitive, it won't be hard to figure out how things work if you're sharp. Day-to-day tasks buttons are well-organized making functions easy to implement. Overall, the main dashboard is user-friendly and if you want to customize by rearranging sections and removing others you can do so.
The only downsides are that some of the vocabulary used can be a bit technical and the sheer volume of options e.g., Taxes section can sometimes be a bit overwhelming for someone new to eCommerce
But that's not all, advanced features can be difficult to learn. The BigCommerce Stencil theme editor is tailored more for advanced users and developers, making most tweaks to themes can be cumbersome and a bit confusing for those that lack the technical know-how. Overall, the learning curve for the BigCommerce eCommerce builder is still manageable.
BigCommerce SEO Features (Search Engine Optimization)
Your BigCommerce SEO (Search Engine Optimization) implementation will determine how many visitors find your site and products on search engines like Google and Bing. From the start, you're set up for success with some of BigCommerce SEO tools being baked-in and automated.
BigCommerce SEO features include
Tweaking support for On Page-SEO elements like page titles, metadata and descriptions, and headings – they are what search engines look at when categorizing your site for search results
ALT text support for images to help search engines and those using screen readers
Bulk 301 redirects redirection moved pages and automatic generation of 301 redirects
Auto-generated XML sitemaps although you have to submit them to Google yourself
Clean URLs – BigCommerce doesn't add prefixes to your pages and products
Customizable URLs– you can edit products and page's URLs to structure them in a search-friendly way. Notably, this isn't supported for blog pages
Beyond that, BigCommerce servers have an incredible uptime of 99.994%. Besides, they also prioritize speed with unlimited bandwidth as well as these built-in features
AMP format support for both products and pages. Accelerated Mobile Pages (AMP) help your eCommerce store load fast especially on customers' smartphones
BigCommerce Content Delivery Network (CDN) – helps minimize loading time for visitors around the globe even those far from BigCommerce's hosting servers. The average loading time for BigCommerce websites is around 2.4 seconds
Akamai Image Manager – an automated image optimizer available on some BigCommerce themes ('Stencil' range) that helps your store images load faster
Pro Tip
BigCommerce SEO guides are available on the help center to enable you to grasp what most of the above features do and how to use them.
BigCommerce Apps Store,3rd-Party Plugins, and Integrations
No eCommerce software can cover the needs of its broad customer base out-of-the-box, that's why support for 3rd party applications, plug-ins, and integration is important. You'll be glad to know BigCommerce has an Apps Store with over 750 add-ons, some free, others you have to pay for.
If you think that's a small number compared to Shopify, it's by design as BigCommerce favors having lots of its feature built-in and supporting pre-built integrations from leading 3rd party developers e.g.
Microsoft Dynamics
NetSuite
SAP
Marketing and conversion apps such as Mailchimp and Google AdWords
Sage, Xero, Avalara, and QuickBooks for accounting and sales tax
Shopkeep POS
Shopping systems like Google Shopping feeds
Despite this approach being good for helping you as a customer save money by avoiding 3rd party paid apps, the limited variety of apps can be bad for you if you have specific needs are that are not supported natively on BigCommerce.
All supported apps are organized into categories and subcategories. Furthermore, some tiers indicate how firm BigCommerce stands behind integration, and how much value it offers. These tiers are Certified, Enrolled, Partner, Preferred, and Elite.
BigCommerce API for Developers and Enterprises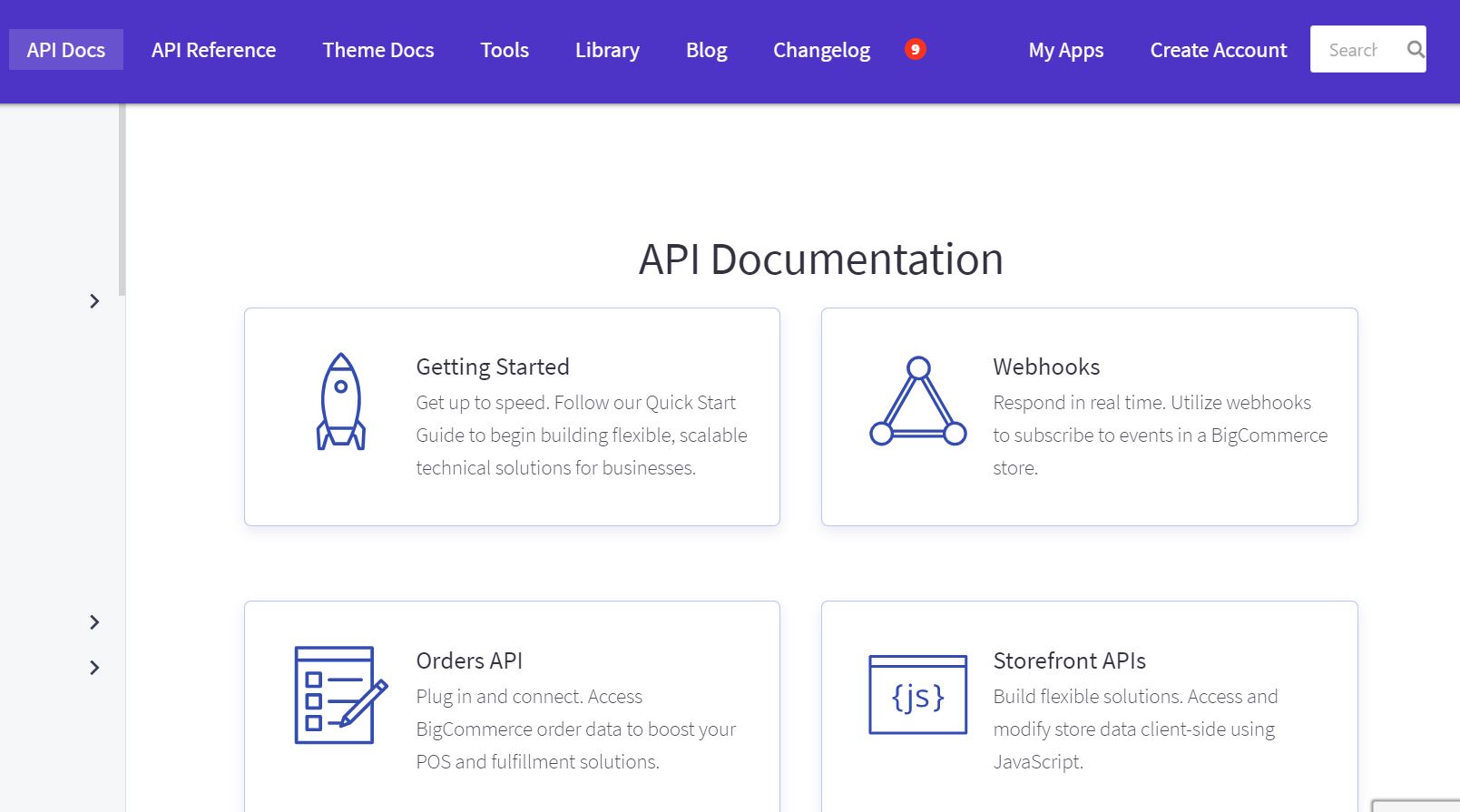 BigCommerce is an eCommerce platform with an open architecture. BigCommerce RESTful API uses open documentation and non-proprietary languages. APIs help developers easily create 3rd party apps for a platform
For enterprise businesses and developers, access to advanced tools like,
BigCommerce's open and flexible API
Payment systems support
Checkout SDK – a library filled with JavaScript elements for your checkout page
is made easier than on competing eCommerce software like Volusion.
It's possible to create multiple API accounts with every plan. When it comes to API calls, there are limits; you're allowed 20,000 to 60,000/hour depending on your plan. Enterprise users get unlimited API calls which means syncing multiple apps with BigCommerce stores won't be a problem.
BigCommerce Analytics Reports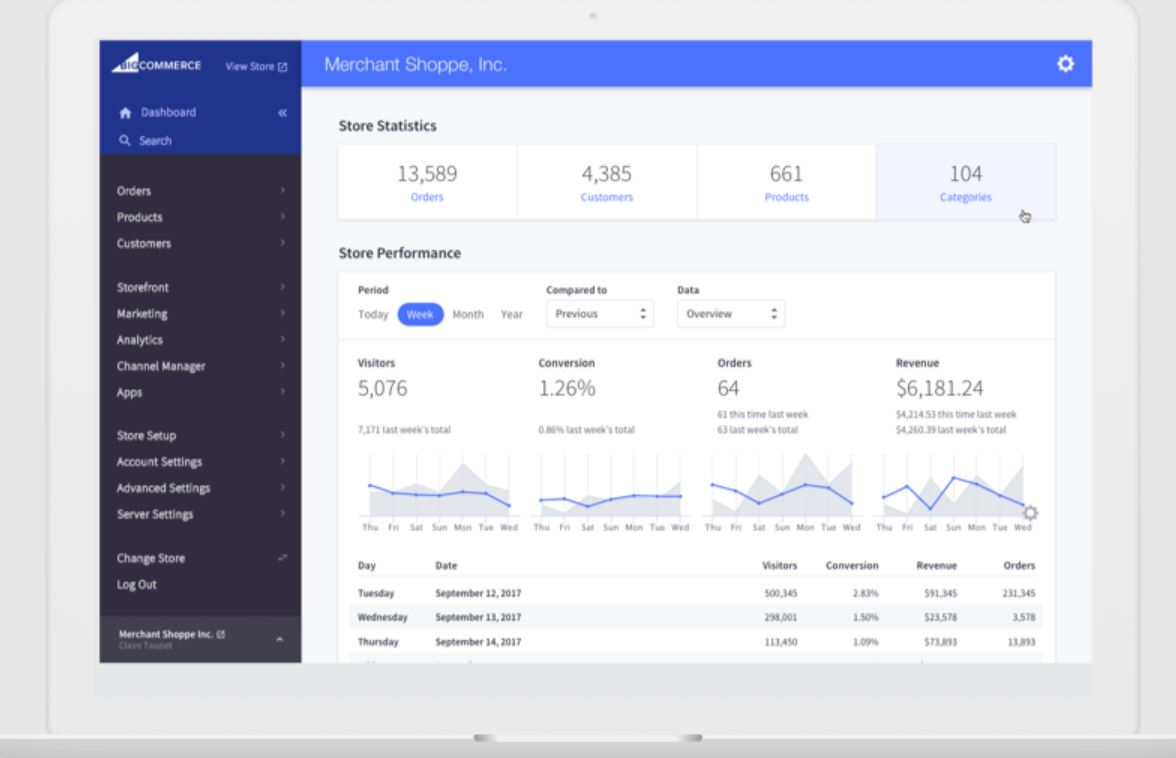 To make decisions on what to improve in your eCommerce store you need analytics data. BigCommerce analytics reports have in-depth data on how your online store is fairing. Straight from the main dashboard, you can see a quick overview of the stats by clicking on "Analytics" on the left sidebar.
Some awesome perks are that reports are customizable and unlike Shopify, most of the functionality is available on all BigCommerce plans.
BigCommerce Additional "Insights" Service
If you're willing to pay for more varieties of in-depth information about your products, customers, and abandoned carts, you can pay an extra $49/month with the "Standard" or "Plus" plans. If you have the "Pro" plan, you add $99/month while "Enterprise" customers fork out $299/month on top
The statistical data that available via BigCommerce includes
Overall Store Overview – a bird's eye view of all stats from Traffic Sources, Visitors, Total Revenue Generated, Orders, Conversion Rate, Average Order Value (AOV), and more
Real-Time Stats – A real-time overview of your BigCommerce store's performance
Finance Reports – you get insights into profits, sales, and tax reports
Orders – Order analytics report include the number of orders placed, % of discounted orders, total units sold, average order value (AOV) and the total generated revenue.
Customers Details – More in-depth information about shoppers like their Total Number, New Customers, % Of New and Returning Customers, each customer Spend as well as each Customers Information (Name, Email Addresses, First and Last Orders)
Marketing – Marketing analytics show you your store's visitors' sources to help you evaluate and improve your BigCommerce marketing strategy.
In-Store Search Stats – Here you can find search histories, the main keywords or phrases your store's visitors hence know which work better for SEO optimization
Merchandising- shows theTotal Products Sold, Average Prices, Price Range, Total Orders and more
Sales Tax Report – Shows the no. of taxable orders placed plus total sales taxes collected paid
Search Engine Reports – shows you the main keywords used by customers to find your store on Google and Bing
Abandoned Carts – has data on abandoned revenue, abandon rate, total revenue, and more
Abandoned Cart Recovery – Shows the results of your abandonment cart follow-up emails e.g., number of abandoned carts recovered via emails.
Purchase Funnel Stats – It shows you the percentage of visitors who viewed your store's products, added products to carts, and completed purchases – a customer's purchase journey. These metrics help you visualize your eCommerce store's funnel, its conversion rate hence fix where people are dropping off the most
On top of that, BigCommerce web analytics can be seamlessly integrated with other 3rd party analytics tools like Google Analytics, Facebook Pixels, and more.
BigCommerce Domain Name Services
All new BigCommerce stores get to use a subdomain(mybigcommerce.com), it does the work but it's not what is recommended. You need a custom domain name for your business branding, and emails to look professional.
BigCommerce allows you to buy a custom domain name (starting at $ 12.27 per year) where you will get help with setting it up. All BigCommerce domains have WHOIS domain privacy protection, automatic renewal, and registrar lock features included for free. Alternatively, you can redirect a 3rd party purchased domain name to your BigCommerce store.
BigCommerce Security Features
The last thing you want when running an eCommerce store is a security breach, BigCommerce security features are top-notch which means you can advertise a secure shopping experience to your customers. This eCommerce giant even makes the coveted claim of all having the highest number of security features in the e-commerce industry.
Security updates get installed automatically. With most lower plans, you get a free shared SSL certificate while the high-priced plans get you a free dedicated SSL certificate and you can even install 3rd-party SSL certificates.
What is the difference between a shared and a dedicated SSL?
A shared SSL gets used when your checkout isn't hosted on your own website or custom domain. For BigCommerce, only Pro and above users get a dedicated SLL certificate
BigCommerce is PCI compliant (level 1 certified), this ensures no credit card data breaches for all its web stores. If you get the Plus Plan and above,you get access to an anti-fraud analysis tool that will save you from illegal losses by flagging potentially fraudulent claims and orders. You can then manually review them later to ensure you're not getting scammed.
The fact that BigCommerce uses Google Cloud adds the state-of-the-art multi-layered security used by Google which includes
Intrusion detection software
Server Specific firewalls
File integrity scanners
DDoS attack protection
As if that's not enough, there's around-the-clock monitoring by BigCommerce's security team to prevent unauthorized access and potential threats. You're promised an average uptime of 99.99% which is even better than the industry's average of 99.5%. For context, Shopify has a lower average uptime (99.98%) compared to BigCommerce.
BigCommerce Customer Support
All BigCommerce's direct support channels and self-help materials are easily accessible from its main dashboard. BigCommerce offers excellent 24/7 one-on-one support via
Multiple country-specific phone lines (US- 888 699 8911) – staff answer calls in under two minutes
Live chat
A ticket system (you submit contact forms)
Email
Social Media – their Instagram, Facebook, Twitter, LinkedIn, YouTube, and Pinterest accounts and pages
Its team is very responsive and offers quality assistance with the support extending to
Selling on BigCommerce
Basics of marketing
Increasing conversion
Improving user experience
Growing your business
Requesting solutions to payments, taxes, shipping, and integrating apps
SEO and more
Notably, those with Pro and Enterprise plans get premium service which includes prioritized responses for queries.
But that's not all, self-help materials and resources like tutorials, guides videos are accessible via its Help Center. Within, there's also a huge library of online resources for developers in the Dev Center area.
More areas you can find DIY help materials include
BigCommerce University – there's a set of customized video tutorials on BigCommerce organized into 4 sections which are "Building your store", "Getting customers", "Converting visitors" and "Developing your reputation"
BigCommerce's blog
If you prefer peer-to-peer help, visit the BigCommerce online forum where you can interact and get help from other experienced merchants. Although it's smaller than Shopify's, it's well-organized and members are very active.
Find An Adviser
: For professional help with your eCommerce store, there's a Partner Marketplace, where there are lots of 3rd party BigCommerce developers who offer paid services
BigCommerce Review Conclusion
That's our honest BigCommerce review, it was in-depth but with it, you can be you know everything about this eCommerce builder and if it will meet your requirements. In summary, some of the of going with BigCommerce are no transaction fees, access to a vast array of built-in eCommerce features, reliable customer support service, and well-priced plans that can help you save a bunch of money. Adding the fact that BigCommerce entry-level features are among the most plentiful in the eCommerce industry, you should consider using it if it impressed.