There are over a dozen web hosting providers at your disposal, and choosing the best one among them is a vicious cycle. So how does DreamHost rank among giants like SiteGround, HostGator and BlueHost?
So should you host your website with DreamHost?
We've detailed everything about DreamHost below. Ready?
Let's gets to it.
DreamHost – formerly known as the New Dream Network – got established, registered, and started hosting websites in 1997. Its founders were undergraduates Dallas Bethune, Josh Jones, Michael Rodriguez, and Sage Weil at the College of Harvey Mudd.
Dreamhost's headquarters are in Los Angeles, California, and they have about 200 employees. The company's data centers are located in Brea, California, as well as Portland, Oregon.
This veteran hosting company has remained a privately owned company, unlike hosts such as BlueHost and HostGator that get acquired by conglomerates like EIG answerable mainly to their shareholders. Rather than a focus on maximizing profits for shareholders like the latter two have found themselves in under new ownership, DreamHost has always been committed to maximizing the quality of their hosting services.
And it has paid off in the long term.
Currently, DreamHost has over 400,000+ customers and aids them in hosting over 1.5 million websites in over 100 countries around the world.
With over 22 years in the web hosting industry, they are one of the only four hosting services who have managed to get official WordPress.org recommendation (we've dissected how this is beneficial to you later in the article).
What's more, DreamHost has also evolved with time. The company is fully committed to Green Hosting. They are making an effort to reduce the impact of their data servers on the environment by using highly optimized facilities and establishing policies that respect natural resources.
That has to count for something, right?
If you're planning to host your website with an eco-friendly hosting provider, you're reading the right review.
Good news so far, but will their other details make them more desirable or not for your needs? We've done all the heavy lifting and research for you, keep reading.
This informative guide covers all hosting services offered by Dreamhost, their benefits and drawbacks, hosting plans (features and resources allocated), customer support, hosting infrastructure, pricing, refund policy, and more…
We've also dived deeper into their other services, like domain registrations and website building. If you're planning to sell merchandise, we've also covered the e-commerce support you get.
But we've not left you there, to add icing to the cake, we've included a FAQ section that answers your burning questions related to DreamHost.
Let's take a sneak peek at some of the good and bad sides of DreamHost.
As we have stated previously, DreamHost offers a wide range of hosting services. From shared web hosting, managed WordPress Hosting, VPS, Cloud Hosting, and dedicated servers. We've broken down these services for you in simple terms.
In shared hosting, resources such as RAM, CPU, Storage, bandwidth are all shared. Shared hosting is perfect for you if you're getting started, and don't want to spend a lot of money.
DreamHost offers two shared hosting plans: Shared Starter plan and Shared Unlimited Plan.
Shared Starter plan costs $2.59/month with a 3-year commitment and supports hosting only 1 website.
However, there is a catch; the Starter Plan has no free [email protected] email hosting. You have to purchase the email hosting at $1.67/month. It's also quite limited regarding the following specific resources and features:
50GB disk storage with 6 MySQL databases supported
5 Subdomains allowed
Access for only 6 FTP/SFTP/Shell Users
Both plans get you the following freebies; free domain, Let's Encrypt SSL certificate, fast SSD storage for all of your files, and you get automated daily backups. To make the deal sweeter, free WordPress Updates for core software and security get done automatically.
Other standard features across both plans include unlimited traffic, unlimited MySQL databases as well as unmetered cached visits per month. With each plan, they help you get off the ground with a pre-installed WordPress.
If you want to host unlimited websites, get unlimited features including storage, subdomains, MySQL databases, FTP/SFTP/Shell Users, and free email hosting, you have to upgrade to the Unlimited Shared hosting plan, which starts at $5.95 / month.
As we have mentioned earlier, DreamHost is recommended by the WordPress organization. It's not just an honorary avowal. The technical benefits you get with their WordPress solution – especially the Dreampress plan, is among the best in the industry. They claim to host of over 750,000 WordPress installations. It's one of the areas, where DreamHost hands down beats most of the competiton.
So what else do you get?
Here's the deal: DreamHost's whole infrastructure is built to run WordPress as smooth and fast as possible; I can tell you from experience that's this is no bluff. Their WordPress hosting is absolutely excellent!
Don't believe me?
You have the option to host your WordPress site on the cheaper WordPress starter plan or get a DreamPress plan that comes with managed support, a lot of helpful WordPress tools and gets the best WordPress optimization. And if that's not enough, you can also get managed WooCommerce hosting (e-commerce sites), or both WordPress VPS and Dedicated WordPress plans with the same benefits as the DreamPress plans.
Amazing, right?
Let me be clear about something: you've got to pay more for managed WordPress, but it's absolutely worth it. Here's everything about the DreamPress plans – features, tools, and WordPress support.
Firstly, there are a total of 3 plans called DreamPress, DreamPress Plus and DreamPress Pro.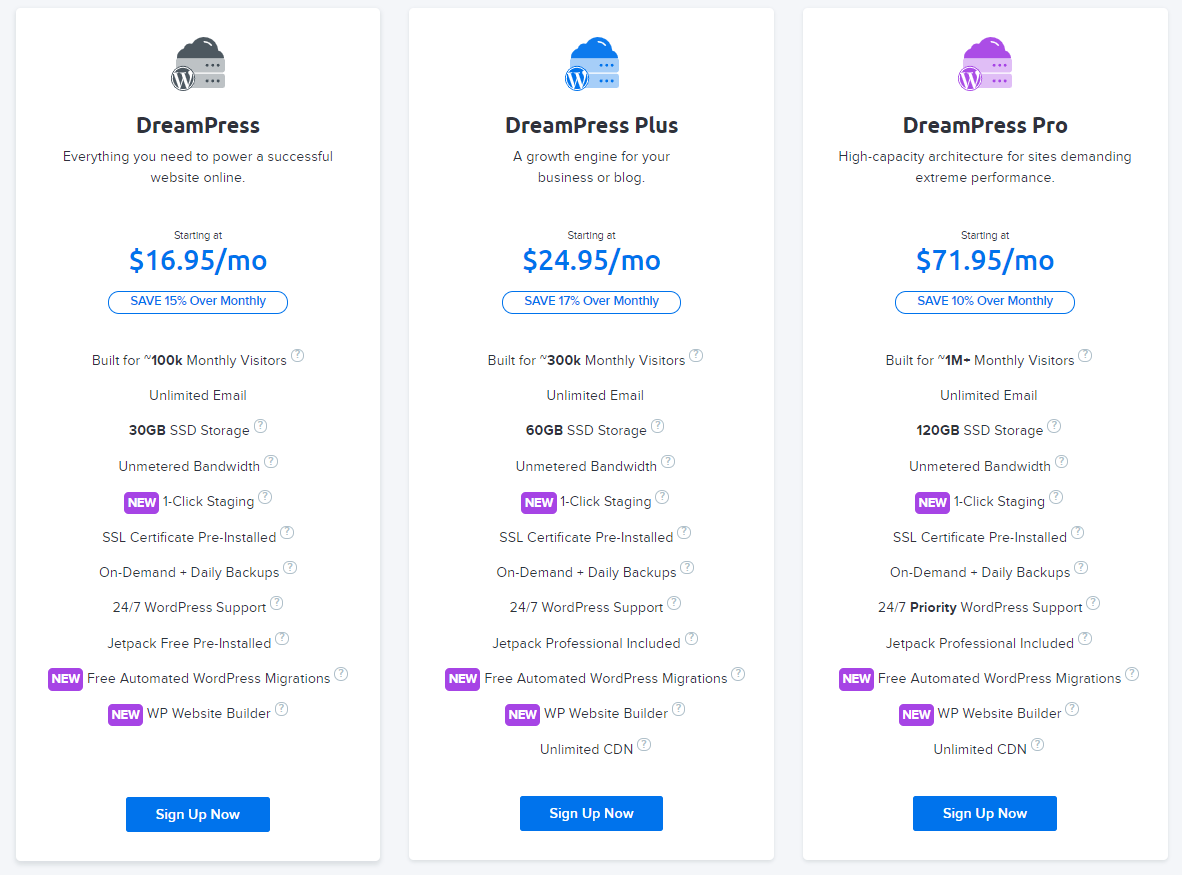 Main features include a free domain (with free domain privacy), free pre-installed SSL certificate, free Jetpack Plugin and On-Demand + Daily Backups. Also, you get unlimited traffic, MySQL databases, SSD storage and SFTP accounts.
WordPress support covers the following:
A Quickstart guide to aid you in setting everything up as quickly and effortlessly as possible.
Free WordPress Migration tool to move your site if you are using another hosting provider right now.
1-Click installer for WordPress.
1-Click WordPress staging environment to help you safely test changes or new code, plug-ins, and themes before they get released on your live site.
Automatic WordPress updates by DreamHost WordPress experts for both core software, plug-ins and security features.
DreamPress plans get access to Free BoldGrid website builder.
Access to 100's of mobile-optimized website templates. Besides, they also include free industry-specific text & images.
Help from our DreamHost WordPress experts who are well-trained.
WordPress optimization and performance boosters that come with DreamPress plans include:
Isolated resources in a high-performance cloud environment.
Extreme WordPress Speed optimizations through their Built-in Caching system.
All plans have both unlimited emails and bandwidth. The major downside? All DreamPress plans support hosting only a single website.
To run an e-commerce website on WooCommerce, you have to get the same DreamPress plans as for WordPress. That's because WooCommerce is actually a built on top of WordPress. When you get a DreamPress plan for running an ecommerce site, your website will be automatically optimized for WooCommerce.
Other features that come with running a WooCommerce website on DreamHost:
Pre-Installed WooCommerce,
Free Pre-Installed Storefront Theme,
Pre-Configured Plug-ins,
WooCommerce updates,
Let's Encrypt SSL for securing your store.
Upgrading from shared hosting to Virtual Private Servers is seamless with 4 VPS hosting plans available: Basic, Business, Professional and Enterprise. Even though you share a server, you get a dedicated environment through virtualization.
With each plan, your files get hosted on SSDs (Solid-State Drives), you're given a free 1 click SSL-certificate and unlimited emails, domains with privacy protection (websites), MySQL Databases, and bandwidth.
DreamHost's expert staff will take care of managing performance, security, and updates at no extra charge.
Dreamhost's VPS hosting allocates your server resources exclusively for your website (or other application) and you can manage your virtual server easily using their custom control panel. RAM and storage provided are easily scalable, depending on your growing needs, you can upgrade them in less than 10 seconds in case you get a sudden surge in traffic.
Below are the resources for each Dreamhost VPS hosting plan
Basic – 1GB RAM, 30GB SSD
Business – 2GB RAM, 60GB SSD
Professional – 4GB RAM, 120GB SSD
Enterprise – 8GB RAM, 240GB SSD
If your website traffic outgrows VPS hosting, then Dedicated Server Hosting is the way to go. Dedicated servers offer dedicated resources for your website that no one else can use.
DreamHost offers a fully managed dedicated hosting.
All Dedicated Hosting Plans get the following standard features:
Full Root and Shell (SSH) access
24/7 DDoS protection
Ubuntu OS
24×7 Tech Support & Server Monitoring
Local MySQL Database Server
RAID 1 storage
Surprisingly, the plans come with either a HDD or SSD drives, you've got to read the fine print.
The free custom control panel you get, permits you to manage your resources from wherever you are around the globe; you can reboot or turn your server on/off with just a few clicks. This control panel also helps you manage your domains, emails, and websites.
Monthly prices for Dedicated Servers start at $149/month for the standard plan, which includes 4-core (8-threads) Intel Xeon, 4GB of RAM,and 1TB HDD storage. There are 9 Plans in total provided by DreamHost, as shown in the picture above. The best plan is the Enhanced SSD 64, which goes for $379/month and includes 12-core (24-threads) Intel Xeon, 64GB RAM and 240 GB SSD storage for real power-users.
Cloud hosting is highly scalable, you can add your site resources as your website needs grow.
Best part?
With DreamHost, there's no waiting, your server gets deployed in only half a minute. Whatever you want, you get it instantly!
DreamHost offers DreamCompute and DreamObjects as cloud hosting plans with both getting you full root access and control over the server.
So, what's their difference?
DreamCompute – is their cloud service, where you get unmanaged servers with full root access to host your projects. They use fast SSD drives for storage, accelerated networks for blazing fast speeds, and next-gen processors. You can choose an OS of your choice. It supports standard APIs and majority of popular development tools you will require, e.g., Python, Ruby, Node.JS and more.
On the other hand;
DreamObjects – is an inexpensive object-based cloud storage service with no limitation on capacity, your data gets managed as objects rather than using regular file systems. Be it music or simple documents, the storage is secure, grows with your objects and has customizable metadata option available.
Technical jargon aside, with DreamCompute, all accounts get you free public IPv4 and IPv6 addresses, free bandwidth and 100GB block storage.
There are 3 different plans for DreamCompute with the following resources
512MB RAM Server -1vCPU, 80GB SSD Storage
2GB RAM Server – 1vCPU, 80GB SSD Storage
8GB RAM Server – 4vCPU, 80GB Storage
Pricing for DreamObjects is shown in the picture below:
Alternatively, you can go for the money-saving prepaid plans below:
DreamHost provides unlimited email@yourdomain for all the hosting plans except the Shared Starter plan, DreamCompute, and DreamObjects plans.
With professional Email Hosting, you promote your website when you send messages with an email address that matches your hosted site.
Standard features that you receive are 25GB storage/mailbox, Industry-leading IMAP for Mobile and desktop synchronization, built-in webmail free of ads and you get Anti-Spam Security which has spam filtering, virus, and phishing protection.
Pricing for Email Hosting is either through a monthly plan, which goes for $1.99/month for every mailbox, or you can commit to yearly plans, which go for $1.67/month, giving you a nice discount.
DreamHost also offers GSuite integration:
Basic at $6.00/user per month
Business at $12.00/user per month
Both plans enable you to connect to your business email via Gmail, video conferencing, secure team messaging and shared calendars. You can also create spreadsheets, documents, and presentations. If you are not sure whether you need GSuite, well, DreamHost gives you a 30-day free trial to try it out with a limit of 10 users.
With GSuite,you can also access your email, calendar and storage from any device, be it a computer or smart phone (both Android and iOS).
An excellent site starts with a good domain name. Dreamhost supports all popular domain extensions. They give you access to their Domain Search Tool to help you search for available domains and view their prices. More to that, this search tool even goes to the extent of providing you suggestions for possible domain names.
They provide the following freebies with their domains:
Free privacy protection for your domain and free private registration.
Free WHOIS Domain privacy, which renews automatically for as long as your domain remains active.
Free unlimited subdomains with VPS and dedicated hosting.
DreamHost restricts domain name length to 253 characters. Is this a good or a bad thing? Well, most websites you visit are way less than that. The point is, DreamHost tries to make your domain as memorable and straightforward as possible.
DNS Domain management is made easy by the use of the custom DreamHost panel, which also allows transfer your old domains so you to manage all your websites at one place.
Pricing for DreamHost's domains varies according to the custom extension you get. .com domains cost $7.99/year, that price includes Free Private Registration. More to that, they offer 400+ unique TLDs like .club, .io, .xyz, .online, .club and more.
When it comes to e-commerce, Dreamhost supports and has optimizations for ZenCart, Pretashop and also Woocommerce, as mentioned earlier. You can install all of them with a single click from your control panel.
All these apps are made super-fast through the use of next-gen cloud technology and built-in caching. As a result, more visitors in your e-commerce website convert into buyers. Resources are also isolated, meaning at no time will you have to worry about high traffic spikes slowing down your website or security breach because of other websites hosted with DreamHost.
DreamHost allows you to use of Chartbeat analytics to track your website's visitors, unlike other hosting service providers who only use Google Analytics. The Chartbeat technology is available in DreamHost's control panel. Of course, if you prefer Google Analytics, you can use that too.
For your marketing efforts you're given $100 Google AdWords credit.
Their WP Website Builder offers real-time SEO recommendations and tips that optimizes your site for search engines to get more eyes on your site. The Let's Encrypt SSL certificate is enough to get started, but you need a Private WildCard for an e-commerce store.
DreamHost has 3 data centers located in the USA. Locations are Los Angeles (California), Brea (California), and Portland (Oregon).
Dreamhost facilities use 2N+2 power redundancy to ensure your website stays online at all times, even during a power failure. These are backed up by emergency generators. They have dual water lines for cooling.
For excellent reliability, redundancy, and uptime, Dedicated Server Hosting has implemented RAID 1 redundancy in their HDD and SDD hosting. In addition, they have a 24/7 server monitoring to ensure that your website never goes down.
I know I am repeating myself, but this is important. Dreampress plans get isolated resources to ensure noisy neighbours don't have an effect on other users of the same server.
For all hosting plans except some Dedicated Hosting Plans, DreamHost provides SSD drive storage. SSD drives are a lot faster than old HDD drives and therefore have faster website access, caching and data querying. In fact SSDs are 200% faster compared to old school HDDs.
Dreamhost provides optimized servers for your website to perform at its full capacity. These servers, database software, and all of DreamHost's technology get the best configurations and are built to run like a dream.
Signing up and getting an account set up is easy; there are no setup fees involved. The following tools provided by DreamHost get you going within the shortest time possible:
Easy to use Custom Control Panel – Dreamhost, unlike many other web host providers, doesn't use a cPanel; instead, they have their custom control panel, which is simple to use, and you can manage your website resources from one place. However, if you're used to cPanel, you might find its learning curve a little bit difficult.
Powerful 1-click installer – installing some scripts and software from scratch is tiresome, right? DreamHost provides a variety of pre-assembled appa and lets their 1-click installer do the hard work for you.
WP Website Builder – this free website builder saves you the hustle of coding your website (or the cost of hiring someone). Design tools provided enable you to use drag and drop to design your website. Not only that, but you also get 200+ starter themes and plug-ins to choose from. A quick start inspirational wizard helps you through this process. DreamPress plans get a better Premium BoldGrid website builder.
Dreampress Plus and Pro plans come with free Jetpack Professional, the best and most well-known plug-in from WordPress, that helps you design your website, secure it, and grow your audience.
Web Design Service – DreamHost has partnered with RipeConcepts, one of the leading websites design firms globally, to help you set up your website fast. Their prices are affordable from as low as $299 for a 2-page website. Another alternative, you can pay for their premium website builder, Remixer, to make a professional website yourself at $7.95/month.
A free Migration Plug-in. Yes, they don't offer free migration, but with this tool, you can do it yourself as long as it's a WordPress site. They even have a YouTube tutorial for it.
Uptime is really something that DreamHost shines at compared to its competitors. You will rarely, if ever, have a complaint. All plans get a 100% uptime guarantee and you will get compensation if they deviate from this promise when you raise a request via support tickets.
So, what does the SLA (service-level agreement) state?
For a single hour of downtime, this California-based company credits you with a day's worth hosting. Sounds good right?
That's great, but there's a caveat or two. The downtime doesn't include any announced and scheduled maintenance or be caused by any errors from your end due to bad code.
When it comes to site loading speeds, tests prove that websites hosted with DreamHost load fast but are nowhere near the leading pack in the industry.
DreamPress plans, being the best WordPress hosting options, have the following speed up features:
Built-in caching for WordPress,
Unlimited CDN usage through Jetpack
General performance-boosting features across the board include:
Fast SSD Drives.
Starter shared hosting plans get resource protection to ensure consistent performance not affected by other accounts.
Multiple data centers for better redundancy and less latency for your site visitors.
Gzip compression.
Integrated caching including custom DreamHost plug-in featuring Varnish HTTP purge.
PHP 7.3 enabled, a PHP version with faster performance.
Geeky features supported and enabled include:
Crontab, SFTP, and Shell Access.
Access to Raw Log Files.
Both WP-CLI for flexible management of WordPress sites as well as a 1-click site staging environment to help you avoid breaking a live version when testing and pushing changes or new code.
Coding in different languages and technologies including PHP 7.3, Python, Perl, Ruby on Rails, MongoDB, Node.js, canned CGI Scripts, Server Side Includes (SSI), full CGI, Subversion Repository (SVN), full Unix Shell is supported.
Only Cloud Hosting unmanaged and dedicated servers plans get you full root access, whereby you are not limited in the choice of OS or Software to use. All other DreamHost plans use Linux based servers.
VPS plans have an option to use either an Apache or Nginx server. They also have unlimited SFTP users allowance, and also get Phusion Passenger optimization for using Ruby, Python, and Node.js together. Additionally, you get OPcache code optimization, where your PHP code gets compiled and stored in memory for better performance.
Cloud DreamObjects hosting has some interesting support for easing developer's workflow:
Firstly, it has a web or mobile app development environment ideal for the developers that need it for object storage to improve or replace existing S3 functionality through an API.
Secondly, you can use shortcodes to display your images using a connection plug-in. Lastly, the DreamObjects plug-in can quickly help you also automate WordPress site backups and uploading images.
DreamHost has a dozen security features and managed security support. Some of those in all plans include:
Automated security updates by their team for free.
Automatic daily backups. However, you only get on-demand backups (1-click restore) with DreamPress plans.
24×7 DDoS protection for dedicated servers.
Mod_security is enabled by default. It is a web app firewall that protects your site from malicious HTTP requests like brute force, cross-site scripting, SQL injection, and remote file inclusion and execution.
Two-factor authentication to secure your account from hackers. DreamHost supports Yubikey and Google Authenticator app.
You get protection against email spams and phishing. Emails sent to your proxy get silently forwarded to your real email address without the sender knowing.
DreamHost has you covered with 24/7 customer support using in-house staff, no outsourcing. Supported channels include live chat, tickets, or email. For those who like DIY support, there is an extensive knowledge base available.
DreamPress clients get specialized WordPress support from their dedicated WordPress team, but only DreamPress Pro or Plus plans get support using their Phone Support Callback service. Moreover, It's only the DreamPress Pro plan that has priority support.
Shared and WordPress hosting payments can be done through monthly payments, or you can get annual 2 or 3-year commitment for discounts.
As with the rest of the industry, prices will jump when renewing, so make sure you note the renewals rates before paying. Oddly enough, the plans will renew at the same length as the initial contract; you can cancel this by writing or via their web panel to prevent this. For specific plan prices, we have included images for all their plans.
All plans are covered by an unbeatable 97 days money-back guarantee. More on that below.
Sometimes things don't work out as expected. DreamHost, therefore, offers the above mentioned 97-day money-back guarantee policy. But as you know, with refund policies, there will be conditions. Let me outline them for you below.
Only shared hosting plans have this extended 97-day policy. With DreamPress hosting, you are covered by a 30 days money-back guarantee.
Refunds are only applicable to credit card payments.
AdWords credits value, add-ons, SSL certificates and Domain registrations are not covered.
For free domain registrations, the value of the domain gets subtracted from the refund.
Strangely, despite their 22 years in the industry, DreamHost – isn't BBB accredited.
Did you make it this far? Awesome!
Do we recommend DreamHost?
Yes. If high uptime, managed WordPress hosting, excellent developer support, an easy to use platform for even novice webmasters are your top priorities, then DreamHost is for you. But if you are looking for super-fast site loading speeds, cheap managed WordPress hosting, or Windows-based servers, DreamHost falls short. We recommend checking out other hosting like SiteGround, A2 Hosting, and InMotion Hosting.
Did you find this review helpful? Let us know your opinion by leaving a comment below or any other experience you have had with DreamHost.