Let's start off with explaining What is unlimited web hosting?
One thing we can agree on is that we all want unlimited resources for our websites. Unlimited web hosting means that you don't have to worry about your website's increase in data traffic or having massive data uploads. Features such as bandwidth, emails, databases, and storage are not given a hard limit and the provider rarely tracks your usage.
However, do not get carried away, there no such thing as having entirely unlimited resources. Unlimited hosting implies that the limits are so high that it is almost impossible for you (your website) to surpass those limits under normal usage.
Having that in mind, different hosting providers offer a higher level of features than this. In this article, we are going to review the top 10 unlimited hosting plan providers, the features inclusive in the unlimited hosting plans, pros and cons of these plans and the customer support you get when you acquire these plans.
When it comes to unlimited hosting, this Los Angeles based web hosting provider InMotion Hosting doesn't hold back. Below we've outlined the unlimited features you should expect.
Pros
Automatic backups with safe application rollback
Free CDN integration, SSL and SSDs
90-day money-back guarantee
Free domain
PCI compliant
Fast speeds
Eco-friendly hosting initiatives
Outstanding customer support
Free migration without site downtime
Free marketing tools and Advertising credits
Cons
Renewal prices hikes
US data centers only
Relatively expensive pricing
Lengthy account verification for international clients
No Windows plans
Unlimited websites for only 1 plan
For all their 3 shared hosting plans – Launch, Power, and Pro Plan. You get unlimited amount of following features:
SSD disk storage space
Bandwidth
Email accounts
Email storage
Spam safe protection for emails
The only unlimited features you miss with the Launch and Power Plans are parked domains and subdomains. Here are the exact details
Launch – 2 websites supported, 2 MySQL & PostgreSQL databases, 6 parked domains and 26 subdomains
Power – 6 websites supported, 50 MySQL & PostgreSQL databases, 25 parked domains and 100 subdomains
Only the Pro Plan gets you unlimited websites, parked domains, sub-domains, as well as unlimited MySQL & PostgreSQL databases.
For more unlimited features and resources, you've got to upgrade to their managed WordPress plans or get a Virtual Private Server from them instead.
In addition to the above resources, you get a free 1-click shared SSL certificate, $150 worth of free advertising credits and free marketing and SEO tools, as well as:
Ease of use tools and features include
1-click installer
BoldGrid website builder
Free cPanel
Access to 400+ free apps
Safe application rollback
3 steps for installing Google Apps
IMAP for simple and secure access to your emails
Features and tools to improve developers workflow
SSH access enabled
WP-CLI environment
Coding with the latest versions of PostgreSQL, MySQL, Ruby, PHP and other programming languages.
Security features include free SSL, Hack and Malware Protection, DDoS protection as well as Spam Email Scanning.
Their super-fast website speeds are enabled by fast SSD drives, Max Speed Zone™ for choosing a data center closest to you, PHP 7 and use of CloudLinux OS for supercharged shared hosting performance.
InMotion Hosting also gives you a 99.9% uptime guarantee, but only the Pro plans get covered by their SLA.
Launch $6.39
Power $8.49
Pro $14.71
As mentioned in the pros section, there is a 99.9% uptime guarantee.
They have US-based support with agents available 24/7/365. You get support via live chat, phone, email, support tickets, and Skype. There is also a Knowledgebase with information on various hosting subjects and their solutions.
Pro Tip
The Pro – business class plan gets Pro Level Support priority.

DreamHost is an employee-owned company that was started back in 1996. Even with 1.5 Million websites hosted on their platform, DreamHost does not shy away from providing unlimited hosting for their new customers.
Let's look at what the entry-level plans get you:
Pros
Free annual domain name with privacy protection
Free website migration
Recommended by WordPress.org
Free Let's Encrypt' SSL
Cheap unlimited hosting
Automated backups
97 days money-back guarantee
Cons
US-based server locations only
Only 2 entry-level plans available
No direct phone help and only tickets get 24/7 support
Few unlimited features for the cheapest plan
DreamHost has Starter and Unlimited shared hosting plans, where both get unlimited bandwidth hosting. The only other common unlimited features between both are MySQL databases and cached visits per month.
To get unlimited disk storage, websites, and free unlimited emails, you've got to get the Unlimited Plan.
The Starter plan only gets
50GB site Storage
5 Subdomains
6 FTP/SFTP/Shell Users
6 MySQL Databases
Both plans have automated backups, a free domain, and you get free migration for your website.
To make everything simple even for novices, you're provided with a WP website builder, a 1-click installer, WordPress pre-installation, automated WordPress core and security updates, and DreamHost's easy to use custom control panel.
Advanced Features for developers include SFTP, Shell, Raw Logs and Crontab, Access, WP-CLI supported, Full Unix Shell, PHP 7.3, Python, Perl, Rails, canned CGI Scripts, Server Side Includes (SSI), Subversion Repository (SVN), and full CGI.
When it comes to performance, DreamHost has resource protection to ensure you get enough resources for your hosting account at all-time irrespective of the load on other shared plans using the same server.
To get you fast speeds, the plans use fast SSD Storage and Support PHP 7.3, which includes optimizations for faster site loading than previous versions.
DreamHost pride themselves in providing a whopping 100% uptime guarantee. Furthermore, it's backed by an SLA to ensure you get compensated for unplanned downtime
Security features include a free SSL certificate, and automated security updates.
Unsurprisingly, there are price hikes, and good discounts are only available for long term plans. The prices below are the monthly costs if you commit for 3 years:
Shared Starter $2.59
Shared Unlimited $3.95
DreamHost's Industry-leading 97-day money-back guarantee ensures you get refunds if their services are unsatisfactory and cancel your plan within this period.
There is 24/7 ticket support. Other support channels include email and live chat. There's no direct phone support, but you can request a callback.
Alternatively, you can search for support materials on their extensive knowledgebase.
Nowadays, every provider seems to be providing unlimited hosting, but the first company to do so was BlueHost in the early 2000s. Having grown to worldwide recognition, they've never looked back.
Let's look at how excellent the service they started is on their platform:
Pros
Free domain (1 year)
Free SSL certificate
Budget-friendly unlimited web hosting plans
Free CDN except for the cheapest shared plan
Recommended by WordPress
Free marketing credits
Wide variety of plans to choose from
Cons
Only US-based server centers
Hiked renewals prices
Only 24, 36 and 48 months payments
No free site migration
Only the 2 plans get Site Backup and CodeGuard Basic protection.
Unlimited bandwidth hosting is common on all their plans, i.e. Basic, Plus, Choice Plus, and Pro plans.
The basic plan gets you support for hosting a single website, 50 GB SSD Storage, 5 Parked Domains, and 25 subdomains. For the rest of the plans, these features are unlimited.
Additional features for the Plus, Choice Plus, and Pro plans include 1 Spam Experts (Choice Plus gets 2) and 1 Office 365 Mailbox that's free for a month.
All plans also get you a free domain name for your first year, but only the Choice Plus and Pro plan get domain privacy and protection.
The Pro Plan is configured for high performance and also gets your a free dedicated IP that useful if you're planning on hosting a free e-commerce store.
BlueHost is one of the most beginner-friendly platforms. They provide the following features to make your hosting hassle-less:
A free website builder
Automatic WordPress installation and updates
Fast Google My Business verification
Free cPanel
Pro Tip
Once you spend an initial $100 on your Google Ads and Microsoft Advertising accounts, you get $100 marketing credits on both accounts.
Speed performance of their plans is good. The 3 cheapest plans are configured for standard performance with Resource Protection Technology enabled. It helps to identify hosting accounts that have excessive resource usage; they get placed in isolated system to prevent them from hampering your performance.
Interestingly, Bluehost doesn't have an uptime guarantee, but they deliver the 99.9% uptime clients expect. You will rarely hear or see stability complaints.
Apart from a free Let's Encrypt SSL for all plans, only the Choice Plus and Pro Plans get site backup and Site Backup – CodeGuard Basic.
Spam Experts are available for all plans excluding the basic plan.
The Starter and Unlimited plans are covered by a 30 days money-back guarantee and have the following monthly prices for a 3 year upfront payment.
Basic $2.95
Choice $5.45
Choice Plus $5.45
Pro $13.95
Please note, there is no monthly billing, you can only pay for 2 years and above.
Their 24/7 support expert team is available through phone, live chat, and access to their Knowledgebase.

GreenGeeks got launched only in 2008 and is popularly known for being an environment-friendly web hosting provider. They joined the web hosting sphere to provide fast unlimited hosting on top of their green hosting initiative.
Despite being extremely affordable, all plans are still parked with great features.
Below we delve deeper into what's unlimited and what's not
Pros
Best eco-friendly hosting company
Free CDN integration
Automatic daily backups
Free SSL and domain name
Free migration service
SSDs with RAID-10
Multiple data centers (allows selection)
Scalable computing resources
Cheap unlimited web hosting
Cons
Setup fee charges for monthly billed plans
No uptime commitment
GreenGeeks have 3 very affordable unlimited hosting plans; Lite, Pro, Premium. You get unlimited:
Email accounts
My SQL databases
Storage
Data transfer (bandwidth)
Subdomains
Parked domains.
The Lite plan only supports hosting 1 domain; to host unlimited domains, you must upgrade to the Pro & Premium.
Every plan gets a 1st-year free domain, and the Premium plans get you a dedicated IP. To help you move easier, they have a free migration service.
But we've just gotten started on the user friendless part. Extra tools and features are provided. They include a 1-click app installer (Softaculous), and free website builder. If you are planning to run an online store, you can request a free shopping cart installation.
Developer tools include
PHP Versions up to version 7.1, MySQL Databases, Perl, and Python supported.
Free SSH as well as secure FTP access (FTP Accounts)
Drush, Git, WP-CLI environment, & more
Site loading speeds on GreekGeeks are extremely fast as they've invested and implemented lots of speed optimizations such as an In-house built PowerCacher and SSDs with RAID-10 redundancy. They have HTTP/2 and PHP 7, use an optimized LiteSpeed server, MariaDB databases (5% faster compared to regular MySQL) and get you free CDN Integration.
Despite not giving an up-time guarantee, they've invested and implemented features for keeping your site secure as well as providing reliability and stability.
Reliability and best uptime features include
Hardware & Power Redundancy
Container-based Technology
Hosting Account Isolation
Security
Pro-active Server monitoring and real-time Security Scanning
Nightly data backup
Free SSL certification. Premium plans get Private SSL certificate
Spam email protection
All plans are covered by a 30-day money-back guarantee and are super cheap compared to the other unlimited web hosting providers in this article
Lite – $2.95
Pro $5.95
Premium $11.95.
You get server all year round 24/7 by their expert support through live chat, telephone & email tickets.

Based in Michigan and with 4 data centers in different parts of the world, A2 Hosting provides exceptional unlimited hosting with terrific site loading speeds.
Pros
Fastest unlimited website hosting
Free site migration
Clearly states the resources you get with each plan
Anytime money-back guarantee
Cloudflare CDN integration and free Anycast DNS
Multiple data center locations to choose from
Environmental friendly hosting
Ample security features
Developer friendly platform
Cons
Increased prices when renewing
No free domain
No uptime guarantee
Migration charges for downgrades
There are three plans Lite, Swift, and Turbo, where all have unlimited SSD storage & transfers (bandwidth). With the Swift and Turbo plan, you get unlimited websites, databases and email accounts
The Lite only has support for hosting 1 website, 5 databases, and 25 email accounts.
A2 Hosting reveal the server resources for their shared plans which many providers do not do:
Lite – 1 CPU core (2.1 GHz) and 500MB memory
Swift – 2 cores (2.1 GHz) and 1GB memory
Turbo – 2 cores (2.1 GHz) and 2GB memory
Beyond that, A2 Hosting has Performance plus Traffic Spike option for their Swift, and Turbo plans where you get additional power from unused instances to boost your power during heavy traffic on your site.
Beginner-friendly features to help you set up your website without a fuss include:
WordPress pre-installation
I-click app and plug-in installer
Free site builder with access to free themes
Professional admins and tech-savvy client features include:
Site staging and WP-CLI environment
Support the latest python, Perl, PHP, MySQL and more
To ensure you get consistent top performance, each server gets
A balanced number of hosting accounts
Expertly tuned by the engineers
Uses cloud OS, which does the best job for a shared hosting environment.
A2 Hosting is the leader in speed for unlimited hosting plans. This is enabled by speed-up features such as Anycast DNS, free Cloudflare integration (CloudFlare Plus for Turbo plan), use of a LiteSpeed webserver, and having different data center locations to choose from for faster connectivity.
The Turbo plan uses their Turbo boost feature, which they claim to be 20X faster compared to other shared hosting plans in the industry.
A bold claim, right? It's not unfound. Below are its features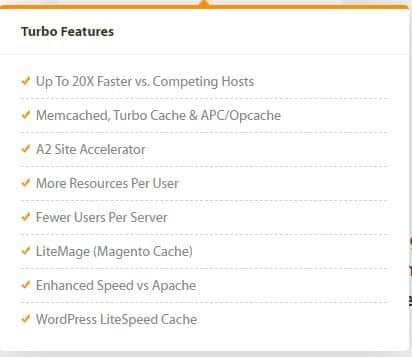 A2 Hosting advertises a 99.9% uptime commitment, but there they don't give a guarantee. (Or SLA).Tests show their uptime averages at around 99.95%, which is somehow acceptable if you look at their overall hosting quality.
Security features apart from the free SSL certificate for all plans include
Two-Factor Authentication (2FA)
Perpetual Security with Free HackScan
Reinforced DDoS Protection
Patchman Enhanced Security Tool
KernelCare Daily, Automatic & Rebootless Kernel Updates
Additionally, the Swift and Turbo plans get free automatic daily backups with Server Rewind Data Backup Protection.
There are prices increases for renewals, here are the lowest monthly prices for each plan with a long term upfront payment
Lite at $3.92
Swift at $4.90
Turbo at $9.31
Their anytime Money Back Guarantee covers all their plans. However, after 30 days, they start using a prorating model.
Support channels offered by A2 Hosting include phone, live chat and email support, and you can also read articles on their Knowledgebase.
Their GURU CREW is available to help you even with technical problems 24/7 all year.

New to web hosting?
iPage is what you should consider if you are a newbie starting with a single site. They offer a single unlimited hosting plan.
Disappointed? Don't be.
It's the 2nd cheapest in this review and comes with lots of unlimited features.
But the real question is, are there some caveats for such low pricing? Read on…
Pros
Free 1st-year domain registration and transfer
$500 worth of extras
Free Site traffic statistics
Free SSL Certificate
Top-notch eCommerce store support
Super cheap unlimited bandwidth hosting
Green Hosting committed provider
Cons
Renewals get done at regular fees
US based datacenters only
Inconsistent speeds
No free site migration
Only a single unlimited web hosting plan
According to iPage, its plan is a "one-size-fits-all" package. It gets you unlimited disk space, domain name hosting (websites), MySQL databases, emails with your domain extension, and scalable bandwidth.
iPage offers extras such as a free domain free for 1 year, $100 Google Ads Offer, $100 Bing ad credits, and a free SSL certificate. Your email account gets benefits such as Email WebMail support, email forwarders, autoresponders, and more.
Features to get you started easily include
Easy-to-use setup wizards
Free iPage mobile-optimized Website Builder for 6 pages
Access to 1,000s of free customizable templates
eCommerce functionality supported with Paypal Payment integration, 1-click installs for AgoraCart, OpenCart ,OSCommerce ,PrestaShop ,Zen Cart and TomatoCart.
Analytics tools for monitoring and tracking your site
WordPress 1-click installer
Custom vDeck control panel
24/7 network monitoring
Online FTP manager with easy FTP access
Developers get PHP, Perl, and Python support to ease their workflow.
Speed is not iPage's boasting point. Their speeds are just around industry averages give or take. The main problem with their site loading speeds is inconsistency. Even by having multiple data centers interconnected by using Cisco's technology and using load-balanced servers, fast speeds don't get maintained.
How often do iPage hosted sites go down?
Rarely. That's why they give a 99.98 uptime guarantee.
To keeps your site secure, they have a Spam filter and Virus checking for emails as well as free SiteLock security scans.
Their introductory price is $1.99/month. Renewal gets done with the standard rate ($7.99).
If within 30 days you're unsatisfied with iPage's services, you'll get refunded as a 30 days money-back guarantee covers you.
iPage has a 24/7 phone and live chat support. Besides, there are step-by-step tutorials on their website if you prefer DIY solving.
HostGator has well been around for quite a while (More than a decade) and it is well recommendable due to its large number of servers and high reliability. Buckle up and let's see some of the unlimited features they offer.
Pros
Free website and data migrations
Both Windows and Linux based hosting
Free SSL all plans
Budget-friendly pricing
Excellent uptime performance
Both traditional and Cloud hosting
45-day money-back guarantee
Easy sign-up and account set up with no fees
Excellent email management
No overage fees for cloud hosting
Cons
Prices go up initial sign up
Data centers are only 2 and US-based
No choice of selecting the preferred data center
Free backup is 7 days only for most plans and doesn't feature auto-restoration
Consistent upselling
Average customer support
Limited dedicated speed up features and inconsistent speeds
HostGator offers 3 plans; Hatchling plan, Baby plan and Business plan. The unlimited resources in these plans are
Bandwidth
MYSQL databases
FTP users
Email
disk space
Free website builder and building tools
Hundreds of website templates
Free domain transfers.
Standard features provided across all of them are unlimited bandwidth, emails, MySQL databases, pages, and storage. In addition to that, you get free features such as integrated global CDN, domain (free) and an SSL certificate.
But there is more to that, you get tools to help you market online once you launch which included, email marketing software, $100 Google AdWords and $100 Bing Ads Credit
The cheapest shared plan – Hatchling plan –only gets support for a single domain and anonymous FTP. To get unlimited domains and parked domains, you've got to purchase either the Baby or Business plan.
When it comes to e-Commerce support, only the Baby and Business plan are e-commerce ready. All plans have a weekly backup. Oddly enough, you've got to pay to retrieve the most recent backup.
Developer friendly tools supported:
Free Module Installation and Streaming Audio/Video.
Programming Languages: CGI, Fast CGI, PHP 5 and 7, Ruby on Rails, Perl, Python, SSL
Programming Modules: Curl, CPAN, GD Library, ImageMagick
Windows modules – ASP, ASP.NET 2.0 to ASP.NET 4.5, MVC 3.0 and AJAX
Security features offered for specific plans are also limited, even locating them on their website quite hard.
On top of the overall security implemented in their main servers, Shared plans only get:
Hotlink Protection
Spam Assassin protection and blocks for emails
Ease of use features
To make your migration easier to HostGator, you get a free 100% transfer for your site, the number of sites depends on which plan you've bought.
To make website creation easy and painless, you get a drag and drop website builder. The builder is e-commerce ready but very limited in what you can do and not very optimized for speeds. Alternatively, there is a Premium web Builder that has built-in SEO tools, Google analytics-enabled, e-commerce, PayPal, social media integration and more.
Shared plans – 52 scripts and over 100 mobile-responsive designs
VPS – 1000s of free templates and powerful script Installer
Managed WordPress – WordPress templates in MOJO Marketplace.
Windows hosting – 38 scripts and 4500 free website templates
HostGator guarantees a 99.9% uptime. HostGator plans get covered by a 45-day money-back guarantee. Also, as mentioned earlier, if they don't meet the uptime guarantee, you get 1-month credit back.
Below are the best monthly plans:
Hatchling plan – $2.75/month
Baby plan – $3.95/month
Business Plan – $5.95/month
HostGator provides 24/7/365 live support through Email, phone and chat. They also have an extensive knowledge base for HostGator common issues.
Launched in 2003, Arvixe got famous for providing high-quality web hosting. A factor that led to them getting acquired by EIG (Endurance International Group) in 2014.
They provide 2 unlimited hosting plans.
What features do you get?
Pros
45-day money-back guarantee
Free website transfer
Free domain offered
Lots of top security features
Unlimited Hosting on both Windows and Linux plans
Cons
No free SSL Certificate
Slow customer support and no phone support
Inconsistent speeds and uptime
Only US server locations
Free Credits for US and Canadians citizens only
Arvixe's plans are Personal Class and Personal Class Pro.
Unlimited features for both include disk space, monthly data transfers, MySQL 5 databases, domain aliases, subdomains, FTP accounts, and email accounts.
Unlimited email features include autoresponders, forwarders, and mailman mailing lists. Also, the emails have Squirrel mail Webmail with Secure IMAP & POP3 protocols.
Marketing perks for getting a hosting account on Arvixe include a $100 Google Adwords voucher (US only) and $100 Yahoo! Bing Voucher (US & CA only).
To get you started fast and with ease, their expert team provides a free instant setup for your WordPress site. If you are with another web hosting service, there is free site migration
Ease of Use tools and features on Arivixe include:
Free Softaculous app and script installer
Dreamweaver and Adobe GoLive compatibility is enabled if you prefer building your site them
cPanel control panel,
Full e-commerce support with 1-click installs for online store apps.
Site statistics tools
Features and tools supported for developers and professional administrators include:
PHP 5 with ionCube PHP Loader
Perl
Python
SSI
CGI
Raw access logs
Curl, DomXML, mod_rewrite
Zend Optimizer
Shell Access / SFTP
Git
Arvixe has a 99.9% uptime guarantee that's backed with a compensation plan. You're compensated with a full month of free hosting for unplanned server downtime, which meets their terms of service.
They've implemented 15K RPM RAID 10 storage drives in their servers for data mirroring to improve redundancy
Arvixe site loading speeds have inconsistencies as we've seen from users' complaints online, they shouldn't be your first choice if you prioritize speed.
In terms of security, they haven't cut any corners. Your site, data, and emails get shielded and protected by features such as:
SpamAssassin Spam Blocker for email
DDoS Attack Response,
Secured Entrance/Exit
Brute Force Detection,
Nightly Security Updates,
Web Firewall
Here are their best monthly prices backed by a 45-day money-back guarantee.
Personal Class – $7.70 / month
Personal Class Pro – $11.00 / month
Arvixe provides you with 24-hour support via email, support tickets, or live chat. There is also a Knowledgebase for extra support materials and a Discussion board update where they give updates if there will be planned downtimes and maintenance

HostWinds is a provider who uses cutting-edge software and technology to provide well featured unlimited hosting plans and at the same time, charges very low prices.
Below is more on their unlimited hosting features.
Pros
Free Dedicated IP for all plans
Instant setup and quick upgrade process
Free domain and dedicated IP for all plans
Free website transfers
Fast SSD drive storage
100% Satisfaction Guarantee
Full management
Attractive introductory prices
Cons
Limited plan specific security features
Complex prorated refund system.
More expensive renewals
Paid nightly backups
HostWinds give you a choice of three plans, namely; Basic, Advanced, and Ultimate. For all plans, you get unlimited disk space, databases, subdomains, email accounts, and bandwidth. Only the Ultimate plans get you the ability to host unlimited domains (websites)
To get Unlimited FTP Accounts, you've got to upgrade to the next tier of business shared hosting
Info
The Basic and Advanced plans support hosting 1 and 4 domains respectively
Most impressive feature on HostWinds? Every plan gets you a free Dedicated IP and also a free domain.
They claim to have full management, but what kind of support do you get?
To help you move to their platform, you get free website transfer
A free cPanel is provided to simplify your site management
Weebly drag-and-drop website builder
Softaculous apps installer for single-click installs
Webmail support for your email accounts
Simple FTP transfers from your computer
24/7 website monitoring service which automatically creates support tickets (paid)
HostWinds use fast SSDs for hosting all your files to enable fast site loading. They have good speeds, but looking at how excellent their overall hosting services are, they could do better.
However, uptime is their specialty.
They've implemented thorough redundancy to ensure your website rarely goes down. That's why they are confident enough to offer a 99.9999% uptime guarantee.
How do they achieve this?
Redundant array of independent enterprise disks for storage
Redundant networking with each server connected to 2 switches which are also connected to multicore routers
Automatic network failover (with Multiple Tier 1 network providers)
Most of HostWinds security gets implemented at the server level. At plan level, you only get a free SSL certificate.
HostWinds use a prorated refund policy. They discontinued their 60 days money-back guarantee.
Below are the monthly prices you get to pay
Basic $3.29
Advanced $4.23
Ultimate $5.17
You get 24/7/365 support from expert staff. Contact channels include chat, phone, or ticket. Also, they have a comprehensive Knowledge Base you can tap into to solve problems yourself and learn.


InterServer is a full-service web hosting provider with budget-friendly, rich-featured plans. Compared to the rest of the hosts in this review, they have the best unlimited hosting plan.
Let's get to the reasons
Pros
Fast SSD Storage
Free data migrations
Price Lock Guarantee
Global content caching
Free Website Migration
Fast site loading speeds
Free SSL Encryption
Cheapest unlimited web hosting plan
Only 50% server capacity gets used for shared hosting accounts
Cons
No live chat support
Data centers are only US-based
No free domain
Only a single unlimited hosting plan
With Interserver, your shared plan gives you unlimited SSD storage, data transfers (bandwidth), websites (domains), parked domains, MySQL DB, subdomains, and FTP Accounts.
However, that's not all;
You also get unlimited email accounts with email forwarders and WebMail for accessing your email accounts on mobile.
To make you switch to their platform hassle-less, you get free migration for your site.
From there, you get a SitePad website builder and have access to over 300+ themes, 40 widgets, and 450+ cloud apps to design and improve the functionality of your website. All of them can get installed with their 1-click installer. WordPress sites get automated backups.
What's more?
You get their simple and beginner-friendly cPanel that takes all the confusion out of your website management experience. You can monitor and track your site's Visitor statistics on the panel.
Developers will also be happy with InterServer as they've enabled
PHP 5.5 & 5.6 and PHP 7 enabled
Fast CGI
Ruby on Rails
Python
File manager and Cron jobs on cPanel
PERL 5.10
SSH Access
Security features include:
Intershield Protection –it's a custom in-house solution that includes an automatic virus scanner, machine learning firewall, a malware database. On top of all that, it can be used to blocks web attacks.
Spam Filtering is also available for email accounts
Weekly backups for data protection
You won't get to complain about speeds with InterServer. The plan is quite fast because of the optimizations it gets through technologies such as Inter-Proxy Caching, free Cloudflare CDN integration, LSCache for dynamic content, SSD storage, and use of the LiteSpeed webserver for hosting.
But we are not even through?
They've implemented 10GB Cisco Network for fast server connections and QUIC. QUIC is a Google technology created for reducing connection times for websites.
Pro Tip
All shared plans get hosted on servers with only 50% usage to guarantee you consistent performance.
To ensure they provide the best in terms of reliability, they use RAID-10 redundancy for all SSD storage. InterServer give you an uptime guarantee of 99.9% and uninterrupted power with a 100% guarantee.
As mentioned earlier, you get a price lock guarantee which ensures the renewals at the same initial prices. To sweeten the deal, you can also pay monthly rates, but going for long terms pricing is better because of the discounts you get.
Monthly – $5
6 Months – $28.50 ($4.75/month)
Yearly – $54 (4.50/month)
2 Years – $102 ($4.25/month)
3 Years – $144 ($4.00/month)
All plans get covered by a 30 days money-back guarantee.
InterServer's customer support team is onsite at their datacenters, which is a big plus are they are more informed with what's going on.
Support agents at InterServer are US based and available 24/7 via support tickets and toll-free phone support. Alternative support avenues are their Community forum and Knowledgebase.
The major downside is that they don't have live chat support, which is odd in 2020.
With this vast knowledge of unlimited resources provided by different hosting providers, now you can clearly and easily make a decision on the best plan that suits your needs. At some point, your website may have run out of resources and that is why we highly recommend going for unlimited hosting plans.