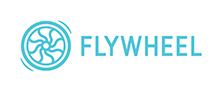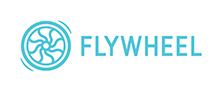 Whether you found out about Flywheel by doing a simple Google search for Managed WordPress Hosting or it was recommended to you by someone and you're searching for more information about them, you've just found the most extensive Flywheel WordPress hosting review.
We've taken it upon ourselves to make this Flywheel hosting review a worthwhile read.
Like a hidden treasure – Flywheel has been providing one of the best-managed WordPress hostings – for those who have looked and signed up for their services.
Now it's your chance to find out exactly the kind of web hosting and the quality of service you get with Flywheel. So, before you rush to their sign-in page, scroll down and pay attention.
Let's get started…
It's always important to research the background of the hosting company you're planning to sign up with. You don't want to find yourself trusting your site, personal details, visitors' information, and more just to anyone. They could be operating in their garage! I know that's too extra, but nothing is impossible. Lucky for you we've done the research on your behalf. So, here is a little information about Flywheel.
Although not hugely popular like its main competitors, Flywheel is a company with an attractive and edgy feel that is primarily focused on offering reputable managed WordPress hosting, they only started in 2012.
Founded by Dusty Davidson, Tony Noecker, and Rick Knudtson, they managed to come out successfully in a space filled with huge companies by focusing on a specific niche i.e. helping web designers, developers and agencies ease their workflow, collaborate and build WordPress sites for clients in an easy and painless way. To improve their support for such users who are the majority of their clientele, in 2016, they acquired a local WordPress development OS X app from Clay Griffiths (now rebranded to Local).
It proved successful and guess who noticed?
WPEngine, one of the most well-known managed WordPress hosts. As a matter of fact, WPEngine started the process of acquiring Flywheel in mid-2019.
But don't worry…
Despite getting acquired, Flywheel have claimed their current customers won't get affected and they won't change much in the foreseeable future.
Flywheel has their headquarters in Omaha, Nebraska and other offices in Sydney, (Australia).
What's Included In This Flywheel Hosting Review?
To ensure this Flywheel hosting review is extensive, fair and that it answers all the questions you have about them we've covered the following topics:
Their advantages and disadvantages
Hosting Services (plans) their features and resources
Hosting infrastructure
Ease of Use and tools provided for beginners
Developer-friendliness, features and tools
Performance and reliability (speed and up-time)
Security features
Pricing and Refund policy
Customer Support
We've also taken another approach to provide direct answers in an FAQ format at the end.
Pros
Free website migration service
Top reseller hosting features and support
Free malware cleaning service after hacks
Automatic backups with easy restoration
Professional and dedicated WordPress Management
Demo with free for 14 days trial
Excellent Developer & Designer-friendly features
Free Fastly CDN integration
Great customer support service.
No extra charges for resource overage on their servers
Free SSL certificate
Easy scaling
Multiple data centers choices
Free Google Cloud platform hosting upgrade
No upselling of add-ons when checking out
Cons
No free cPanel
Higher price tags vs competitors
No free domain name
No domain registration service, dedicated e-commerce or email hosting
Limited plans and types of hosting
No uptime guarantee
Plugin restrictions for WordPress
Support responses are inconsistent in terms of speed
Generally, Flywheel sounds good on paper, most of the missing features aren't a must-have in WordPress hosting, but how does it all translate in their plans.
Let's find out.
Hosting Services Offered By Flywheel Hosting
With Flywheel you don't get access to all the services offered by traditional web hosting providers like BlueHost and HostGator, they only specialize in Managed WordPress, Cloud, and Reseller hosting. The plans are built to scale, ensuring you can upgrade whenever you want.
Also, they offer custom configurations for enterprises (100+ sites) or clients who feel the premade plans aren't sufficient for their requirements.
Managed WordPress Hosting
Professional managed WordPress hosting is Flywheel's main focus, you get 4 secure and high-performance plans. Their WordPress plans are thoughtfully built and crafted for busy creative (Designers, Agencies, and Developers) people to ensure their workflow gets streamlined.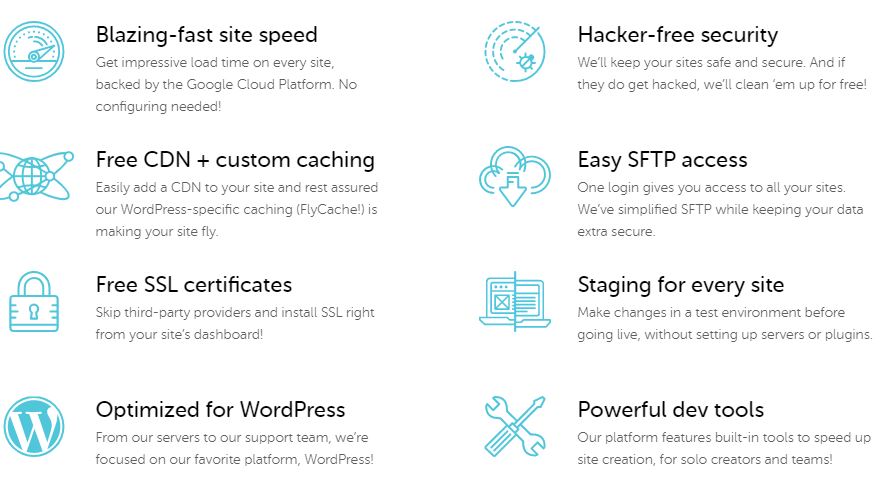 Tiny – 1 website, 5,000 monthly visits
Starter – 1 website, 25,000 monthly visits
Freelance – up to 10 sites, 100,000 monthly visits
Agency – up to 30 sites, 400,000 monthly visits
Pro Tip
There are no overage charges for both disk storage space and bandwidth for WordPress installations running on Flywheel's data centers. However, for those running on the Google Cloud Platform, these charges apply. More on that in the Cloud hosting section.
As a note, with most managed WordPress services, you rarely get multi-site capability, which Flywheel has in their highest plans.
How are visits tracked and calculated by Flywheel?
A single visitor is counted as a unique IP address that visits your site in a 24-hour period excluding IPs from known spammers, attackers as well as bots.
So, what does their free WordPress management cover?
Free pre-installation of WordPress
Managed core WordPress updates by their team to the most up-to-date (secure) version
They take care of the security of your site
Flywheel ensures your site gets auto-backed up every night
Free malware clean up in case you get hacked or your site gets infected. In addition, they provide suggestions on-site protection improvements or how to secure your website from the ground up.
With every plan, you're provided with an intuitive dashboard that makes site management super easy. Perfect for beginners! Other tools to collaborate with coworkers and clients are also provided.
Perks all across the board;
A site-staging environment that enables you to test changes in your code, themes, or other features without breaking the live version of your site. This sandbox environment doesn't require any extra server, plug-in installation and doesn't affect your live users. After you're done, you can push the changes with just a single click.
Other functionalities offered by Flywheel:
Intelligent Merging – you can decide and choose if you want to test only themes and plugins or even include your site's database. All of these get merged to ensure no changes get lost.
Safe updates for WordPress – say you want to test a new version of WordPress to check out new the features implemented, you can do so without committing to said version. Once you verify that everything is good, you do a 1-click upgrade.
Testing out of new Plugins – if you've worked with WordPress you know how plug-ins can mess everything up, with site staging, you can make sure a plug-in is safe to implement on the live version of your website.
Site cloning is also provided where you can take a copy of your site, which is in production, and clone it to be able to make quick and small changes safely.
Another great tool is Blueprints. It allows you to create a pre-installed package – saved as a custom configuration – with themes and plugins you've used on an existing site so that you can easily create similar websites in the future with just a single click.
Instead of a WP-CLI command-line environment, you get Local – their free local development app for WordPress – on your computer. The only downside is that it is only OS X based, but they are working on a new version for Windows and hopefully it will be released soon.
In terms of security, you get a limited login attempts feature implemented to prevent brute force attacks.
Features to help improve the speed of your WordPress site include:
FlyCache optimization – their custom built caching solution.
Smart Refesh – a feature that ensures your website's visitors are viewing the latest post content, while also keeping the site highly cached and fast.
Plugin restrictions
FlyWheel forbids the use of certain plugins especially those related to posts, security, backups and content caching. They claim these plug-ins affect website performance on their platform.
News flash: You can get upgraded to the Google Cloud platform by Flywheel if you make a request. To make the deal sweeter, it is totally free, and the process is guaranteed to be smooth, straightforward with no effect to your site visitors.
So why not?
You get to use the same plans we mentioned above for WordPress and also have the FlyCache, and a free global fast speed optimizations CDN is still active on your website.
Flywheel added Google Cloud to its infrastructure following its partnership which started in 2018. If you are a current customer we recommend upgrading as Google cloud uses fine-tuned architecture, with fast connectivity, which will obviously boost your site loading speeds.
Other benefits of the cloud platform that you get are:
Seamless upgrading
Less downtime
Available on-demand resources
Instant provisioning
High-availability
The only drawback is that you won't get your unique IP addresses even on the cloud. Also note that on Google Cloud, the following overage charges for exceeding resource limits apply.
$1 per extra 1000 monthly visitors. For websites which got upgraded from the Australian data center the charge is $1.50.
$1 for every 1 GB extra storage.
Reselling hosting through FlyWheel is easy and gets a lot of support with helpful tools and features. There are no dedicated reseller plans, all you got to do it is purchase their Freelance or Agency bulk plans, or get a Custom plan where you can host over 30 sites. You have to purchase a White Label Package for $99/month to be able to transfer site ownership to your clients. It gets done through an email with a link to a secure form.
Additional sites
For any additional site you add to your plan, you get charged a fee of $20/month/site.
You get to use your branding including:
Your brand's logo on your clients' dashboards
Customization is allowed for both descriptions and names of all of your services. Any mentions/references to Flywheel gets removed.
You can set your own prices with easy billing to clients using Stripe. You can set plans as reoccurring subscriptions for a 1, 3, 6, 12 and more months. Alternatively, you can do a one-time fee. The billing cycles commences after your client makes an initial payment.
What's more, Stripe supports:
Safe and easy payments from clients cards to your bank account
Automated Billing Emails
Automated Subscription Emails
Easy updating of client's credit card details
Is Stripe free?
No, they charge a flat-rate fee of 2.9% + 30¢ per successful charge (for volume below $1 million in a year).
In terms of support, you get FlyWheel's expert support staff to back you up.
What if you've built up your reselling business and want to retire and sell it?
FlyWheel supports selling everything to another business on their platform where your existing sites, payment methods as well as subscriptions get transferred to the other business or organization.
The only e-commerce support you get from FlyWheel is mainly for WooCommerce. An online store plug-in that goes hand in hand with WordPress.
FlyCache ensures that it runs fast and that certain paths are un-cached by default, to prevent weird cart issues and 500 errors. The free SSL certificate provided is great for encrypting your site. Apart from that, you're only supported by access to 19 e-commerce themes (paid), which you can use for your online store.
Honestly, we do not recommend FlyWheel for any online store venture, you're better off going with InMotion Hosting or HostPapa who have dedicated e-commerce plans.
Flywheel has built its whole infrastructure with global reach in mind with having 5 data centers in 3 continents.
The data center locations are:
North America – Iowa(US) and Montreal (Canada),
Australia – Sydney,
Europe –Belgium and London (UK).
When signing-up, you can choose your preferred data center location – preferably near majority of your sites' visitors – for better speeds.
The infrastructure features a robust network infrastructure that gets regular maintenance to ensure reliability. FlyWheel has this page where you can check server status if you notice any connectivity issues.
Some of the security certifications FlyWheel has for their infrastructure include:
SOC2 – Cloud Security Alliance
EU PRIVACY SHIELD– Data Privacy Practices
As mentioned earlier, they added Google Cloud to their infrastructure ensuring you get high reliability, redundancy, and fast servers with features like Auto-Healing Technology. It ensures your site heals itself when there is any service failure e.g. PHP errors.
Now, this is a section where FlyWheel easily beats all of its competitors. Just checking out their site, gives you a feel of how they design everything with user-friendliness in mind.
All plans get free website migration – be it a standard site, WordPress, or a zip upload – it gets done in 1 to 3 business days. All you have to do is fill a migration form with the details. And if you don't want to wait, you can pay $48 for migration in 8 hrs. If they fail, you will get a refund. Paid migrations support even up to 1000 sites but with a different deadline.
Signing-up for an account is easy, all you have to do is fill in your information, agree to their terms and in 1 or 2 seconds, you will be logged into your account. You can verify your account and set everything up in about half an hour.
You get access to one of the best dashboards in their industry. Yes, they don't provide cPanel for management, but with FlyWheel, you won't miss it.
Their dashboard is:
Consistently user-centric
Has intuitive interfaces
Straightforward
Modern, fun and streamlined
Clean and sleek
Don't believe me? Check out the video below of the sign-up process and dashboard.
Other tools for easy management (we might have mentioned some above) include:
Easy and secure SFTP access with different names and passwords for each person
Site Staging and cloning
1-click WordPress install
Free demo for your site
Access to StudioPress 170+ premium WordPress themes and the Genesis Framework
Developer Friendly Tools and Features
Make no mistake about it, despite FlyWheel being a user-friendly platform it doesn't take developer tools and features away. You see, most of the hosting providers assume developers only care about functionality hence they just provide a clunky interface, and that's where they go wrong.
The reason designers and developers prefer FlyWheel is because their powerful tools are presented in stylish, easy-to-use interfaces which saves them time, and improves their experience.
Some of the features for easing working include (we won't dwell on those we talked about):
BluePrint tool for saving themes used on a site for future use.
Easily collaborate with teammates & contractors where you don't have to share log-in details.
White-label feature for giving access to sold sites.
Database access is via a Web-based custom database manager.
They support PHP 7.2 but there is no option to manually change the version.
You can develop using their Local app where you can create a site in 1-click locally, edit it and demo it to your client via a URL. The demo is password protected. If they approve it, you publish in just 1-click.
Despite the impressive features, we noticed some like WP–CLI, an online file manager, PHPMyAdmin, and SSH access are missing. But you really shouldn't pick Flywheel if these are features that are important to you. Flywheel is an excellent choice for people who prefer simplicity and want to have robust WordPress hosting with as little effort as possible.
What's the importance of the password protection for the demo site?
As a developer, your sites are protected until the client pays to protect it from getting leaked or stolen while you're working on it. After payment, you can remove the protection.
Performance and Reliability
FlyWheel offers great page loading speeds, they are faster than most of their competitors, but they wouldn't feature in the top 5 fastest hosting providers list.
Some of the optimizations used include:
FlyCache.
CDN powered by Fastly for full-page caching (full HTML) instead of only (*.css, *.js, etc. 30 POPs (Points of Presence) are supported across the globe.
Varnish caching.
PHP 7.2 and HTTP/2.0: which are faster are enabled.
You can choose the closest datacenter.
How can you enable the Fastly CDN integration?
On your dashboard navigate to Settings > Advanced and on the CDN powered by Fastly tab it should be active, if not, enable it. Note that this CDN has restricted bandwidth, when you exceed it, it attracts overage charges.
Flywheel claims to provide above 99.9% up-time but there is no SLA (Service Level Agreement) for compensation if downtime dips below this percentage. However, tests indicate they consistently maintain 99.97% up-time.
FlyWheel has a rock-solid server and WordPress specific security which includes the following:
Data encryption at rest and in transit.
Encrypted communication paths.
Free SSL certificate for each website.
Standardized software and hardware updates to keep everything secure.
User role management.
Brute force attack prevention via Limited log-in attempt feature.
Intelligent IP blocking.
Two-factor authentication.
FlyWheel does not allow backup plug-ins and it's easy to see why. Their provided backup solution for free is more than enough. It's what other providers ask you to pay for. You get automatic nightly backups (stored for 30 days) on Google Cloud, an offsite location that is better for security. 1 click restores are supported, again free with any plan, for full site backups.
But that's not all;
You can take an on-demand snapshot, name it and if something you install breaks your site, you get to revert to that specific moment.
The only thing missing in their security suite is hack and DDoS prevention.
As you would expect, customer support for agencies, developers, and designers – who in a way are very capable technically – should get done by experienced and knowledgeable staff.
That's what FlyWheel's support team is composed of, they know exactly what their techie clients want; something you can't find with outsourced staff. WordPress clients get support from remote "WordPress Happiness Engineers", who have undergone 1-month of training at their Omaha headquarters.
Support is available 24/7/365 through live chat and ticket system. You can also check out their self-help in-depth documentation. Furthermore, there is the Local App Community forum where you can interact with other people using Flywheel.
Live chat supports uploading of screenshots, response times are not the greatest –especially during Europe and USA business hours – but they won't take too long.
The most impressive feature is the video tutorials you get right on the interface. These videos will guide you on how to do a specific task. It's just amazing!
Phone Support
If your budget allows it, it's possible to use phone support, as long as you're among the customers paying $250 (or more) per month.
When it comes to prices, FlyWheel's plans are quite expensive compared to most of the hosting providers in the industry. However, it's worth it for managed WordPress hosting, resellers, agencies, and professionals running a business. Especially for people that really value simplicity and ease-of-use.
Monthly payments are allowed, but you won't get the sweet discounts (equal to 2 free months free) that annual payment clients get.
The prices per month for annual plans are:
Tiny – $13/month
Starter – $25/month
Freelance – $96/month
Agency – $242/month
Custom configuration clients get custom pricing.
Best part about their pricing?
You can negotiate the cost per visitor price. Remember, to do it when signing up.
Note
If you sell sites to clients, they can choose and purchase a plan through a streamlined process. You can generate a link – within your dashboard – and email it to them. Now, through Flywheel's referral program, you also get to earn a commission when they sign up through that link.
Flywheel plans are all covered by a 30-day refund policy for 1 full year paid plan and 3 days (72 hrs) for monthly billed plans. Unlike majority of the providers, even add-ons purchased get refunded. It only takes about 2 days to receive your funds; fast refunds are always great.
Your subscription remains active until the next billing cycle i.e.:
The rest of the month for monthly billing,
The rest of the year for annual plans.
And you can access both your site content and back-ups. However, your website gets shut down.
To receive your refund, you've got to cancel using the following steps:
Log-in to your dashboard
Navigate to the Billing tab
Under the ellipse, there's a drop-down menu, and an option to cancel your account
Fill the form. That's it's. You're done. Simple as that.
Flywheel Hosting Review Conclusion
Do we recommend Flywheel?
Yes, especially if you build sites for clients, and are looking for an easy platform to use which can streamline your workflow. Or if you are just someone that values easy-to-use and simple hosting providers.
Their speeds are great, uptime is solid, security features leave no room for attacks and they have awesome customer support. Their managed WordPress support is also high-level and comes with very good tools e.g. BluePrint, cloning, and staging which you won't find just anywhere. With their addition of Google Cloud and WPEngine, things can only get better.
However, if you are an absolute beginner, you prefer cPanel, want email hosting, excellent e-commerce support, and cheap pricing, they won't be a good match for you.
Have you tried Flywheel yet? Let us know how your experience with them was and what you liked and what you didn't like.