No idea how to create a wedding website or where to start?
What if I told you that you could create a wedding website that looks amazing and visually appealing for cheap or even for free all by yourself. And, even better, get matching prints for invitations and other stationery.
Wouldn't that be great?
We've done all the heavy lifting and research for you. Sit back and strap in as we take you through our list of the best wedding website builders currently on the market.
Here's a quick summary of what we found.
They say, "A dress that zips up the back will bring a husband and wife together."
I have to add on;
If you create a wedding website together as a couple, your bond gets stronger as you improve collaboration skills; crucial for a making a marriage last long.
And the best part of it all?
Wedding planning, sending invitations, and communicating with guests is made painless, less hectic, and your guests feel involved.
Here are the main features we considered for our best website builders for wedding websites list:
Website Features like privacy tools, photo galleries, custom URLs (domain name), gift registry support, travel, and accommodation booking integration for your guests.
Wedding Planning Tools such as checklists, vendor managers, guest list managers for digital invites and RSVPs, a companion mobile app, and more.
Top-notch and stylish-looking wedding website templates; not leaving out factors like mobile-friendliness and freedom to customize them
Excellent Ease of Use & Simplicity – beginner-friendly and effortless platforms
Reliable Customer Support
Ready for our wedding website builder reviews? Let's jump right in!
Wix is not made explicitly for wedding sites. Pre-integrated planning tools are missing – a big let down for most betrothed couples. However, there is a decent workaround for guest list management.
Wix Shoutout App – you can add it from the store and use it to;
Import contact lists from Gmail
Send digital invitations and updates via mail. There are pre-set wedding-styled invitation templates
Track the invitations with automatic in-email RSVPs
Share your messages directly to guests via their social media accounts
Out of the box, you also don't get a gift registry, but all wedding website templates on Wix include a page for adding buttons for it.
Just change the logo, and add links to registered shops to receive the presents you want.
It is clear that Wix isn't wedding-oriented, but it has unmatched general website tools that fit weddings.
Let's start with site features you can add with the Wix editor:
Password-Protection – for making your site, pages, or albums private. You just have to include the password in invitations.
Blog support – for adding posts on topics about your love journey.
Custom domains- you get a free 1st-year domain name (paid plans); you can use it to create a wedding website with a unique URL from the start.
Wedding Playlists and Albums using the Wix Music Library element.
Calendar – for highlighting important dates like wedding shower day, rehearsal dinner, the wedding day, and bachelor/bachelorette party dates.
On the other hand, you can utilize their store to add more features like:
A Countdown Clock (Timer)
A Weather Tracker
Photo Galleries
Templates have preloaded galleries for sharing photos from your engagement and wedding shoot.
Uploading a picture is easy with a drag and drop tool, and you can add scroll effects, animations, video backgrounds to improve presentation.
Social media streams – if you are using a custom hashtag for your wedding, Facebook, Instagram, Twitter, Feeds get shown on your site from social media public profiles using your wedding tag to post photos.
Wix has over 500 designs you can use; 26 of them are wedding website templates.
All of the 26 wedding templates:
Look beautiful, professionally-designed and have multiple modern layouts,
Have intuitive interfaces with simple navigation and pre-added wedding pages for including details like location, directions, and more,
Are fully responsive (mobile-optimized); everything looks crisp on smartphones and tablets. Wix has a mobile-editor for that.
Wix allows a lot of customization and design flexibility, more than any other wedding website builder on our list. It's the perfect builder for design-oriented couples. You can change fonts, colors, add lots of ready-made tools, elements, and beyond.
Unfortunately, you can't change your templates after publishing without having to start over.
Wix has a straightforward drag and drop builder and highly intuitive and organized interfaces, making everything beginner-friendly. To take headaches out of website building experience, Wix has an ADI builder. It helps you create a wedding website automatically by answering just a few questions.
What more would you want?
On the flipside, having lots of freedom to customize and many design features at your disposal can be confusing if you are a starter.
Wix offers multilingual support through e-mail or phone on weekdays during business hours.
You can also read articles from their extensive Knowledge Base.
You can create a wedding website for free with Wix if you're comfortable with:
A subdomain
Only 0.5GB storage
Ads
We recommend going with a paid plan for:
More storage of lots of high-quality videos and pictures
Adding custom website URL (free for the initial year)
But don't go for the most expensive plans which have business features you won't use.
If you are still not sure about Wix, then perhaps you would like to read our in-depth Wix Review.
With Joy, you get a unified suite of tools to simplify your wedding planning on top of a wedding website. It's no surprise it's among the leading free wedding website builders.
Guest List Manager – its scope is excellent; a good use case is managing lists for multiple wedding events, e.g., wedding shower, rehearsal dinner, to avoid awkwardness from some uninvited guests.
What else is possible?
Creating interactive guest lists where each person has a profile. After confirming attendance, guests can view other profiles and communicate
Organizing different lists with labels, e.g., family. friends
Importing existing guest lists via spreadsheets.
Sending digital invitations with RSVP deadlines
Automatically tracking RSVP responses
Asking custom multiple-choice questions about guest preferences and their +1's
Communicating event schedules details by setting e-mail auto-reminders
All helpful information from the guest list manager can get exported in a CSV file to share with your vendors for flawless planning.
Mobile App – You get an app that acts as a hub for managing your website, guest lists, sharing photos and information like directions, and much more.
Joy websites lack a built-in gift registry, but they support manual integration of multiple preferred stores using links. With such freedom, you get to add a varied collection of wedding gifts you want.
Joy delivers what's promised, a pleasant website designed with highly-functional interfaces and with helpful wedding features for you and your guests.
One feature that tramples all other wedding website builders into the dust is support for unlimited guest accounts to help you with site editing and management.
Other different sections you find after you create your wedding website include:
App Reminder to notify guests that they can download your wedding app.
Wedding Events section – for helping you create timelines and schedules for events like your rehearsal dinner.
A countdown clock feature.
Booking Assistant tool for aiding you guests secure the best accommodation deals.
Travel tool & Google Maps – both help to provide guests with directions and travel offers (Uber and Lyft) using a 1-click button on your website.
Advanced Privacy Settings – You can make some information/events on your site private. Also, you can set permissions for Facebook and Instagram sharing.
Couples FAQ – this is a section you get for adding questions with answers on wedding details such as dress code, gifts, and more.
For the above features, you can deactivate those you consider unnecessary and add more custom webpages.
Surprisingly, you can't purchase a custom domain through Joy.
The workaround?
Buying a domain name through other registrars like GoDaddy and transferring it. Despite Joy giving instructions on how to go about it, transferring a domain can be a little inconvenient for a beginner.
Photo Galleries – guests can also contribute to your albums and collections with the photos and videos they capture as well as add comments to make the galleries interactive.
Live collaborative photo feeds – With live slideshows on your website, when your photographers and guests add photos, they get shown in real-time.
Joy has over 100 sleek and stylish templates for wedding website creation, but the layout is similar. No switching.
The good thing is that they are all mobile, tablet, and desktop optimized. You can customize the font, colors, add pictures and videos and even live preview your changes, but not much else is allowed.
The Joy wedding website builder is one of the best when it comes to simplicity. It has:
Intuitive interfaces,
Easy to grasp controls on a central dashboard,
Adding the fact that steps for making edits are few, any beginner can get to use Joy without troubles on their first try.
Joy has live chat and e-mail support as the main ways to reach their staff directly. You can also search their Knowledge base – with step-by-step guides – for written help content.
Joy is entirely free to use!
The Knot has pretty much everything in its locker to help you plan and stay organized for your big day.
Planning tools include:
Budgeter – for adding expected expenses to get cost estimates,
Checklist – a wedding to-do-list that you can customize,
Vendor Manager – for finding wedding suppliers and professionals (30,000 in Canada and US) like photographers, florists, and more for your nuptials,
Conversations Tool – for managing all communication related to your wedding,
Mobile App – it helps you plan on the go, send online RSVPs and invitations, communicate with guests, and more.
Guest List Manager can be used to:
Collect guest addresses by sending them links for entering e-mail addresses,
Import contact details by uploading spreadsheets,
Curate custom guest lists and their support their +1's,
Group guests lists,
Check and track RSVPs (You get instant RSVP notifications on your website),
Manage guests preferences like meals.
You get matching prints for invitation cards, but unfortunately, RSVPs are rigid, and only slightly customizable. Other notable planning tools provided are a Wedding Quiz, vendor manager and seating chart creator.
Once you create a wedding website with the Knot, you get a fantastic integrated wedding gift registry. You can sync over 25 stores, receive updates, and share the registries on your website for easy access by guests.
What can you receive?
Gift Items
Cash
Paid for gift experiences.
From there, your website allows you to track guest purchases easily
Some cool features you get when you create a wedding website with The Knot include:
Accommodation and Booking tools – they help your guests get the best offers and discounts for hotels and other accommodation venues.
Password Protection – for setting custom privacy controls that hide or give different guests access to specific pages.
Domain Name – you can add a custom domain- highly recommended for wedding websites – for $20/year.
You can add your photos for guests to view. Whats more, with integration with WedSocial, you can use your (or guests) Facebook Albums and Instagram photos.
You get over 150 attractive wedding website templates.
Template features:
Mobile-friendly,
Different layouts that look modern,
Full-width imagery for photos.
Main downsides?
All are heavily predefined, not allowing lots of edits and customization. You can change text, color schemes, add cover photos and other media, but that's all.
Some might see the above limitations as a big deal, but they make everything easy for beginners or couples without prior website development experience. Adding the fact that The Knot's editor has a clean, intuitive, and well-organized dashboard, the Knot builder is easy to use despite lacking drag and drop function.
If you need direct assistance. you can get in touch via
Want to troubleshoot an issue yourself?
Check support articles on The Knot's Knowledge base.
The Knot allows you to create a wedding website for free with full access to all features as long as you don't mind having Ads getting plastered all over your site.
To help you hit the ground running, you get some essential planning tools integrated into your website like:
Wedding Checklist – a customizable to-do list – with WeddingWire recommendations – that ensure nothing gets left out, and you stick to the timelines for each task.
Cost Guide – It helps you stick to your budget by giving you estimate for various costs, e.g., catering.
Guest List Manager can help you:
Create guest lists by adding your contacts one by one.
Import guest lists using spreadsheets. Note that you've got to match them to the WeddingWire RSVP format.
Organize lists into categories.
Collect online RSVPs via your site, track them, and get related updates.
Manage guest preferences details like meals.
Mobile App, which helps you manage the website, RSVPs, vendors, and your checklist on the go. On top of that, you can access the WeddingWire forum.
Vendor Manager (500,000 vendors) – WeddingWire allows you to find and compare (prices) different vendors. After selecting a vendor, you can contact them, start organizing and communicating your wedding plans.
WeddingWire gift registry support enables you to create a registry using different stores like Macy's or Crate & Barrel, Amazon Wedding Registry, WayFair, Target, and more.
After linking the registries, they automatically update, and your guests can view collections straight from your site.
Some of the most standout features you get with a WeddingWire website are:
Password-Protection – for restricting access to various parts of your website from people not on your guest list and also search engines.
Accommodation Integration – By adding a hotel block to your site, guests get recommendations for self and group booking deals from nearby hotels and Airbnbs.
Domain Name – You can get a custom URL address for $12.
Date Finder – it helps you pick date for your wedding if you're undecided. You can see information on venues on that day, important holidays, and events in or around the chosen location.
Hashtag Generator – a tool that generates a fitting hashtag for your wedding based on your details like names and wedding day.
WeddingWire Photo Galleries are made simple. All you have to do is drag and drop images from your computer to create collections for your guest to enjoy on your website.
WeddingWire templates (400+) are all explicitly made for weddings; you get both traditional and modern design styles.
They don't look as stunning and eye-catching as what you get with competing wedding website builders, just basic and with similar layouts.
The good thing is that all are fully responsive, i.e., they are all optimized for mobile, desktop, and tablet viewing. You can test this with specific preview modes for each device.
Customization and design flexibility is restricted a lot. You can only change colors, add photos, and wedding information. No changes to fonts.
Naturally, few editing and customization tools simplify using a builder; the same applies to WeddingWire. Since it only covers basics, has simple interfaces with straightforward navigation, it's very user-friendly and effortless to use.
There are no direct support channels. Luckily; there are 2 decent DIY support options;
The WeddingWire forum with super-active members,
The WeddingWire Knowledge Base.
WeddingWire is a free wedding website builder.
Originally, Minted started as a wedding stationery brand. It has evolved even to offer a wedding website builder. There's only a handful of planning tools you get which are:
A Guest List Manager to send digital invites using multiple free, customizable online invitations. Oddly enough, you can't import guest lists. Besides, people not on the list cannot RSVP.
A Wedding Planning Checklist – Available on their website, it's non-customizable but downloadable for printing.
Minted doesn't have automatic integration of a gift registry, but don't throw up your hands in frustration; you can manually link registries from your favorite stores.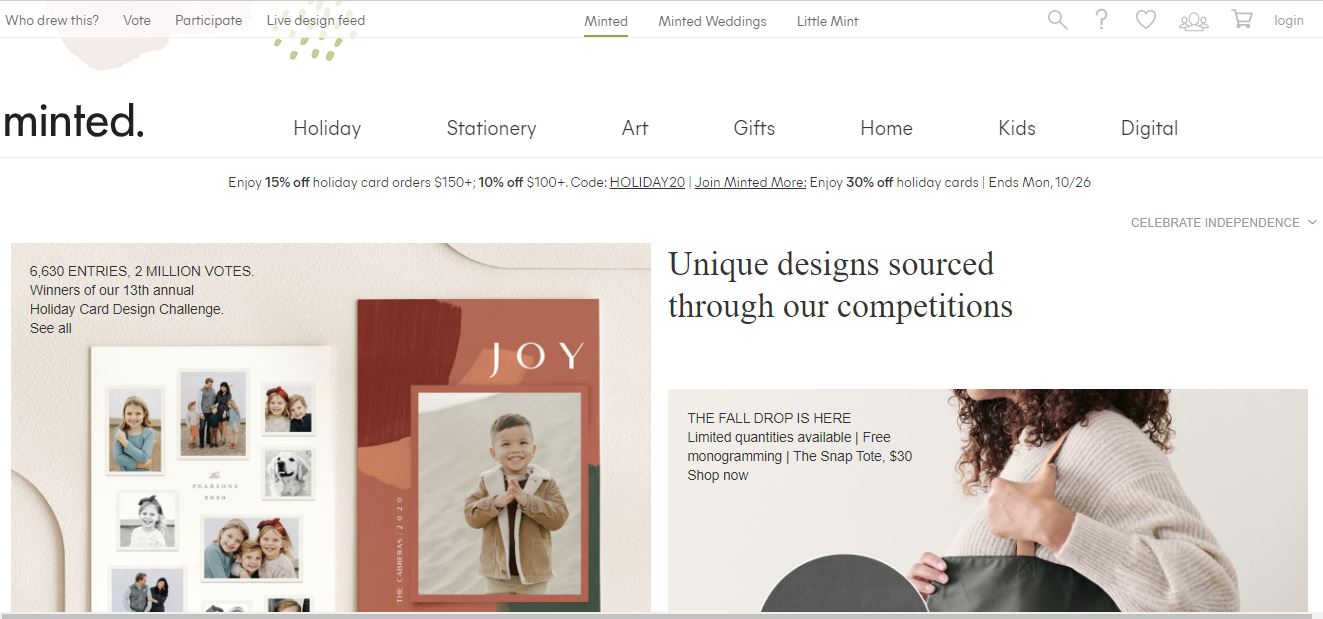 Frankly, when using Minted for free, you only get a wedding website with few features. The only worthy feature, is that only the marrying couple can add only 1 main photo.
All the features below require a premium subscription for $20.
Password-Protection – helps you in keeping your site or some pages private.
Domain Name – you can use a custom URL for a one-time $20 fee.
You can use Minted Photo Galleries to upload photos and create albums for your wedding.
For couples with visual-appeal top on their priority list for their website, Minted offers a wide array of the best-looking wedding website templates.
Over 2000 designs created by independent designers get added each week; you won't miss a template to wow your guests. And as you've come to expect with almost every Minted feature, you get matching prints for each design.
The templates:
Have varying layouts, different styles, and unique ideas.
Can be easily modified and tailored, but few customizations are allowed. For example, you can't reorder your pages.
How easily can you create a wedding website with Minted?
It's a simple and straightforward builder. You get a newcomer-friendly guide that's clear on how to use Minted. Minted interfaces are attractively designed and incredibly intuitive.
However, navigation might be cumbersome for first time users and there's a lot of switching between the dashboard and webpages when editing.
Minted support staff are reachable through:
E-mail
Live chat
Phone (Mon-Sat business hours)
There's also a searchable Knowledge Base though it has very few articles.
You have an option to create a wedding website for free with Minted.
So,what are the caveats?
As I said earlier, the most essential wedding features are reserved for their premium plan that cost a one-time fee of $20.
Squarespace doesn't have any of the planning tools you get with explicit wedding website builders, which is a buzzkill.
But the silver lining is; like Wix, you can use a workaround for creating a guest list.
How to do it?
Import contacts to your e-mail or MailChimp (Premium-add on) account. Then send digital invitations via e-mail. Finally, link your Form block element (RSVP form) to follow up confirmations.
Squarespace allows you to integrate Zola's extensive registry by adding a Zola block from its internal App store. Accepting cash is made easy with a cash gift registry.
What about donations for paid experiences like a honeymoon?
Just add a donation block to your site. It's that simple.
When it comes to stylish and beautiful websites with unlimited storage and bandwidth, Squarespace is your go-to builder.
Some of the features you can expect;
Password-Protection – for making pages and galleries non-indexable and private.
Blogs support – you can create unlimited posts on various topics and share wedding information.
Domain Name – using a custom URL out of the box is free for your initial year.
App Store – for adding 3rd party integrations like YouTube, Wistia Vimeo, and Animoto.
Social Media Integration – Facebook, Instagram, LinkedIn, Pinterest, Tumblr, and Twitter integration supports sharing site content and linking you accounts for guests to follow you.
Squarespace photo galleries are unmatched. You get varying pre-designed galleries with multiple gallery photo effects to show your photos in the best light.
Beyond that, you can add photos as full-screen and background images to personalize your website.
Truth be told, you get the some of best-looking templates (10) only from Squarespace.
Let's break down their features:
Photo-centric; they emphasize on making your wedding and engagement photos stand out.
Mobile-optimized; they are fully-responsive on any screen.
You will have full rein over using your creativity to design your wedding website to your liking. You get lots of freedom over customizations and the final designs.
There's a live preview mode for editing designs.
All designs are cleanly and professionally-designed, making website navigation comfortable.
And the coolest thing you can do? Switch templates anytime without losing progress.
With Squarespace's drag and drop editor, you can create your wedding website with ease. Interfaces are intuitive, adding to Squarespace's simplicity.
However, site navigation is not very user-friendly because of the many features included. They can be overwhelming for a beginner. This makes Squarespace have a steeper learning curve that might necessitate spending a little more time to get familiar with the builder.
Getting in touch with Squarespace's support is easy; you have a slew of options like Live Chat (Weekdays), e-mail support offered 24/7.
Also, you can check out their;
Knowledge base and Video tutorials
Community forum
You've got to pay for a premium plan (from $12 to $40/month) to access majority of the wedding features on offer. You have 2-week free trial period to decide whether Squarespace meets your requirements before forking out your cash.
We recommend the combo plan as it:
Doesn't have business and eCommerce features you won't use,
Is affordable for most couples.
If you would like to know more about Squarespace then read our In-depth Squarespace Review.
Zola started with a great emphasis on registries, but this wedding brand has evolved. Nowadays, you also get a website and tools to plan your wedding.
Zola's Guest List Manager is one of the best in its space; it has multiple-wedding events RSVP options.
Here what else is possible with it:
Collecting e-mail addresses
Auto-building of a guest list
Tracking RSVPs
Managing guest preferences such as meals, songs
Formating addresses for printing invitation cards
Communicating – before your wedding day and after – with your guests
Wedding Checklist Tool – for making a customizable to-do list and adding due dates for each task to stay on track.
Vendor Search Function – you can search and get wedding professionals from Zola's vendor directory.
Seating Chart Designer – it helps you plan how your guests sit at your wedding venue using your guest list.
Mobile App – helpful for managing your gift registry (receive gift notification), guestlist, and website on-the-go. It also allows communication with guests.
Zola has one of the best, if not the best high-end integrated gift registry with:
Over 50,000 material gift items,
Support for paid or experiences like honeymoon trips and cash funds.
To make sure you don't fail to include essential gifts, there's a registry checklist to guide you. Awesome, right?
What could be better?
You can integrate other stores. And beyond that, you're allowed to exchange any gift before shipping; no notification gets sent to your guests. Zola ships your gifts to your door but only if you live in the United States. You can track the gifts movement using the Zola app.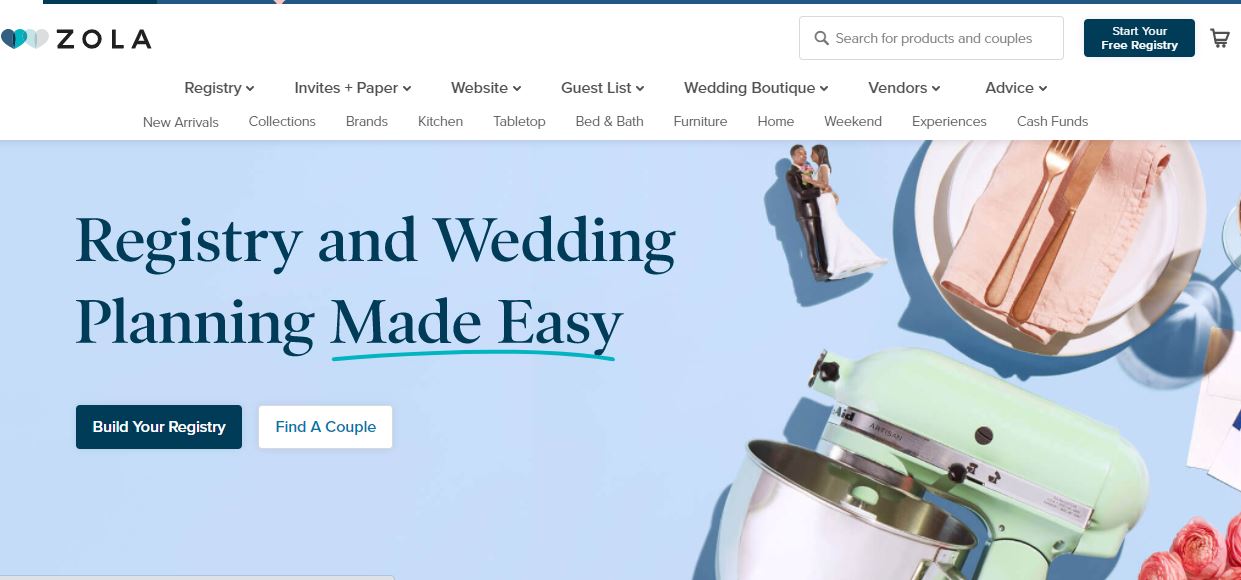 The app and your website are synced for simplifying management. Apart from the features we've discussed so far, Zola websites have added functionality such as Password-protection.
Besides, you can buy and connect a custom website URL ($14.95) which comes with features like locking, auto-renewal and change of registration.
Zola has sections on the website where you can add your wedding and engagement photos to create a visual story for your guests to view once they visit your website.
There are over 200 pre-made wedding website templates with matching print options available through Zola.
All templates have a similar layout, and have automatically created pages for weddings like Home, Travel, Registry and more.
Editing templates and customizing them is possible, but it you dont get much freedom.
What exactly is allowed?
Adding wedding details, and photos,
Reordering pages,
Changing the color palette.
Creating a site with the Zola wedding website builder is made beginner-friendly with the editor having modern interfaces for no-frills navigation.
Previewing is possible as you edit, tools are easy to figure out, and website management gets done on a single dashboard for simplicity.
You get 24/7 e-mail support. Aside from that, there's a Knowledge base for DIY help.
Zola's wedding websites are free to build.
Similar to the Knot, Appy Couple is another one-stop-shop with planning tools included as part of their wedding suite.
Guest List Manager supports the following:
Digital save-the-dates, and wedding day invitations, you get customizable RSVP forms for e-mails.
Guestlist organization into groups and adding +1's and +2's (children)
Address collection feature.
Importing contacts using pre-made spreadsheets lists and exporting guest addresses in a printable format.
RSVP tracking using names or total guests for the event.
Multiple event privacy options.
Preferences management (Meal menus and music requests).
Personalized Mobile App.
Just send your guests your private wedding code to download the Appy Couple app. It has embedded features like:
Guestlist management,
Virtual toasts with cork-popping,
Instant messaging support,
Travel and hotel booking and even more.
Instead of knocking together its own, sub-par integrated registry, Appy Couple allows you to easily add other gift registries within your site and app using links.
You can browse their widget list for top retailers; some of the registries supported include:
Bloomingdale's
Amazon
Neiman Marcus
If you want cash gifts, you can use the elegant Tendr tool.
Have you been seeking out a gem?
Appy Couple websites are designed to give a luxurious and unique feel with cutting-edge perks. A good example?
You can add a cover page (homepage) with a save the date video or photo for personalization to make it highly interactive.
Other wedding-related content widgets are:
Travel Concierge Widget
It helps you add map and directions, as well as link guests with transport services and Uber discounts codes.
Another function is pointing them to hotels/accommodation with the best rates with direct booking buttons.
Digital Guest Book – guests can leave you messages and happy wishes on your site.
Custom site URL – Buy and connect a custom domain name at $20/yr.
Stories Page – you get multiple sections on this page to share your love story and journey.
Wedding Detail Pages – sections for including your wedding information.
Password Protection – Privacy settings for various events, and pages.
Countdown Tool to the exact date for your nuptials.
You can create downloadable photo galleries, uploading and adding photos and videos is a breeze; your guests can also pitch in from the mobile app. You get unlimited storage space.
As if that's not enough; you can stream photos on your website live, during your wedding ceremony.
There's a reason Appy Couple charges more than other wedding website builders;
You get over 500 unique wedding website templates – with 2 flexible layouts – matching different wedding styles, and traditions. By default, they come with eye-catching color pallets, wedding-themed content, and imagery. You get the option of previewing each before selection.
Appy Couple templates get designed by top names in fashion and lifestyle like Carolina Herrera, Wedding Paper Divas, Williams and Sonoma, Ceci New York and others.
Furthermore, they are all fully responsive, i.e. optimized for viewing on different screens from mobile, tablet to desktop.
If you wish to edit, lots of advanced customizations are allowed using your computer or app. Some are:
Turning on/off preloaded content,
Adding, renaming, reordering content,
Changing fonts, layouts and more.
Appy Couples interfaces are intuitive, and the editor is not complicated at all. Editing gets done by simply pointing and clicking elements. You can live preview changes which further saves you time.
Appy Couple simplicity is at a level any beginner will hit the ground running.
Any time you need assistance, you can reach support via e-mail. Moreover, Appy Couple has comprehensive FAQ sections on their website.
Appy Couple doesn't offer a free plan or a free trial period.
Paid plans are fairly expensive vs other wedding website builders. You pay a one-time fee and can keep your account active long as you wish:
So that concludes our 8 best wedding website builder list. Make sure when selecting, you prioritize a builder with wedding planning tools and features you require most.
Some things we would like to point out are:
Don't use a subdomain for your website; it won't paint a good image to your guests. Consider buying a custom domain name to personalize the name of your website.
Avoid website builders that have Ads which can be annoying to your website visitors.
As you've seen, most of your options are free or won't strain your budget. Don't be in a hurry; consider all the important factors we've talked about before you start to create a wedding website.