To have a secure, high performance and exceptional online presence, you've got to have dedicated server hosting. It is better for reliability, security, performance, private communication, and protecting customer data. However, dedicated servers are rather expensive.
Now imagine you could get extremely cheap dedicated server hosting. The same cost as a Virtual Private Server (VPS) or expensive shared hosting. Wouldn't that be great?
Maybe you're finding it tough to decide on some cheap server providers' you're looking at. You have little information about them, and you don't want to put your online business at risk. I've got great news for you.
In this article, I have reviewed the best cheap dedicated server providers in 2020 for hosting your website, web apps, mail server, or for dedicated storage. They might not have the brand power of Amazon AWS or Google Cloud – but they
Have cheaper plans
Get the job done exceptionally
Some of them even outdo the above mentioned expensive options
They'll impress your website's visitors at a fraction of the price. With this article, you'll learn the features you'll get, their platform's ease of use, up-time and loading performance, their customer support, pricing, their managed and unmanaged options, and more.
But before we dive right in, here are my selection criteria
All of them are well-known and trustworthy providers
Very reliable
Secure for any business
Later in this article, I will answer
Who is the cheapest dedicated server provider
Who offers the best-managed support for their cheap dedicated server hosting
Which Web Hosting Provider Offers the Best Features,value and more
Let's get started.
Top 6 Cheap Dedicated Server Hosting Services


IONOS is a German web hosting company that provides you with very budget-friendly, dedicated server hosting. They have over 8 million customers that have stuck with them. But which features do you get for such competitive prices? Let's find out
Pros
Fast SSD storage in RAID 1 configuration
A free domain
Unlimited traffic with up to 1 Gbit/s connectivity
Windows and Linux servers
Automatic backups
Bundled Symantec SSL certificates
Mobile app dedicated server management
RailGun Content Delivery Network
Cons
Setup costs $50
No free site migration
Prices rise with renewals
IONOS provides powerful hardware for all their affordable dedicated server plans. You get both SSD and HDD storage hosting plans; both come with unlimited bandwidth. The cheapest plan- $40/month – has 8 Intel atom cores (2.4GHz), 8GB of DDR3 ECC memory, and 1TB HDD storage.
If you prefer SSD hosting–for merely $5 more – you'll get 250GB SSD disk space instead of the 1TB. Their most valuable plan gets you an Intel Xeon E31270 CPU at 3.8 GHz with HyperThreading technology, 64 GB DDR4 ECC RAM, and 800GB SSD storage.
Simplicity and Ease of Use
IONOS has gone a long way to ensure you get a user-friendly hosting platform. They provide free Plesk Onyx or cPanel control panels with easy to use intuitive interfaces.
You can also manage your hosting using the IONOS Hosting Manager app. Amazing. Right? IONOS also gives you a drag-and-drop website builder for getting your website up fast. The only drawback is that it's only free for the first month.
IONOS guarantees you a steady 99.99% uptime (averages to 99.98% with testing). Their integration of the RailGun CND helps your visitors get superb loading speed by caching your site and distributing it to worldwide based data centers. Furthermore, you get to enjoy up to 1 Gbit/s in network speeds.
For attack mitigation, you get SiteScan that performs scans and checks your website for threats and loopholes. You also get DDoS protection and automated backups enable that you to restore your site up to 6 days backwards.
IONOS has ensured there is 24/7 support, where you reach their expert team through phone or e-mail them. Alternatively, you can read the resources on their Help Center.
Live Chat
IONOS didn't have Live Chat for some time. However, they've introduced it recently. The support team responds super-fast.
IONOs plans get priced depending on the storage you'll get
HDD hosting costs $40 – $120/month
SDD hosting costs $45 -140/month.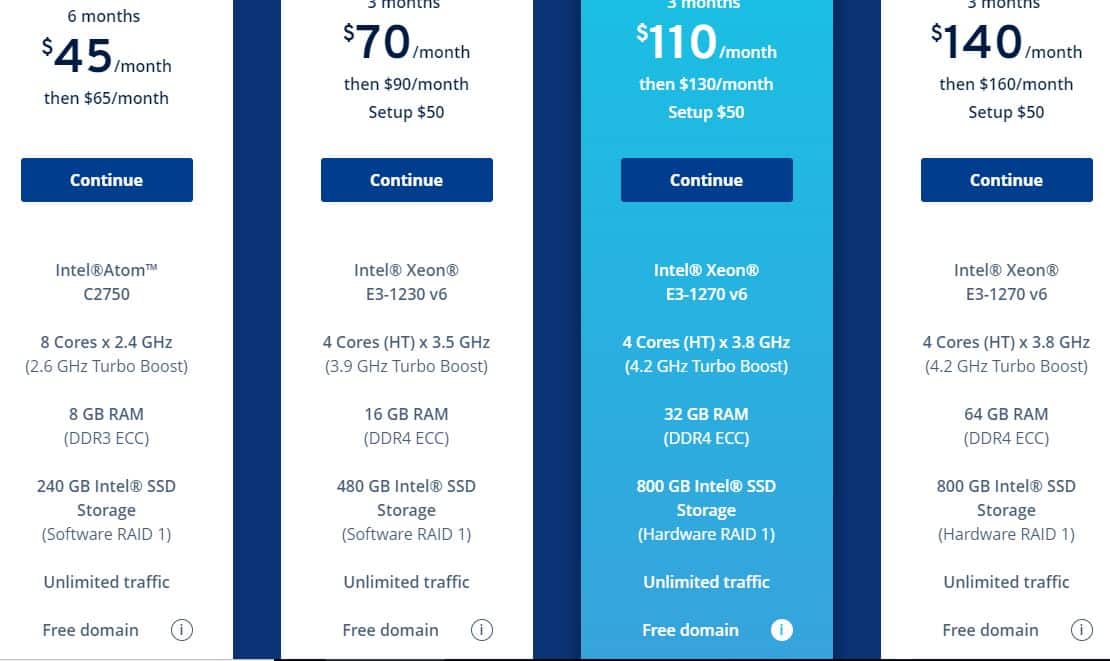 OVH is another globally well- recognized and well-established dedicated hosting services provider. They got hugely popular for providing lots of notable features for both cloud and dedicated hosting at remarkable prices. With over 25 data centers in different parts of the world, will you get top-notch performance from their features?
Let's dig a little further into their cheap dedicated server hosting services
Pros
Fast server provisioning (120s)
Own Multiple global data centers (27)
Multiple control panels
No setup fees
Unlimited traffic for all plans
You can choose your data center location from numerous sites.
Fast SSD with RAID storage for redundancy
Both IPv4 and IPv6 addresses
Developer friendly platform
Up to 10 Gbps speed using private networks
Dedicate storage space specifically for backups
Cons
No automated backup service
Their platform is not beginner-friendly
Lots of refund disbursement issue
Customer support staff take long to respond
Limited customer support channels.
OVH provides you with numerous configurations for your specific needs with clearly indicated features. They have different plan categories for their cheap dedicated hosting that include
Infrastructure
Storage
Game
AI & Machine Learning
IOPS Intensive servers, etc.
OVH continually invests in cutting-edge technology. Their dedicated servers come with the latest server CPUs like AMD EPYC and the latest Intel Xeons. In terms of storage, you can choose between super-fast NVMe SSD storage, SATA SDDs, or HDDs.
The most affordable dedicated server from OVH is the Rise plan. With it, you get a CPU with 4 Intel Xeon cores and 8 threads (3.7 GHz), 64 GB memory, 2×4TB SATA HDD, and 500 Mbps network speed.
Simplicity and Ease of Use
OVH server Deployment is fast, in only 2 minutes your server will be up and running. They give you either a Plesk and cPanel .Web management interfaces depending on your choice of the operating system.
The interfaces aren't the most user-friendly; being text-based denies them a modern look. Furthermore, they lack user icons which show they intend them for competent administrators who want all their power functions crammed in one place.
However, if you're a beginner webmaster, you'll find their one step module for installing CMS such as WordPress, PrestaShop, Joomla, and Drupal easy.
OVH supports FTP; FTPS; NFS; CIFS. transfer protocols that help you comfortably back up your data. The NFS and CIFS protocol ensures you interact with the files as if they are on your personal computer after you've mounted your data on your server.
OVH guarantee a 99.99% uptime. Their low cost dedicated servers give fast server response and website pages loads fast for your website visitors. The reason being OVH servers get designed, configured, optimized, and maintained in-house, they can extract all the maximum performances from the hardware parts. You get a robust server. Adding that to the fact that they have 10 Gbps private networks, you're guaranteed top-notch performance.
In terms of backups, you get storage space specifically for your backups, and OVH manages it. For operations continuity and security, every plan comes with anti-DDoS protection.
Their technical support staff – available 24/7 – can get reached only via telephone and e-mail. Their online Help Centre and forum have more content on solutions to most common problems.
Live Chat Support
Oddly enough, OVH is a web hosting company and they don't have live chat support. The lack of live chat just creates more questions than answers
OVH dedicated servers are priced from as low as $55.06 /month (with a 2-year commitment) up-toa whopping $1,826.99/month. Even without committing, you can get the cheapest plan for only $61.99 /month.


HostWinds–a relatively new web hosting services company- prides itself on offering enterprise-ready dedicated servers at low costs without compromises in features. If you mainly focused on having excellent value for your money, HostWinds should be among your top picks. Here is an in-depth look at their cheap dedicated hosting services.
Pros
Linux- or Windows-based hosting
RAID backup support
Highly customizable server configurations
Multiple data center sites for your server
Great fully managed support
Free Automatic Nightly backups
100% Satisfaction Guarantee
1 Gbps speed
Full free database management
Free website migration without downtime
Over 8 IP addresses for all plans
Cons
Complicated pro-rated refunds
Limited Dedicated server plans
Lack of Windows OS options for some plans
With HostWinds, you can use the ultra-fast LiteSpeed web-server. Both Apache and NGINX servers are also available if you're looking for better stability as well as flexibility.
With their entry-level hardware features, you get superb performance with resources such as a CPU with 4 Xeon cores, and 8 threads (3.5 GHz), 1TB HDD, 8GB memory, 10TB outbound bandwidth,8 IPs and 1 Gbps Port.
Simplicity and Ease of Use
HostWinds have ensured that you get acquainted with their platform and get your server up and running with the as little inconvenience as possible.
First, you can choose up to 5 different operating systems to use, and you'll get free full database management with every plan
Second: you're served with modern designed tools for managing and configuring your hosting account, website, and server. They include.
cPanel – for installing scripts, managing your e-mail accounts and analyzing metrics
A well-featured drag-and-drop store builder
Softaculous library–straightforward automatic installer for WordPress, MediaWiki, PrestaShop, and more top apps.
If that's not enough, you can get an optional add-on for advanced Website Monitoring for only $1.50/month.
If you've chosen to go for cheap dedicated hosting, you want a guarantee of reliability and stability. HostWinds have a 99.9999% uptime guarantee gets ensured by the redundancy built in their network.
Furthermore, they guarantee that your website (s) will remain secure. HostWind's Virtual Private Network (VPN) network keeps your identity information safe and blocks third-party tracking. You can use this VPN on various devices via a straightforward app.
But that's not all you also get
Free private SSL certificates
Windshield service–it monitors and tests your security recommending areas to improve.
Server security hardening system
Technical customer support is available 24/7 via phone, live chat, and a ticket system. For more solutions, you can check on their knowledge base or peruse their community forum.
HostWinds have clearly-stated pricing, the cheapest server you can get costs $79.50 while the most expensive costs $200/month.

BlueHost has been providing high quality dedicated hosting services for over 17 years. They host over 2million websites and continue getting popular because of their fair prices. BlueHost is a convenient option if your budget is tight, and you want high quality dedicated servers from a reliable and proven dedicated web hosting service.
Let's inspect what you get
Pros
30-day money-back guarantee
Free SSL certificate
A free domain name for your 1st year
WordPress recommended host for over ten years
Fast SSD storage with RAID 1 support.
Own their hardware and its in-house maintained
Multiple straightforward tools for server and website management
Beginner-friendly platform
Free backups
Full root access
Cons
Limited variety of plans
Low prices require a 3-year commitment
Less powerful features compared to competitors
Prices hike with renewals
Single data center location
No windows hosting plan
Most security features are sold
BlueHost's Standard package–the cheapest- costs only $79. You get four cores clocking at 2.3 GHz, 500GB (Mirrored) storage space, 4 GB memory, 5 TB Bandwidth cap, and 3 IP Addresses.
If you purchase their premium plan, you'll get four cores (3.3 GHz), 1TB (Mirrored) storage space, 16 GB memory, 15 TB bandwidth cap as well as 5 IP Addresses.
BlueHost cheap server hosting service has very flexible plans. Built using OpenStack–cutting edge open-source technology–you can make upgrades on your resources and performance as your traffic grows.
Simplicity and Ease of Use
BlueHost has ensured even novices in dedicated hosting find their platform favourable to use. They've provided straightforward to use tools such as
Custom enhanced cPanel interface–it has extra tools for straightforward multi-server and website management. You can easily set up E-mail accounts, access your files, and perform general administration much.
Custom domain manager–it allows you to purchase, transfer, track, and take care of your domains.
One-click installs – installing major software such as Drupal, WordPress, Magento, and others is swift and easy
In addition to the above features, you get a custom-designed database manager. Advanced administrators get full root access (optional) and secure shell (SSH) access to perform further customization and installs.
BlueHost has consistently been reliable, that's why they guarantee you the industry-standard 99.99% uptime.
Performance? Even at bargain prices, you still get good website loading speeds that don't drop below industry averages.
Their RAID Level 1 support helps to mirror your data to advance the security and reliability of your server's data. More security features like SiteLock or spam protection are optional (sold). It's one downside of getting charged low prices for a dedicate server, you've got to buy some essential software.
With BlueHost, they provide fast support from specially trained personnel on dedicated hosting. The specialized team is available 24/7 via live chat, phone, and E-mails. For further information, you can read their broad knowledge base.
BlueHost low end shared web hosting plans are very affordable, and the same pricing policy gets transferred to their dedicated server hosting. For $79.99 to $119.99 per month, you get a cheap dedicated server hosting.
But there's a catch
You've got to commit for three years. If you pay per month, the cheapest plan you will cost you $149.99. The prices increase after the initial three years.


InterServer offers full-service web hosting using their 4 US-based data centers and fibre-optic network. Their servers – built in-house- give you the best functionality, flexibility at very affordable rates. Here are the perks and features you get with their dedicated hosting.
Pros
Cheap plans for windows hosting
Up-to 10Gbps connectivity
No setup costs
Windows and Linux hosting
Up-to 29 IPs
Price-lock guarantee
Multiple free control panel and 12 different OS options
Fast server deployment (4-hour provisioning)
Flexible configurations offered
Wide variety of rich-featured yet cheap dedicated server options
Free data migrations
free managed support
Cons
No unmetered bandwidth
No money-back guarantee or free domains
No control panel for windows servers
InterServer offers you a wide range of different dedicated to suit your different hosting needs. Options include home, GPU, Speed (10gbps uplink), Large storage, (120TB), Rapid Deploy (20 minutes setup), and Colocation dedicated servers.
The cheapest server for each type comes with
Home – 4 Xeon cores (3.2Ghz), 8GB RAM, 2 TB HDD storage, 5 IPs, 10TB bandwidth at 1 Gbps network speed.
Large Storage – 2 Xeon cores, 24GB Memory, 60TB storage and 10TB bandwidth with a 1GB Port.
GPU dedicated server–1 Xeon core, 500GB SSD storage, NVIDIA GeForce RTX 2080 GPU, 32 GB memory, 10TB bandwidth with a 1GB Port.
Rapid Deploy server–8 Xeon cores,14 GB RAM, 928GB SSD,4 IPs, 10TB transfer with either a 100Mb or 1GB Port.
Simplicity and Ease of Use
InterServer provides you with an intuitive account management portal, friendly for managing your hosting plan. With their excellent managed support for different plans, you won't get a control panel. However, they will take care of your server's system installs as well as any hardware problems.
Alternatively, you can get an unmanaged server with a cPanel/WHM, Plesk, or a Direct Admin panel.
InterServer give you free help if you encounter web, DNS, SQL, mail. Or FTP server problems. For Windows servers, your free support covers setups and installations of.Net, SQL, IIS, and DNS servers.
Windows customers also get support for windows updates and OS re-installation help. You can choose from 12 different Operating Systems (UNIX, Linux, or Windows).
InterServer provides 24/7 uptime monitoring at their data centers. It enables them to guarantee you 100% power uptime (for colocation server plans) and 99.9% network uptime for all other plans.
Security features include DDOS Protection and hardware-based firewalls that get added depending on your server configuration choice.
InterServer – majorly focused on offering high-quality customer service – provides you with on-site customer support teams. The staff (US-based) are available 24/7, and you can reach them through phone, live chat, or tickets.
You can also interact with other clients on their Community Forums or check their extensive knowledge base for supplementary information.
Notably, InterServer has a price-lock guarantee where prices won't get increased with renewals. Plans' costs start from as low as $70 to$1200/month depending on your hardware configurations.


AccuWeb has solely been operational for 14 years. Their strong-featured dedicated hosting plans provide you great-performance, dependable, and cheap hosting. Their high demand in the web hosting space is mainly because of their cheap dedicated hosting and free web hosting for college students. You can choose a plan from their five different affordable dedicated server plans in 11 different data centers.
Pros
Multiple data center locations to choose from (11)
Self-Managed & Fully Managed Servers with Linux & Windows-based options
Single and dual CPU configurations choices
Custom server configurations available
Free Migration (first 3 hrs)
Two hours of free admin work per month.
Full root access
Fast Nvme SSD storage with hardware and software RAID configuration (up-to RAID 10)
Both IPV4 and IPV6 IPs available
500 Mbits/s to 1 Gbit/s network speed
Unmetered bandwidth with some plans
500 GB separate backup capacity.
24/7 server monitoring using proactive tools.
Free automated daily backup
Support reverse DNS setup
Cons
No automatic installation of updates
Only the SolidCP panel is free
Sells fully managed service for $90 /month
E-mail accounts aren't unlimited.
Different servers you get include; storage, game, high availability, Email Dedicated, Video Streaming, SQL Server Hosting, File Hosting, and more. Alternatively, you can select a custom configuration.
The most economical plan from AccuWeb comes with Intel Xeon CPU with 4cores 8threads (3.5 GHz),8 GB RAM,1 TB SATA storage, 20 TB bandwidth with 1 Gbps network speed and 5 IPV$ IPs.
These specifications get upgraded to Dual Intel Gold CPU with 12cores 24thread (2.3 GHz), 512 GB memory, 4×2 TB SSD (Hardware RAID 10), 5 IPs (IPV4) and 20 TB bandwidth with the same 1 Gbps uplink for their The top-tier plan. If you choose the Denver USA data center, you get /29-5 IP blocks at no extra charge. Amazing, right?
Simplicity and Ease of Use
Upon purchase of a dedicated server from AccuWeb, they avail it to you pre-installed software that you pre-selected. You get software such as My SQL, DNS servers, cPanel, Apache, and Nginx with your server at no extra cost to help you get your server up and running fast.
AccuWeb's fully managed option has proactive server/service monitoring. Every 5 minutes Zabbix – an enterprise-class tool–checks on your server and gives reports if there are problems. They will take care of physical hardware monitoring, management, and replacements, installing 3rd party tools for you. In addition, you get 2 hours of free admin work every month.
But that's not all, AccuWeb gives you access to a library of customized scripts that you can use to automate some of your management tasks, e.g. log file rotation
AccuWeb guarantees you 100% Network and Power Uptime when using their dedicated servers, a promise supported by an SLA. With testing, the platform is incredibly stable.
Before you're dedicated server gets delivered, it's gets taken through a proper security hardening procedure. Extra security features include free powerful SoftRaid and unlimited anti-DDoS protection.
Support technicians – available 24/7/365 – help you with any server issues. There are also domain-specific experts for software such as WordPress, Drupal, and more who provide specialized help for such software.
To add on, their extensive Knowledgebase and discussion forum feature lots of helpful articles and information.
On the low end, you get a $105 priced server, while the high end your cost can increase up to $1120
To sum up, if you ready to join the cheap dedicated hosting club, I have just given you the most affordable options above. Not only do they have attractive prices, but they are also very reliable.
Have a 5 Year Plan
With dedicated hosting, your server is only yours, make sure you fully utilize it to the well to avoid paying for resources that you aren't using. Finally, to choose a dedicated server, you should have a 5-year plan. You have to ask yourself if your option will be enough for you until that point.
Best dedicated server providers in 2020
Dedicated vs Virtual Private Servers (VPS): Key Differences in Features