I think we can all agree that…
Choosing the perfect web hosting platform for your website among the thousands of website hosting service providers can very hard. Not only does it require a lot of research, its tiring and time-consuming.
There are lots of companies and features to consider such as speed, security, functionality, reliability, ease of use, and customer support. Also, critical technical features such as up-time, webpage loading speed, bandwidth offered, storage, app integration, website builders supported, developer tools provided, and so on.
But here's the good news;
We are here to help you with your decision; we've done in-depth testing and reviewed the 10 best web hosting services. We'll give you an overview of the pricing plans, features, pros, and cons of every reliable and trustworthy website hosting provider. If you don't have the time to read the in-depth review of every website hosting provider then the winner is…
Honestly, you should go with HostGator to enjoy the best web hosting services. But what makes them the best?
Irrespective of which plan you get- from as low as $2.75/month – they give you a free SSL certificate, and email marketing software. Besides, you also get free website migration, unlimited traffic, unlimited emails, unlimited databases, unlimited storage, an Integrated Global CDN (to serve static content faster), a Toll-free VoIP number, robust security, and you're covered by a 45-day money-back guarantee. I believe it doesn't get much better (or cheaper) than that, right?
Anyway, I hope you'll read through our review of all the major web hosting providers nevertheless and make the decision yourself. Here is a summary of the Best Web Hosting Providers in 2020
Features
Performance
Support
Pricing
What about dedicated website hosting? Free web hosting? These questions will be covered in the FAQ section of this article.
Bluehost is a very reliable web hosting provider in the U.S. – it powers over 2 million sites – and continues being hugely popular option. The company is based in Utah and owned by the Endurance International Group (EIG).
Bluehost has managed to maintain its industry-leading reputation through consistency for over 20 years. It comes as no surprise that many people looking for website hosting services choose Bluehost. They have very affordable plans and with more than enough features for most websites' needs
Pros
Unmetered traffic
Very affordable pricing and a wide range product suite
A free domain name for the 1st year
Cloudflare CDN integration
A free SSL certificate
30-day money-back guarantee
Free SSD drives on all shared hosting plans
One-click WordPress installation
Cons
Renewals get done at higher prices
Proprietary site transfer, which costs $149.
Upselling Add-ons:
No SLA (Service Level Agreement) that guarantees a minimum uptime
Bluehost offers a useful set of hosting features with many of the essentials covered in all their plans. With the basic shared plan, you get 50 GB of SSD storage, a free SSL certificate, unmetered traffic, 1 domain included, 5 parked domains, 25 subdomains, and 5 email accounts.
Here's the best part: upgrading to the Plus Shared plan (next tier) unlocks limitations on your SSD storage, the number of websites supported, the number of parked domains, and subdomains.
Bluehost supports popular content management systems (CMS) such as WordPress, Drupal, Magento, and Joomla. Integration for WordPress sites' is seamless (1-click). In fact, WordPress officially recommends Bluehost. So if you are looking to host a WordPress website then Bluehost might be the way to go.
The platform has an easy to use drag-and-drop site builder. The cPanel layout includes well-explained features for website and server management. If you have ever used a shared hosting plan before, there's a good chance you are already familiar with using cPanel.
In terms of reliability and performance, Bluehost gives a 99.9% Uptime guarantee, the websites they host load competitively fast (less than 0.8 sec). Besides, there is a one-click CloudFlare integration for boosting the speed and protection against DDOS attacks.
More Security features include Hotlink protection, Spam Assassin protection, Site Guard, Postini email spam protection, and Secure Shell access. Alternatively, you can get a premium SSL certificate for $49.99/year. CodeGuard performs daily backups of your site to enable recovery anytime.
Their customer support team is available round the clock through live chat, phone, email, and ticket support. Beyond that, their knowledge base page includes information on how to solve common problems that you may encounter
Here are the monthly costs for their hosting plans

Shared hosting $2.95. renews at $7.99
Shared WordPress hosting: $2.95, renews at $7.99
Woo Commerce hosting: $6.95 renews at $13.99
VPS hosting: $18.99/month, at $29.99
Managed WordPress hosting at $19.95, renews at $29.99
Dedicated hosting at $79
Bluehost offers a 30-day money-back guarantee for all the plans
Note: The guarantee doesn't cover any add-ons you bought
More On BlueHost
Looking to find out more on Bluehost? Read our In-depth Expert Review
InMotion Hosting – founded in 2001- is a well-established web hosting company with offices in Los Angeles and Virginia Beach. InMotion Hosting offers very reliable services with limitless features, and have well trained support staff. They have the best web hosting services when it comes to business class hosting.
All these factors have enabled them to record significant growth in the industry recently.
Pros
Free domain and private SSL certificate
Fast Server Speed
Excellent and highly trained Customer Support staff
Free website migrations without downtime
90-day money-back guarantee
Free data backups
Free domain name
Managed WordPress hosting
Cons
Slow Manual account set up and verification
Backup limitations for cheaper plans
A limited number of sites for a single account on their shared hosting plan
Only annual subscriptions get low prices
With every plan from InMotion, you get unlimited emails, managed WordPress hosting, unmetered monthly data transfers, SSD storage space, and a free domain name. Their primary recommendation points include offering $250 worth of free advertising, free backups, and free website migration.
With InMotion, you get a wide range of applications integration from Google Apps, CMS, and e-commerce services. BoldGrid – their simplified drag and drop builder – is awesome for people looking to get started fast on a website. For advanced website management, their cPanel has a clean, intuitive dashboard that is quite easy to get familiar with and use.
InMotion uses business-class hardware in its hosting infrastructure, takes advantage of its multiple data centers, and also uses speed technologies such as WP-CLI, OptimumCache, CloudLinux to ensure your website loads fast. These features also go a long way in providing you with consistent performance. You get 99.9% Uptime.
InMotion hasn't cut any corners on its security features implementation. They offer a free hack and DDoS protection through their Smartwall Threat Defense System.
Their customer support team is the among best – if not the best – in the web hosting services space. You get to interact with US-based staff that has undergone 160hrs of training. They can help you solve technical problems through emails, Skype, a ticket system, live chat, and phone calls on 24/7 availability. Their splendid Knowledgebase page and a beginner-friendly onboarding process are also excellent sources of information for inexperienced developers.
Shared business hosting. Launch plan $3.99, Power Plan $5.99, and 13.99 for the Pro Plan.
WordPress Managed hosting costs $5.89
Reseller hosting $27
Virtual private servers hosting $24.99
Dedicated servers $189
Money Back Guarantee
InMotion's confidence in their services is the reason they offer is a 90-day money-back guarantee. You read that right, that's 60 more days than many of the other hosting companies.


Another hugely popular company that offers cheap web hosting services is HostGator. Also owned by the Endurance International Group (EIG), HostGator offers well-featured plans at affordable price points; if you're on a tight budget their Hatchling plan has some excellent value you should not overlook.
With such a high rating and popularity, Is HostGator worth it? Let's find out
Pros
45-day money-back guarantee.
First month free accounts transfer
An excellent option for shared hosting plans
Good customer service support
Integrated Global CDN
Toll-free VoIP number
Free SSL certificate
Free email marketing services
Fast Server Speeds
Offers both Windows and Linux based hosting
Cons
The Dashboards and CPanel interfaces are not very user-friendly
There are free backup limitations
Upsells optional add-ons
The Hatching plan comes with desirable features like unmetered traffic , unlimited disk space, subdomains, free SSL certificate, toll-free VoIP number, unlimited email accounts as well as unlimited MySQL databases. Your domain is limited to 1, but they give you a total of $200 in Google and Bing Ads coupons.
They support WordPress hosting in Starter, Standard, and Business Tiers. They also offer simple integration of CMS's such as Joomla, Drupal, Magento, and Mambo.
HostGator's drag-and-drop builder provides you with excellent functionality; novice users can quickly build an attractive website without any coding knowledge. Their cPanel is excellent for power users even though it lacks a modern, intuitive interface.
HostGator offers very reliable hosting; its server-uptime guarantee is 99.9%.To add on, you get fast server response time and load speeds for your websites because of their well-integrated global Content Delivery Network (CDN). It improves the availability and performance of your site tremendously. .On top of that, you get a free email marketing software to promote your website's services.
They have free active custom firewalls for preventing any attempted attacks or hacks. Unfortunately for people using their basic plan, the Automatic Malware Removal is only available for managed WordPress hosting. All plans benefit from their integrated daily data backup and restore feature as well as a free website migration service for the first 30 days.
HostGator's customer support service is live 24/7/365 through online webchat, phone, and email. Their in-depth Knowledgebase gets frequently updated with articles and video solutions for most problems you may encounter
Their monthly costs for their plans start at
$2.75 for shared hosting if prepaid for 3 years
$5.95 for WordPress hosting
$19.95. for reseller hosting
$29.95 for VPS hosting
$119 for dedicated servers
$4.95 for cloud hosting.
A 45-day money-back guarantee covers all the plans

Maybe you're looking for a company dedicated to offering robust web hosting services only?. The simple truth is that if you're running serious business operations, you can't rely on cheap web hosting companies without experience in dedicated and VPS server hosting. Here's where a company like Liquid Web comes in.
Liquid Web was founded in 1997 and currently offers high end hosting support for over 500,000 websites. That's their niche, and they are very committed to being the best in it. They own all their high-powered hardware. This move has enabled them to perform effective infrastructure management.
Web hosting companies who use leased servers in big data centers can only dream of such control. Remarkably, Liquid Web servers' optimization puts them ahead of Amazon Web Services, and that's why they are more focused on premier hosting solutions.
Pros
Unlimited domains and websites
Fast SSD Storage
Free website migrations
Free SSL certificate
Automatic WordPress Updates
Industry-leading 1,000% compensation for downtime.
Premium Managed hosting for WordPress and WooCommerce
Innovation and fast implementation of newer technologies
Secure access with SSH
Wide range of high-performance plans using Linux or Windows hosting
Cons
No money-back guarantee for managed WordPress Hosting
No shared web hosting plans
The platform and its tools aren't friendly for beginner webmasters
High costs compared to other web hosting services.
Liquid Web plans are super rich in features, and you get extensive resources for the price you pay. All plans have unlimited email accounts, secure access with SSH, and fast loading thanks to SSD storage solutions.
Installing blogs and eCommerce sites is very easy. They have a library with handy plug-ins that you can use to increase your website's functionality. With their managed WordPress hosting, you get cutting edge technologies like Mod_PageSpeed and Memcached, which also to speed up your site.
Web management gets done through 2 management dashboards. Webmasters have unrestricted server access with developer tools like a Plesk panel, Git, and the WP-CLI command-line tool available. Their Site staging feature – called 'Stencils' – is a great welcome that helps you test and edit your site without breaking it. Backups are made automatically daily (30 days).
Liquid Web are also committed to fast, professional, and secure hosting. You get an automatic SSL for every plan and a CSF firewall, which provides multiple layers of protection against hacks.
Because of Cloudflare CDN support and the use of inbuilt image compression, your visitors enjoy a super-smooth user experience on your website. With their 5 data centers for redundancy support, they are the only web hosting company with a 100% network and power uptime guarantee. It is backed up by an industry-leading SLA, your given 1,000% account credits for any unplanned downtime.
In terms of customer support, they have a best-effort support policy with the following guaranteed response times
Email/Ticket Support – 59 minutes
Phone call pickups and live chat response – 59 seconds
The team .has stellar service, is passionate and highly trained. To add on, they have a comprehensive Knowledgebase on their online support center.
Here are the plans offered
VPS Hosting $59.00 – $189
Dedicated Server $199 – $599
Cloud Hosting $189 – $379
WordPress Hosting $99.00 – $289
Note
Only VPS hosting is eligible for pro-rated refunds. Also, Liquid web dont have a money-back guarantee policy.
SiteGround is a prominent and reliable cheap web hosting service provider that has been around since 2004. They are based in Europe but also have offices in the USA.SiteGround hosts over 1 million domains globally, and it's one of the most beginner-friendly web hosting platforms.
What kind of value can you get with SiteGround's services? Below is more detailed information about their services and features.
Pros
Cloudflare CDN support
Dedicated packages and one-click integration and installation for most CMS
Reseller plan comes with a rich feature set.and at an affordable price
The customer support team is fast and efficient
Free and unlimited WordPress Migration plug-in
Automated WordPress updates
AI-powered free security tools
Highly rated by users
Cons
Low storage space for the cheapest plans
No free domain name offers
High renewal costs
Web traffic limitations
SiteGround's cheapest plan is feature-rich and comes 10GB storage space, unmetered data transfer, a free SSL Certificate, automated daily backups on high-performance SSDs, free site migration, and free emails accounts. However, it only supports 10,000 visits per month.
They have excellent WordPress support for every plan where you get automatically pushed updates and a WordPress hosting command line for site management. There is a seamless installation of other major CMs such as Joomla, Weebly, and Drupal too. You also can use other 500+ apps, add-ons, and services that are available for improved site functionality.
Their Top tier plans are developer-friendly so as to enable admins of massive organizations to perform their best. The platform has a pre-installed Git version control system, and a well-featured cPanel hosting control. Less experienced users can use the freely provided drag-and-drop website builder that straightforward. In addition to that, they provide a free WordPress Migration plug-in, with which you can import unlimited websites.
Does SiteGround live up to their uptime promise?
Yes, right out of the gate, they average 99.9% uptime. Cloudflare CDN integration makes your site overall loading speed much better.
They have advanced AI-powered security tools provided for all plans, however, their Security Spam Experts-based spam filtering costs $20.
Their customer support staff is fast and well trained. Available 24/7, you can reach them through live web chat, phone email, or go into their Content-rich knowledgebase pages to check for solutions.
Here are the plans available on SiteGround and their monthly cost
Domain prices cost $15.95 and above.
Shared hosting costs $3.95
WordPress hosting costs $3.95
Reseller server costs $42/year
Cloud hosting costs $80
All plans have a 30-Day Money-Back Guarantee where refunds don't cover add-ons costs and domain names.
Note
The refund policy doesn't apply to renewals.

DreamHost has also been around for over 20 years; it has over 400,000 customers and hosts 1.5+ million websites. Its headquarters are in Los Angeles. Their continued investments in industry-leading hardware have kept them among the top web hosting companies.
Pros
Unmatched 97-day money-back guarantee
Low-cost shared hosting with a rich set of features
Officially recommended by WordPress
Free SSL certificate & automated backups
Free Initial year domain
Transparent pricing, you get the same renewal fees
SSD storage
Environmentally conscious host
Cons
No free site migration
MySQL databases aren't unlimited
Ease of use lags for power users as they are no cPanel
Automated live chat process before you get through to staff. Also no phone support
DreamHost offers enticing features with its main shared hosting plans. They include unlimited storage, websites, a free domain (1st year), One-click WordPress installation support, and unlimited email addresses.
Their restoration and recovery process is easy to understand with autosaved website data access for up to 2 weeks back.
Unfortunately, their site Migration service costs $99 for each website, and only WordPress websites are supported.
Note
Web builder sites like Wix and Squarespace cannot get moved
They've made their platform very beginner-friendly, WordPress comes pre-installed .and Remixer – their website builder- is straightforward to use. There also multiple well-designed themes to choose from and go live faster. Server management with their custom control panel can be a little cumbersome for beginners. However, it's has a powerful web management features and also supports other additional tasks such as billing and domain registration. Such features are critical for any person or business with multiple sites under different administrators.
Beyond that, DreamHost supports simple integration of other apps such as SquareSpace, Weebly, Wix, Drupal, Joomla, Magento, Shopify, phpBB, Zen Carts, as well as Tumblr. The DreamPress plan is their managed WordPress hosting plan.
Dreamhost's average loading time is awe-inspiring (below 1 sec) and also very consistent. Their uptime guarantee is 100%; however, these figures aren't very consistent. For each hour of downtime, you get compensated with one day of free service. Besides, you get cache plug-ins to boost your website speed every time you install WordPress.
DreamHost uses SSD for storage, which also contributes to its excellent speeds. Security benefits of using DreamHost include getting a free SSL certificate and private information protection service with every plan
They have a stellar US-based customer support team available around the clock via phone and a ticketing system. You also get access to sufficient information on their knowledge base.
Shared hosting: $2.59 – $10.95 a month.
DreamPress hosting: $16.95 -$79.95 a month.
VPS hosting: $10 – $120 a month.
Dedicated hosting: $149 – $399 a month
Their 97 days money-back guarantee is the best in the industry and allows you a long enough period of testing and experiencing how well the platform works.
Note
The money-back-guarantee covers payments made through credit cards only

Hostinger is an internationally recognized hosting provider which was started in Lithuania about 15 years ago. The team that runs Hostinger has a high technical pedigree; experience comes from running the largest free web hosting platform called 000webhost. They have over 30 million websites userbase.
In terms of features, quality, and value, Hostinger performs exceptionally well. It provides very cheap web hosting plans for people looking to start a small website or blog.
Pros
WordPress optimized and offers free templates
Very affordable and offers high-speed performance
Very powerful cPanel
Windows-based and Linux based hosting support
One free domain name for business and premium accounts
Promotions for renewing clients.
30-day money-back guarantee
A Proprietary control panel and free website builder
Cons
The low prices hike with renewals
Very few advanced features for bottom end plans .e.g. no free SSL certificate for the basic plan
No dedicated hosting plan
No phone customer support.
Hostinger's cheapest plan supports a single website where you get 10GB SSD storage space, a single email account, 1 MySQL Database, and up to 100GB bandwidth. By buying the next tier you get unlimited bandwidth and a free domain name when starting out
Hostinger uses an Nginx Server that is faster and much more powerful than Apache Webserver used by the majority of web hosting companies. Also, their Git version control repository – a welcome feature for experienced webmasters – is available on all plans. The platform is WordPress optimized but also supports easy Joomla, OpenCart, Drupal, and PrestaShop integration.
Hostinger's dashboards and interfaces have modern polished interfaces making them easier to use. Their cPanel features a clean, modern skin; it is super easy to get grips with for web management and also comes with a simple to use an auto-installer. That's right, it has a one-click process for almost all installations. The installer is convenient for beginners and it's fully integrated into the panel. You can even use it to generate databases automatically.
Hostinger promise 99.9%. Uptime and their averages are only lower by negligible points (99.95). They provide a 5% refund if the uptime SLA gets exceeded. Security features to thwarts threats include a Multifactor authentication (MFA) to keep your account safe and a free SSL certificate for business and premium hosting.
In terms of performance, stability, and reliability, their service is superb, considering the low price you pay for the shared hosting plan. Their server response and loading times' put them among the 10 best web hosting companies.
They have a very responsive multilingual customer service with support available round the clock. You can use live chat and email communication. However, they have significant knowledgebase page with well-explained guides and tutorials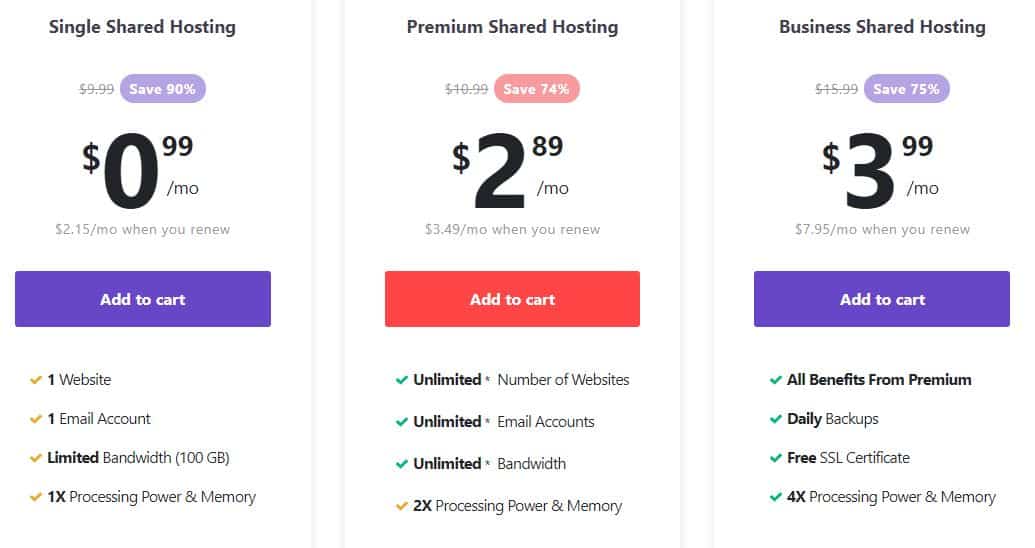 Shared hosting starting at $0.99/mo. When prepaid for 4 full years
WordPress hosting starting at $0.99/mo.
VPS hosting starting at $3.95/mo.
Cloud hosting starting at $9.99/mo.
Even with their low-cost plans, you still be covered by a 30-day money-back guarantee.
Want to know more about Hostinger? Check out our in-depth review of Hostinger.

A2 hosting – launched in 2001 – is a US-based (Michigan) company with data centers in different parts of the globe. If you've been looking for an excellent high powered web hosting service, A2 Hosting is a great fit. They offer tons of features without compromise
Pros
Dedicated, knowledgeable and fast customer service 24/7/365
Excellent uptime
Easy and free migration of your site
Pro-rated anytime money-back guarantee
WordPress Optimized
Free SSL and Secure Socket Shell (SSH)
Linux and Windows-based servers even for shared hosting
Offline backups
Loyalty discounts for renewing customers
Unlimited SSD Storage Space & Transfers
Web hosting services provider with environment conservation initiatives
Cons
High renewal rates
"Unlimited plans" have some restrictions
Their shared plan hosting has 3 categories: Lite, Swift, and Turbo. It comes with single website support, unlimited bandwidth, and storage and free site migration for a single website. Every plan available benefits from free SSD storage, CDN caching, and free SSL certificate.
The best part? Upper tiers get up to 25 free sites migration
A2 hosting service is WordPress optimized and has one-click installs for Drupal BlogEngine, Magento, OpenCart B2evolution, phpBB, and Joomla. However, to enjoy managed WordPress hosting, you have to upgrade from the shared hosting plan. Site staging is available for making changes to your WordPress site without breaking the live version.
A2 hosting services give you stable and reliable servers, especially if you go for the higher end plans. Loading speeds are blazing fast irrespective of your hosting plan .Your website is sped up by Cloudflare CDN. With testing, I found an uptime of around 99.95%
Surprisingly enough, to achievefast load speeds, they haven't taken short cuts in security. Their top-notch security features include a free SSL and an SSH for web admins, HackScan protection for malware scanning, removal, and patching service. Furthermore, they offer protection against Distributed Denial of Service (or DDoS) attacks.
Their support team (Guru Crew) is available through phone, live chat, and also offers ticket-based help. Guides on how to host, develop, maintain, and troubleshoot problems are available on their Knowledgebase
A2 hosting plans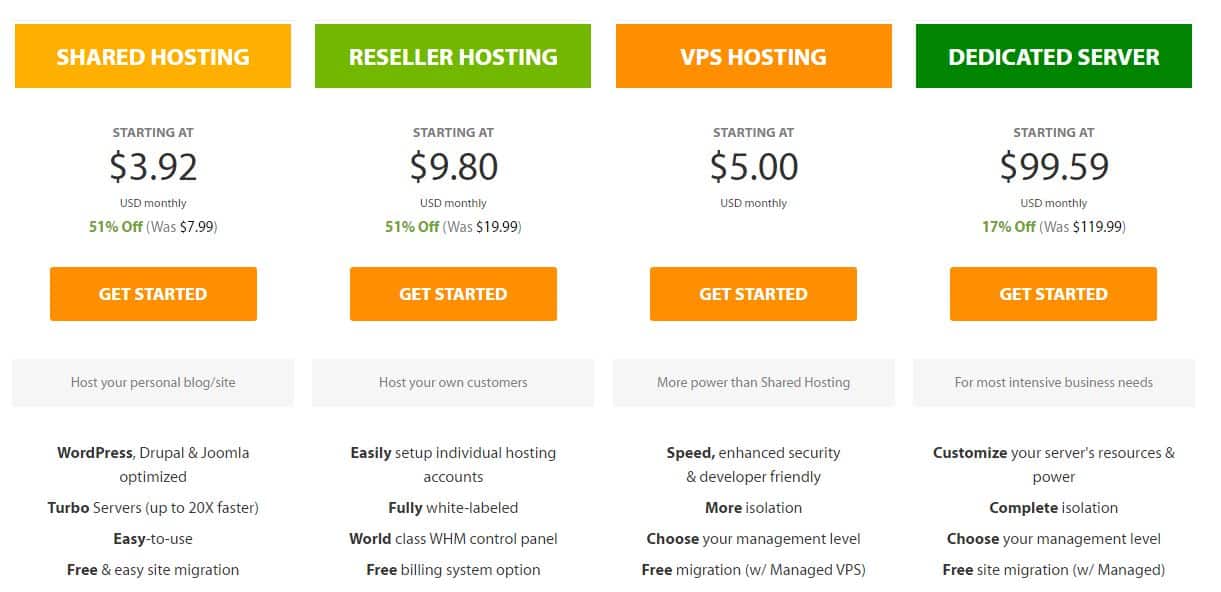 Linux Shared hosting: Lite $3.92, Swift – $4.90, Turbo – $9.31
WordPress hosting $2.96
Reseller hosting $9.80
Unmanaged VPS hosting $5
Managed VPS hosting $33
Dedicated servers $99.59
They offer a unique anytime money-back guarantee. However, after 30 days, it's pro-rated.

Go daddy has been a market leader in the web hosting services industry for decades. GoDaddy serves 15% of global websites and is the largest domain registrar worldwide (77+ million domains). That's more than even Amazon Web Services and the Google cloud platform. But being big is not all; here more information to help you decide if they provide the best web hosting services
Pros
Free domain with annual plan
Very fast and straightforward website creation process
Very affordable plans
On-demand upgrades
Autosaved website creation
Free SEO Services and tools
Free Microsoft Office 365 email for 1 year included
Websites builder and Marketing tools for eCommerce websites.
Smart systems for analytics to help you improve your website
Windows- and Linux-based servers.
Cons
No website migration service
Lack in-depth features for experienced admins
massive amount of upsells
Live chat is only available during business hours (Monday to Friday)
No automatic backups
Their site building process is very rigid
If you want to go with the GoDaddy basic plan, you get a free domain name and unmetered bandwidth. The 100GB of storage space offered is enough if your only starting your website. If you notice much more traffic and want to upgrade, you can do so as they offer on-demand upgrades.
Note:
The free domain name has to stick to .com, .club,.xyz,.org, .net, .co, or can.
A sore thumb feature they offer is the GoDaddy Insight. It is a smart learning system that gives you data-driven suggestions as well as tailored action plans to help you improve your website.
With any GoDaddy plan, you get access to 100+ themes and a theme customizer that allows you to demo them One-click installs are available for WordPress and Magento
The GoDaddy platform is among the best when it comes to ease of use for inexperienced webmasters; you get the most straightforward site builder. Moreover, there is a basic cPanel that's easy to use. For your domain management needs, there a dedicated domain registrar.
Creating and setting up an account is super easy. You fill up your information, and an Artificial Design Intelligence (ADI) tool creates your website without going through many hassles.
GoDaddy promises a 99.99% uptime and averages 99.97 percent, which isn't too bad. They offer compensation if their promised speeds and uptime are not maintained. You're given 5% of your monthly cost as a credit.
Their dedicated security team keeps an eye on your site and your server to thwart any hacking efforts.
Their customer support phone lines have Multilanguage support. Even better, their phones are toll-free and available 24/7. Alternatively, you can get support from their knowledge base pages or visit their community forum.
$2.99 for shared hosting
WordPress hosting costs $4.99
VPS hosting starts at $19.99
Dedicated hosting, for a minimum of $89.99
What about a money-back guarantee? Well, It does not exist.

1&1 IONOS is a Germany-based website hosting provider who has managed to maintain a global appeal from 1998. They are one of the largest domain name registrar ( 12 million), provides services in 10 countries, and hosts 6 million websites (4th largest) using over 90000 servers. It's a company that mainly shines in the provision of cloud web hosting services.
Recently, the company was rebranded, which marked the beginning of improved services, better support, and adjusted their pricing to match budget-friendly plans by competition. The company now provides a well-rounded suite of services at attractive prices.
Pros
Beneficial Online marketing, SEO, and security tools
A free domain name for the 1st year
Mirrored storage
Railgun CDN integration
GeoTrust Dedicated SSL Certificate
Website content Multilingual Translation (62 languages)
Cheap and Transparent pricing
6-day automated server backups
Linux- or Windows-based servers
Flexible and scalable web hosting
30-day money-back guarantee
Cons
Price hikes for renewals
No reseller hosting plans
The CPanel stood control isn't available
Quick Installs works when performing only the initial installs
Hard caps on resources for most of their plans
Upon purchase of the 1&1 IONOS basic shared hosting plan, here are the features you get. Linux based hosting, a free SSL Wildcard Certificate, 10GB of storage space, a first-year only free domain, automatic daily backups as well as 10 email accounts. Once you upgrade to the business shared hosting plan, your storage gets unlocked up-to 100GB of storage. Also, your supported emails are increased to 25 emails, while supported websites get increased to 5 websites.
With 1&1 IONOS Expert plan, you host a maximum of 50 sites, your storage gets improved for up-to 500GB storage, and emails addresses up-to 500.
They have customizable drag-and-drop site builder that you can use even to create an eCommerce website. On top of that, you get access to a wide variety of templates, plug-ins, and web applications for improving your website. WordPress and Joomla are super easy to install
Some unique tools provided by 1&1 IONOS include;
Marketing tools that you get to use for email marketing, Google AdWords, and local business listings on various online directories.
RankingCoach is another tool you get access to, which you get to use to improve your website's search engine optimization SEO.
1&1 Ionos Hosting Manager app provides easy management for the account.
1&1 IONOS has a strong focus on security with free features being anti-spam protection and free SSL certificate, and DDoS protection. SiteLock vulnerability scanning is available in Pro and Expert plans.
Their redundant data centers and fault-tolerant networks located in different countries help to keep their guaranteed uptime of 99.9%.1&1 IONOS provides 2.48s for full-page loading and faster-than-average server response time, aided by Railgun CDN integration for their Expert plan
Their support has a dedicated personal consultant policy, where you get linked with a specific employee. You can communicate your problems through phone, email, or chat. Like all the other hosts, they also have a well-maintained Knowledgebase on how to solve issues you may be experiencing on their platform.
Available plans include
Shared hosting at $4 a month
WordPress hosting starting at $1 per month
VPS hosting starting at $2 per month
Dedicated server starting at $45/mo.
Cloud hosting starting at $15/mo.
A 30-day money-back guarantee covers all plans.
As mentioned earlier, critical factors that such as uptime, website loading speed, security, bandwidth, reliability should get priority treatment. These are features that affect the user experience of your website's visitors. People love fast loading websites and having a smooth experience. Did you know that only takes a web load time of 1-3 second for your site visitors to grow impatient and leave your site?
If you are a beginner, the essential features to prioritize should be the ease of use of the provided tools, availability of straightforward website builders, easy app integration as well as excellent customer support. Professional webmasters should consider if the platform has unrestricted server access, provides developer-friendly features such as like a Git and WP-CLI, a WordPress hosting command line, dedicated domain management tools, as well as a powerful well-featured cPanel.
For those who are looking to run a blog or an eCommerce site, additional tools for free marketing and SEO and free advertising credits are very important. Besides, managed WordPress hosting for your preferred plan and simple WordPress (and other CMS) integration are equally important.
Remember, first impressions matter: Your website is a massive part of your brand and also a marketing channel. It must get priority treatment to become a successful sales channel for your business; make sure you must match it with the best of services in terms of hosting.
With this detailed review, I believe you are in a better position to choose a hosting platform that meets your needs.
Have you been using the above web hosting services? Whats your experience? Do you have other recommendations that did not make the above list?
Let us know in the comments section