As a Minecraft player, I know a lot about playing the game online. Its online multiplayer mode is the centerpiece of the Minecraft experience.
Have you tried it yet with friends?
If not, what have you been waiting for?
With this mode, you can share the building blocks' experience with your friends, family, and even strangers. With over 100 million registered users, you will surely get lots of people to play with.
However, to enjoy the game with no strain on your local PC's limited resources, get top-notch performance, the best network connectivity, and server stability, you have to get a Minecraft dedicated server.
But the challenge for most people is knowing which providers offers the best dedicated Minecraft server hosting.
We've reviewed the best 3 Minecraft hosting providers in the online game hosting space.
Our goal?
To compare their, services and features and help you make an informed decision on a dedicated Minecraft server.
Specifically, we've looked at their pricing, pros, and cons, platform user-friendliness, security features as well as their gaming performance.
We've only stuck to dedicated Minecraft hosting services as they are more powerful than VPS (Virtual Private Servers) and give the ultimate gaming experience for lots of players.
Now it's time to share who are the top 3 server providers
Top Minecraft Dedicated Server Providers In 2020

GameServers are a well-known hosting company, especially among gamers. They provide an excellent all-round option for Minecraft hosting. They have a specific focus on hosting online multiplayer games.
Apart from Minecraft, they are very popular for hosting different iterations of games such as Call of Duty, Counter-Strike Global Offensive (CSGO), Battlefield, Crysis, Team Fortress and more.
Let's take a deeper look at their Minecraft dedicated hosting
Pros
Support easy data transfers
Provide optional free Website with MySQL
Very large worldwide networks (36 Points of Presence)
1Gbps speed connection
Free daily back-ups
Support very low ping game hosting
/29 IP block space.
Free static IP
Server provisioning takes minutes after your order
Different server location choices in 6 continents
Cons
No phone support
Only a 5 day money-back guarantee
No full root access for plans with their proprietary control panel
Even with their low pricing, they offer powerful game servers with access to a premium worldwide gaming network. For their cheapest game plan, you get a processor with 4 Cores running at 3.0Ghz, 16 GB RAM, 1 TB HDD, and 10TB bandwidth with a 1 Gbps speed port.
If you want to run multiple plug-ins and still enjoy an ultimate Minecraft gaming performance you can go for their high-end plan. You a highly clocked CPU (3.5Ghz) with 6 Cores 12 threads, 64 GB memory, 240 GB SSD and 10TB in bandwidth and a 1Gbps network speed port.
Simplicity and Ease of Use
By default, you get a McMyAdmin web control panel. It's a powerful administration console you can use to customize your Minecraft server
Alternatively, you can get a plan with their optional custom control panel that's very beginner-friendly. You can use it to
Remotely manage your game server
Install and manage your games easily
Switch locations
Use FTP protocol for uploads
Install 3rd party Minecraft mods
Configure and perform customization on your Minecraft server
Perform 1-click installations of plug-ins such as Tekkit, McMMO, CommandBook, Essentials, WorldEdit, iConomy, GodPowers, ChestShop, Factions, WorldGuard and more…..
What's more?
You can even upload your own custom plugins using this panel.
The only downside is that you won't get full root access (Linux) or remote desktop access (Windows) to your server.
GameServers are committed to offering gamers superb lag-free performance. They ensure the servers have low ping ideal for Minecraft gaming. It's made possible by their redundant global network designed specifically for gaming
To keep you playing Minecraft uninterrupted, they provide free 10Gbps DDOS protection for all plans.
You get 24/7 support from dedicated and friendly technicians who ensure your Minecraft server is always online. They are very helpful if you get stuck doing mods installation or configuring any server settings.
You can reach them via an online ticket system, customer dashboard or email. Oddly enough, there is no forum, knowledgebase, live chat or even phone support.
GameSevers dedicated Minecraft servers hosting cost from $69.99 to $179.99/month.
Refunds
All their Minecraft game servers are covered by a 5-Day Money-Back Guarantee

OVH is a big European online web hosting provider that also provides a great option for Minecraft hosting. Their game-optimized servers can handle multiple players while still offering lag-free performance for different heavy games.
Their optimizations of the hardware help in managing parallelization tasks, both image, and video processing, managing multiple online players that Minecraft is all about.
But what else can you expect from their Minecraft dedicated hosting?
Pros
Both IPv4 and IPv6 addresses
99.90% uptime Service Level Agreement
High powered modern hardware
Up-to 1 Gbit/s bandwidth
Up-to to 256 IPs per server
500 GB dedicated for backups
No setup fees
Fast server provisioning
Excellent value game servers
Unmetered traffic
Multiple choices from different global data centers
Cons
Not the best customer support
Low prices requires purchase of 1 or 2 years plan
Their platform is not beginner friendly
Once you order a Minecraft game dedicated server from OVH, it gets provisioned within only 120 seconds.You read that right, only 2 minutes.
Their game servers feature fast 3rd generation AMD Ryzen processors using Zen 2 architecture that's highly optimized for gaming. OVH also provides voice chat programs with their Minecraft servers.
On the low end, you get an AMD Ryzen 5 3600X CPU with 6 cores and 12 threads (3.8 GHz with a 4.4 GHz boost), 32GB memory, 1 Gbps network speed, 2x500GB NVMe SSD storage with Software RAID. That's more than enough for a lag free Minecraft online game.
Their highest cost plan gets you an Intel core i7 77ook CPU with 4 cores and 8 threads clocked at 4.2 GHz,64GB RAM, 2×450GB SSD NVMe + 1×4TB HDD SATA, and networks speeds from 100 Mbps.
Simplicity and Ease of Use
You're given a control panel with an IPMI (Intelligent Platform Management Interface) console for managing your Minecraft server. It provides you with a direct connection to your dedicated server where you can add all the mods you want.
If by any chance your server is unavailable (because of unavoidable reasons), you can use its public IP address to continue controlling it.
The OVH admin system also gives you the ability to monitor your server's hardware components remotely. You can perform easy data transfers using FTPS; CIFS, FTP as well as NFS protocols.
Managing Minecraft players is easy
To ban a player just place his IP address in a banned-players.txt file
To set player access, create a whitelist. You determine which players can access and how players they can access your Minecraft server by placing them in your white-list.txt file.
To take protection optimization a step further, you can set Minecraft-specific profiles.
OVH guarantee you a 99.90% uptime that's backed by a Service Level Agreement. Even though it seems low, it's actually very realistic because gaming stresses hardware components to their limits. Also, they need to take care of overheating caused by heavy use by multiple players,that's why it isn't as high as normal guarantees.
Nothing breaks an amazing gaming experience like downtime through DDOs attacks. OVH gives you free anti-DDoS protection- optimized for the latest Video Games – to ensure you game with your buddies smoothly.
Security Tip
OVH DDOS mitigation is adapted to UDP traffic – the type of traffic used for online videos, audio and video games – ensuring both egress and ingress traffic get reviewed.
To protect your saved game profiles, progress and data, you get 500GB backup storage that gets fully managed by OVH.
Performance from OVH servers is top-notch and features a lag-free gaming experience. By using powerful hardware such as 3rd gen Ryzen CPUs, you're assured 30% more performance than on previous generations processors.
The processors have higher Instructions per clock (IPC) and more single-thread performance that's crucial for playing games such as Minecraft.
OVH hardware gets water-cooled to ensure their Minecraft servers perform at their level best.
OVH customer support team is available 24/7. You can reach them through phone and online tickets.
There are also detailed guides and documentation on Minecraft gaming on their Knowledgebase. For supplementary information, you can check their Community forum
OVH game servers cost between $95.12 and $137.99/month.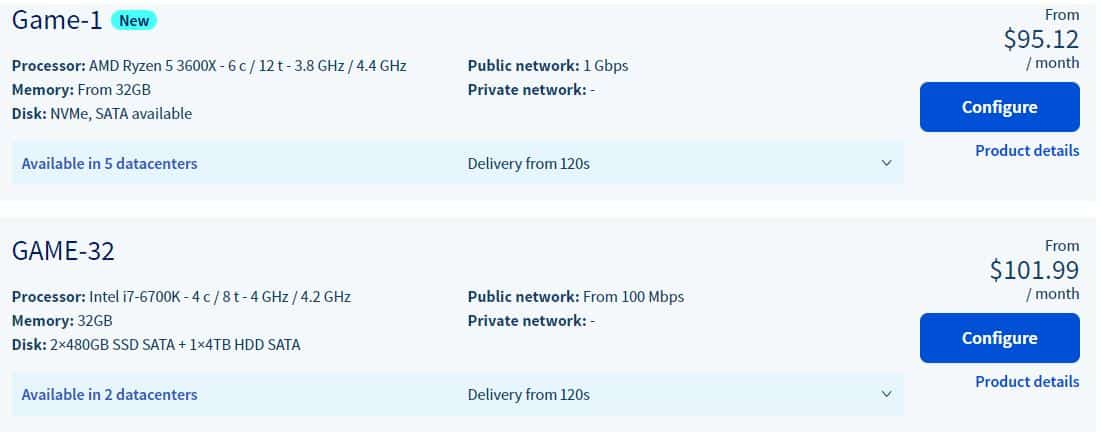 IONOS charge comparatively low prices for dedicated hosting. They also support Minecraft dedicated game hosting for multiple online players.
But which features do you get?
Do they provide value with their pricing?
Let's find out
Pros
Full root access with SSH access
$100 credit bonus for every package
Unlimited traffic
Free Load balancers
Multiple choices of data centers
Automatic back-ups
Storage with Software RAID support
Supports Windows, Mac OSX, and Linux computer users
ultra-fast 300 Gbit/s external network connection
Per hour pricing
No setup fees
Free SSL certificate
Standard 1 Gbit/s bandwidth for all plans and up to 10 Gbit/s bandwidth(optional)
Both Windows and Linux based hosting
Cons
No money-back guarantee
Not very user friendly for beginners.
IONOS dedicated Minecraft server are grouped with different pricing depending on your type of storage. Here are the cheapest plans for each type
HDD SATA storage – Intel Xeon E3 v6 CPU with 4 cores running with 3.5GHz (3.9GHz turbo boost), 16 GB DDR4 ECC memory, and 2x1000GB HDD storage.
SSD SATA storage – same resources except you get a 2x480GB SATA SSD
NVMe SDD storage – same resources as HDD storage except for your given 2x1000GB Intel NVMe SSD.
Simplicity and Ease of Use
IONOs have an intuitive configurator with which you can select your Minecraft servers resources easily to fit your gaming preferences and number of players.
You get full root access to be able to control your server fully. You can get a standard control panel or a Plesk Onyx on request if you go with a Windows-based Minecraft dedicated server. The control panel allows you access to your data, set up an advanced firewall, configure your server as well as manage your Minecraft's server hosting contract.
You can easily change the game or make clean backups since your game progress gets saved automatically.
After you've set up your server, they have guides on their Knowledgebase that include clear instructions on how to
Install server's packages, screen and Java (prerequisites)
Install the Minecraft server software
Manage your Minecraft server
Connect players to your Minecraft Server
Set server operators (OPs) privileges
Create and manage a whitelist
Create back ups
Update your Minecraft server
Configure your Firewall policy
Start and Stop the server
To make adjustments, you can use the server properties file that's editable using Wordpad. As an Admin you can make modifications on the game environment appearance, no. of eligible players, and change Minecraft's difficulty level
Command line
Beginners might find some of the above operations intimidating as most operations get done on the command line
To reduce game latency you have the ability to choose from their 4 data center in the USA, UK, Spain and Germany. They are connected with an ultra-fast 300 Gbit/s external network connection to ensure your game stays very responsive
Security is a vital aspect for any game server, with IONOs you get
Free SSL certified encryption
Secure VPN (virtual private network) connections between your PC and dedicated Minecraft server
DS/IPS technologies
Advanced IP firewalls that make sure DDoS attacks get intercepted before they reach your server.
SIEM system which constantly monitors and documents any threats,
In addition, you can get an optional and reliable Acronis backup solution for 6.5 cents per GB/month.
IONOS has an active community forum and a splendid Knowledgebase where you can get Minecraft discussions and guides with lots of solutions. In addition, their customer support staff are available 24/7 to give expert support through email, live chat and phone.
Different from other providers above, IONOS use a per-minute cost model.
Below are their prices for the cheapest plan for each type of storage
HDD SATA- 0.0972/hr. with a maximum $70/month charge
SSD SATA-0 0.0972/hr. with an $80/month maximum charge
SSD NVMe- 0.1806/hr.
Tip
Most importantly, IONOS do not have a minimum contract duration, you can cancel anytime.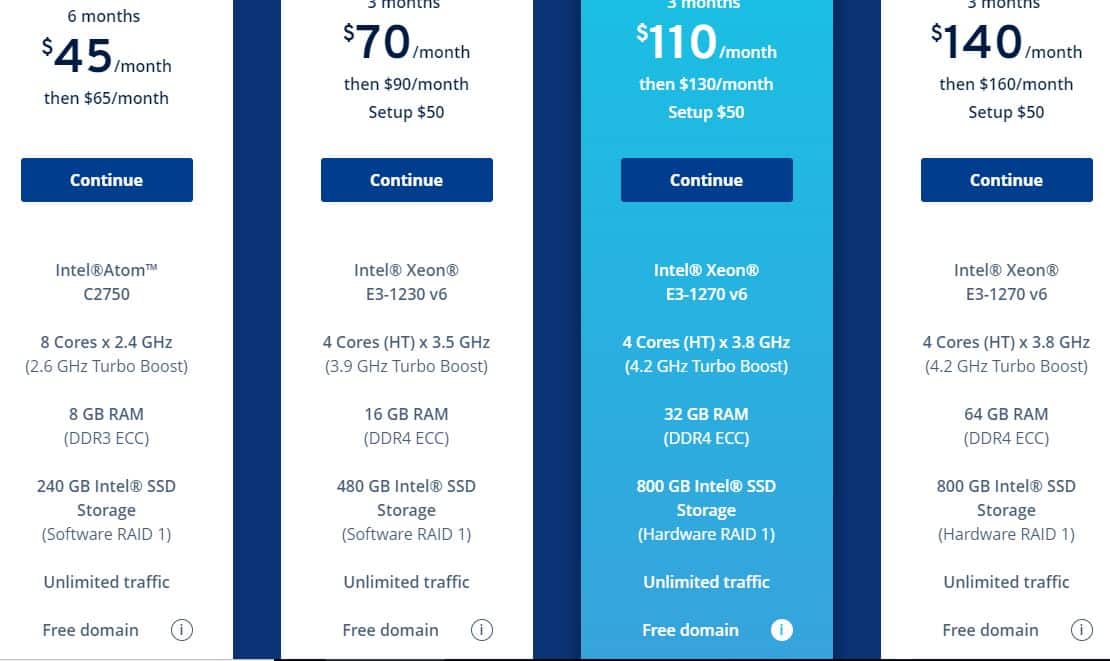 Some of the most important features to look out for in a gaming-oriented, dedicated server– especially one for Minecraft – include;
A CPU with lots of cores running at high clock rates.
Fast SSD storage with RAID redundancy support.
One-click updates for Minecraft mods and plugins.
Easy Minecraft installation.
Set-up, and management.
Dedicated Minecraft servers differ depending on the game mode type as well as the number of supported Minecraft players; make sure you also regard these points