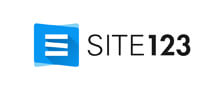 Site123 Review Conclusion
Site123 is an excellent choice for anyone looking to create a simple site as fast as possible. Site123 lacks a bit in features (especially in free features), but it makes it up in simplicity.

The great thing about Site123 is that it has a free plan, which you can use to get a feel of Site123 yourself and all the features it has to offer.

Site123 is best suited for simple informative or blog type of sites.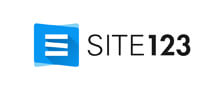 Pros
Has a free plan
Offer free hosting on their cloud for evry plan
Excellent customer support
Supports over 20 languages (paid plans)
Responsive on all devices (incl. smartphones and tablet)
Robust eCommerce tools and support (paid plans)
It is an intuitive and beginner-friendly website builder
Has an SEO advisor tool
Cons
You can't edit code
Has floating Ads which are very visible (Free Plan)
You can't change templates after publishing a website
In this Site123 review, we will take an in-depth look at how you can use it to create your website in simple steps.
Here's the deal: creating a website with Site123 is super easy. You can quickly roll out an eye-pleasing website within minutes (yes, literally): no extra fees, no need to interact with the underlying website code.
It gets better.
Site123 supports translating your websites to over 20 languages, you get hosting at no extra charge, and even a free domain name (with paid plans). Sounds impressive, right?
But hold on. I can hear my critical-reader-self right now asking.
Is it worth it?
Are there caveats you need to be wary of?
At the end there as an FAQ section on everything to do with the Site123 website builder
Let's get this show on the road
Site123 is a cloud-hosted DIY (do-it-yourself) website builder owned by an Israel-based company. Site123 offers an alternative yet straightforward method of creating websites, which would please most of the people out there without a budget to hire a developer.
For starters, you don't get charged anything, which is very useful if you want just to try out Site123. But if you're looking to build a complex Site123 website, you will get disappointed.
The best features aren't free; getting one of Site123's paid plans unlocks more. Exactly what you require for a fully-fledged site. So why not?
Best Use Cases: Who Is Site123 For?
Two scenarios we wouldn't recommend Site123 are;
First, building websites for large businesses (and companies) or a website with lots of specific requirements requiring lots of advanced customizations.
Second, developers or tech-savvy users are looking for a website builder, which allows them to edit code, make granular customizations, and scale-up large websites.
A good alternative for the above is Wix.
However, if you are looking to create and launch the following types of Site123 websites; you're good to go with this tool:
An individual site (freelancer)
A blog
An online portfolio site for professionals
A small to a medium-sized business website
Your first eCommerce store
To add on, Site123 pricing is fair.
How to Create Your Site123 Website: Step By Step Process
This is the most interesting part of this Site123 review, I will guide you (Step-by-step) on the whole Site123 website creation process.
1. Visit Site123's Homepage
First, you have to visit Site123's website as everything gets done via a web browser. All the major browsers like Chrome, Safari, and Firefox are supported.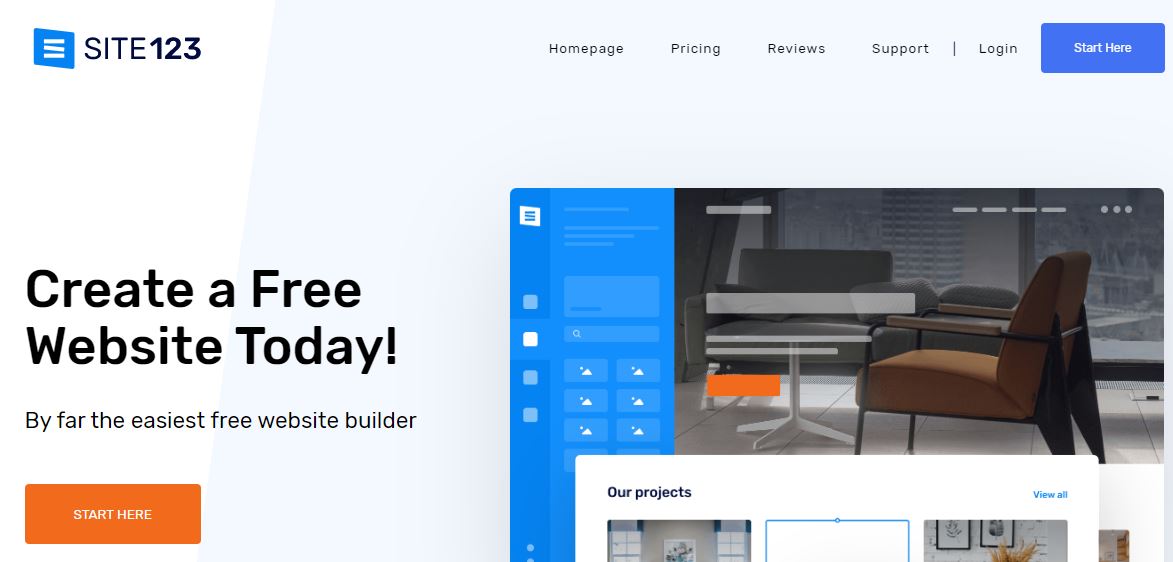 On the homepage, you are welcomed with a prompt button labeled "Start Here." Click on it; you get redirected on a page to start creating your Site123 website
2. Choose Your Preferred Type Of Site123 Website
What type of Site123 website do you want?
You can choose from the 16 available categories with options such as Business, Online Store, Blog, Photography, and more. Take a look at the picture below to see all the available options.
The first question is followed up by a request to submit a name for your website. After that, you can get a prompt to finally sign-up.
Fill in your details, i.e., Name, email, and password. Alternatively, you can sign-up with your Facebook or Google account.
I know you're wondering, aren't you supposed to choose a Site123 template?
Yes, but the builder automatically chooses one for you, depending on the category you chose. It even fills your Site123 template with photos and dummy content. Lets talk about Site123 templates features.
They are:
Professionally designed, look modern and visually appealing
Fully responsive- they are (mobile) optimized and display without hiccups on different screen sizes. At the top of the editing dashboard, there are preview options for Desktop, tablet, and mobile modes to see how your Site123 template adapts on different screen sizes.
You can choose from over 200 Site123 templates
Note:
If you don't like your automatically chosen Site123 template, you should switch it at this point before you start editing as it cant be done afterward without losing content. Go to the Homepage tab then click on templates to change your website's theme.
3. Start Editing Your Site123 Website
Site123 isn't built primarily as a drag and drop builder. It mainly uses blocks in which you edit the content inside. Changes made using sidebar settings can be seen in real-time. Still, you can preview everything on different devices, as I just said above.
To make slight changes to your website; there are 5 buttons on the left-side panel of your dashboard, designed and arranged in a clear and intuitive structure
Contributors
You can add contributors to help you with editing your Site123 website.
Homepage Tab – here you can make changes to:
Your Site123 Template
Background images
Buttons, Forms, Videos, audio and Social Tools e.g. Social Icons, Twitter Timeline, Facebook Like Box.
Pages Tab – Here you can delete or edit (modify layouts) different pages of your Site123 website such as Home, Services, About Us, Contact Us. By removing or adding a page, the changes are automatically made to the menu accordingly alleviating the stress of dealing with page and menu options separately.
You can also use this page to navigate your whole Site123 website (as in webpages) faster and make edits easily.
Design Tab – You can change your Site123 website template's color scheme and font. When you make a single change, it's get applied globally meaning you don have to deal with color, style and font for every webpage of your Site123 website.
On the other hand, this adds problems for people looking to fine tune the different pages of their websites as you can't set custom elements e.g. font and styles for different pages.
Settings Tab – In this tab you can select an option to edit your:
Site123 Website Name and Logo
Site123 Website Type
Website structure e.g. single page structure
Language
Locale and Country (localization) i.e. TimeZone (and format) plus Date Format
Apps setting
Add 3rd party Plug-ins and Apps such as Google Analytics, Facebook Pixel and more
Domain Tab – here you can access, redirect and manage all domain features we will discuss later.
4. Publish Your Site123 website
On the top right hand corner of Site123 Editor there is a publish button. Click on it to put your site on you internet. I recommend first previewing your Site123 website and checking if everything is okay before clicking that button. Either way, you still get a prompt asking "Are you sure you want to publish?" to confirm your actions.
Ease of Use and Simplicity
Everything with Site123 is simplified; starting with the account creation process, it is swift and easier than creating a social media account. Site123 is available in more than 20 languages, increasing its reach and simplifying things for non-English speakers.
The editing dashboard looks modern, intuitively designed and beginner-friendly, which is a big plus in streamlining your editing workflow.
If you are new to website builders, you will appreciate that all the editing tools are placed in easy to access areas and are pretty much straightforward. Site123 goes light on website building jargon.
To start over, you're automatically helped to select a Site123 template after choosing your site category. If you're not satisfied with it, you can easily switch it. Preview modes at the top help you perform quick tests on the responsiveness of your Site123 website on various devices.
To edit and create your site, you don't need to be a programmer, no coding knowledge is required. All you have to do is double click elements, change settings, or edit text and images. Eliminating such complexities makes it a really enjoyable experience, especially for beginners.
But there are a few things that should get ironed out:
Switching your Site123 template requires you to start over the whole editing process
You cannot preview Site12 templates when trying to switch to another one
Unlike other builders, Site123 doesn't have a mobile app for site management and editing.
You cant drag and drop elements anywhere or resize them like with Wix.
Learning to gets to grips with Site123 doesn't have a steep curve; you can become a pro in no time.
To further spruce up and add functionality to your toggle-on website, you've got options to add apps, plug-ins, and widgets. You can access the app market under the settings menu.
Some of the plug-ins available are fantastic, am talking about tools such as:
Google Analytics for visitor tracking and analytics
Zendesk and Facebook Chat – used for offering customer support on your website.
Google Webmaster
Hotjar which is a tool used for optimizing UX (User Experience) and conversions
Drip – a tool used for multichannel marketing
That's right; these help with further tailoring, which can help you improve SEO, and market your products better (e.g., using a 3rd party email marketing tool) if you're running an eCommerce site. What's more, they help make your site attractive and engaging, enabling you to edge out competitors in your niche.
Pretty cool, huh?
Here's a major letdown: to get full access to the Site123's App market, widgets, and plug-ins, you've got to be using one of the highest two paid plans.; some of the apps are free while add an extra cost to your overall Site123 pricing.
Another letdown is that there isn't a wide variety of 3rd party plug-ins you can choose from compared to other builders like Weebly.
Beware
With the free Plan, you cant use any 3rd party App or plug-ins for your Site123 website.
Again, I know I risk seeming repetitive talking about analytics and SEO in this Site123 review, but I cannot stress this enough – both are crucial to your website's success.
With Site123, you can get your website analytics data by integrating Google Analytics from the App Store under Settings, something which can get done with minimal fuss. Even better, you can add a remarketing tag if you've been using Google Analytics before, very valuable for optimizing your marketing campaigns and Ad budget.
Another advantage is being able to implement proper Search Engine Optimization using all the information on your Site123 website's visitors.
That said, let's delve deeper into SEO below.
(SEO) Search Engine Optimization
Where would you want your website to appear on Search Engine Results Pages (SERP)? I bet your answer is the first page; this is where SEO comes in.
Can the Site123 website builder help you achieve that? The answer is that it covers most of the fundamentals of SEO; the builder enables you to:
Edit 3 metadata fields including the meta title – this is the text that appears under you're a heading Google's search page
Customize your URLs,
Add descriptions and alt text to images
But that's not all;
The Site123 website builder has automatic site mapping, which helps your site be easily scannable by search engines like Google and Bing. In addition, using social media icons in the footer section of your site's pages, you can link out to 25 different social platforms to get more traffic and followers to your social media pages.
What if you had done top of the line SEO implementation with your previous site? Site123 has made everything easy, with its 301 redirects feature.
What are 301 redirects?
It a permanent redirect that takes your old's website users to your current website. This helps you get excellent traffic right out of the gate rather than start over. Simply put, it preserves the acquired search reputation of your site domain.
Lastly, you get access to Google Webmaster tools via Site123's App Store. These tools give you insights on your website, which help you evaluate and identify its strong points, as well as perform maintenance and improvements.
Allow me to nitpick. For advanced users, not everything is catered for; the Site123 builder does not:
Allow embedding live social feeds.
Offer support with keywords
For most of the above optimizations, Site123 provides clear descriptions to help you understand. Valuable for those new to SEO.
On top of that, Site123 SEO advisor tool shows you progress of your optimization efforts every time you do an SEO scan.
Blogging Support With Site123
Site123's blogging support is decent; here's the support you get:
Blog templates
You can easily share your posts on social media
You can schedule your blog posts
Content search feature
You get free stock images and icons you use in your content
Adding an RSS feed is supported, it helps people find your blog
Social bookmarking
Google Analytics for audience analysis
Supports creating and managing forums
Multilanguage translation support ensures your content can be read in multiple languages
Despite all the goodies, if you are looking for a builder that can help you create display categories (sort and control a large amount of blog content), archive, and incorporate a comments section, Site123 falls short. You're better off checking out our SquareSpace Review.
Site123 eCommerce Support
Online stores have become an excellent way for any small business to increase sales or any individual to venture into eCommerce.
That said, what do you say? Are you ready to start your eCommerce store with Site123?
Here are the eCommerce features, tools, and support you get with the Site123 builder
But I am getting ahead of myself.
For starters, the creation process is the same as any other website with Site123; you select your preferred type of store and template. From there, you can start creating different product pages, add your products, descriptions, and images to make them enticing and SEO optimized.
eCommerce stores can only be built using Advanced and Gold plans.
The Site123 builder supports
Managing store inventory – auto or manually
Adding Product categories and displaying related products
Setting custom pricing depending on colour, size and more
Multiple currencies (80):
Payments methods such as PayPal, credit cards, direct transfers, and more…
Easy implementation of Tax and Shipping
Featuring special offers for customers, i.e., discount codes (coupons) which can be sent via social media
Adding 3rd party plug-ins from the Apps to increase your store functionality
Using CTAs (Call To Actions)
What are CTAs?
These are website prompts on a website (buttons or hyperlinks) that encourage a website visitor to complete a specific action like sign up for a newsletter. Using such can help you market products better, e.g., via newsletters.
Some caveats you should be aware;
First, there is limited support for marketing tools, even on the App store. All you get with the Site123 builder is a basic email marketing interface. It's a bummer; you can only build and send simple messages to your subscribers. The email layout cannot be changed.
Second, no automatic invoicing and payment tracking, for such features, you should check dedicated eCommerce builders like Shopify.
Beware:
The free and lowest plans don't support eCommerce stores, to unlock full eCommerce functionality, you've got to be suing 'Professional' and 'Gold' plans.
Site123's Domain Services
Site123 is built to be a one-stop-shop for everything related to building websites; on top of getting free hosting, you can get domain services.
Here's what's possible with this builder.
You get access to a domain search tool to check for the availability of your perfect domain. There over 130 extensions available. Subscribing to a premium plan gets you a free domain name tucked in for your initial website hosting year.
Info
You get domain name suggestions depending on the website name you give when editing the website, make sure you use what you intend your domain name to be based on.
For the free Plan, you can only use a generic subdomain but please don't stick with it. If you've bought a domain from another registrar, you can redirect it to your new website, but only after paying for a plan. (Not possible when using Site123 for free).
Pro Tip
Redirecting your domain is achieved by changing the DNS (Domain Name System) if you think its too technical, you're lucky as Site123 can do this for you.
Site123 Website Security Features and Tools
You should keep away from website builders that don't make security a priority, Site123 is certainly not among them. Security is not an afterthought with this builder; here's how your website is secured.
You get free SSL encryption, which also benefits your how Google treats your website in terms of rankings.
Site123 hosting uses CDN which improves protection against attacks alongside boosting speeds
Site123 has Automated Monitoring implemented in their hosting.
Lastly, you also get a handy autosave feature; it ensures you don't have to keep manually backing up the site, and you can restore to a previous version if you experience problems.
Site123 Pricing (Plans): Is It Worth It?
If you're short on funds, you can use Site123 without paying a cent, although you might run into limitations in terms of resources and features.
You only get:
Free hosting
500MB storage which is quite limited if you plan to use videos and images
Support for up to 10 product orders/month.
1GB bandwidth which might not be enough to handle high traffic
On top of that, you can purchase some other premium add-ons still on the free Plan, which is great to hear. Despite being free, here is what you won't like
Your site is stamped with Site123 branding on the footer section
There are float Ads
No email marketing support
No multiple languages support
Generic subdomain, you cant connect your domain
Despite everything, having a free option is a plus because it helps you try out the site builder, and if you're impressed, you can upgrade and pay for one of the following plans.
Basic: $10.80 / month
10 GB storage
5GB bandwidth
Email marketing is supported: You can send 100 mailing list messages.
The Site123 Footer tag remains
Advanced: $16.80 / month
30 GB storage
15GB bandwidth
A free domain name
2 email accounts with support for 1000 mailing list messages
No float Ads
The Site123 floating tag gets removed from your site
Support for up to 50 product orders/month.
Your website gets automatically translated to different languages depending on the visitor's location.1 more language is supported
Professional: $22.80 / month
90 GB storage
45GB bandwidth
A free domain name
5 email accounts with support for 2500 mailing list messages
5 additional languages are supported
500 orders available per month.
Gold: $28.80 / month
270 GB storage
135GB bandwidth
A free domain name
10 email accounts with support for 10000 mailing list messages
3 additional languages are supported
Unlimited orders / month.
Info:
Compared to other website builders, Site123 charge comparable prices with most competitors.
You get price discounts depending on the contract length of your Plan. The above prices are for annual subscriptions. There's no monthly billing option you can pay upfront for 3 months, 1 year, 2 years, or 3 years. A 14-day money-back guarantee covers all plans where you get a full refund if you're unsatisfied by the service.
Site123's Customer Support
One strong point of using Site123 is that you get one of the best customer support services in the website builders space. You can get in touch via Live Chat available 24/7, even for free users. The agents' response times are decent, in 2 or 3 minutes you get a reply.
What's more, you don't have to leave the page your editing, there's chat bubble available right there. The agents give very helpful answers. Unfortunately, support channels like Phone, and Email aren't supported.
They also have a Help Center where their Knowledgebase is filled with 18 content categories based on Site123 builder features for those who prefer self-help. To improve their content, Site123 includes short .gifs, which help in a further demonstration of the process you're struggling with.
To add on, there is a Support Center FAQ page with more information and if you prefer videos tutorials, you're also covered.
Now, we've reached the end of this site123 review. Do we recommend this website builder?
Yes, this is a decent builder that helps with most of the things you need to set up a website; It has all the features of a great builder. Moreover, with its Apps store, you can easily extend its functionality.
Site123 FAQs – Frequently Asked Questions