New to web hosting? Are you looking for a reliable provider for your business site?
In this guide, we've reviewed the 6 best web hosting services for small businesses you should consider.
I am sure you would agree with me when I say, small businesses and startups just getting on their feet have unique requirements and lack big budgets, which worldwide Enterprises have for their online projects.
If you're also among them, I also know paying a developer to provide continued management for your single site isn't your priority. You are looking for hosting with preferably full management, on an easy to use platform and with the best beginner-friendly tools. And of course, it must be budget-friendly 😊
All providers we've included in this guide fulfill all those needs. Here are the factors we considered:
A provider that's PCI compliant, offering dedicated IPs, unlimited email accounts and bandwidth, free Private SSL, marketing, and SEO tools – essentials of hosting a secure e-commerce store.
Commitment to green hosting- for those businesses which need to meet their green technology goals.
A provider with high reliability and fast speeds. These factors ensure your services are always accessible and have non-delayed access.
Affordable plans that fit the budgets of small businesses
Extra freebies like free domain and SSL certificates, which lower the cost of hosting.
Security – email security, domain name protection, and overall security features to keep your business site and files securely.
Free full management and good customer support to help you with technical problems.
Top 6 Providers With the Best Small Business Web Hosting in 2020
Let's get to it


InMotion is a PCI compliant provider that offers great all-inclusive business shared hosting packages. They are an excellent choice for small business web hosting, and that's why we've given them such a high rating.
Here's why your small business should consider them:
Pros
90-day money-back guarantee
Has PCI compliance and has eco-friendly hosting initiatives
Fast and reliable hosting using free SSDs
Automatic backups with safe application rollback
Free CDN integration, SSL and SSDs
Free marketing credits and SEO tools
Free domain name registration and transfers
Exceptional customer support and good free management service benefits
Free migration without downtime
Cons
Slow account setup and verification for non-US businesses
Hiked renewals
No dedicated IPs
Only Linux based plans
Business-Friendly Features
To get you started with marketing, you're provided with free SEO tools, $150 in advertising credits, and visitor statistics tools. A free domain is also available across the plans.
Unlimited features include bandwidth, disk space, emails, and email storage.
Their best plan for small business web hosting is the Power plan; its ecommerce ready, but if your business starts growing fast, you should upgrade to Premium to get 4X power over Launch plan and host unlimited websites (domains).
Here's what all the plans get you:
Ease of Use for Businesses
To allow you to spend minimal time managing your site and free up business time, they provide full management and tools to ease your workflow such as:
A straightforward drag and drop website builder called BolGrid for fast website creation.
Softaculous 1-click installer with access to over 400 mostly used apps. All the apps have safe application rollback in case you break anything.
3 step installation for Google apps, if your business utilizes the Google Apps suite.
An intuitive cPanel for website management.
Additional management services that will get implemented by their expert team include free website migration, automatic updates for WordPress, and you get 24/7 server monitoring.
Performance and Reliability
InMotion Hosting is committed to keeping your business site online; they got an SLA that credits you with free hosting for non-maintenance related downtime. To give you confidence, they got offer a 99.9% uptime guarantee.
How fast do sites hosted with InMotion Hosting load?
Super-fast, they've implemented lots of speed up technologies such as their in-house built Optimum Cache, use fast SSDs, free CDN integration, and more.
Their security suite ensures your customer files, as well as your site, are shielded from hackers and disruptions.
Free SSL
Real-Time Spam Filtering for your emails
Hack Protection
Automatic backups
Moreover, you're given SSH access to your hosting to protect your information and passwords, while emails get IMAP access to ensure you can use even your mobile to access them securely through Webmail.
InMotion Hosting utilizes highly trained staff to help with hosting problems your business may have. If you're on the Pro plan, you get expedited priority support.
You can reach support staff through phone, support tickets, live chat, Email, Skype, or tap into their Knowledge base for extra support information.
All InMotion plans are risk-free, you get a 90 days money-back guarantee.
Monthly prices are
Launch – $6.39
Power – $8.49
Pro – $14.71


Very popular among users, CloudWays – a Malta-based provider – offers you one of the best business class cloud environments with high availability and reliability to host your small business website.
Think of it this way; you're getting prices similar to those of traditional shared hosting, but with the flexibility and ability to scale at any time using a "pay-as-you-go model".
Wonderful, right? Let's dig a little deeper how you can easily grow your small business with fewer restrictions on their platform.
Pros
1-click backup & restore
Free built-in CDN add-on
A dedicated environment with free IPs
Fast deployment and seamless scaling
Super reliable hosting with terrific speeds
Access to industry's best infrastructures with a free trial allowed for 3 days
Over 5 Cloud Hosting Services where you can choose from over 60 Global data centers
Free SSL Installation
Free 1st site migration
Switching between Multiple databases supported
Fully managed hosting
Cons
Phone support is a premium subscription
No pre-configured email hosting
No website builder
You can't register a domain name on their platform
Relatively expensive
Overage fees charged on DigitalOcean and Vultr servers
Business-Friendly Features
CloudWays uses Google Cloud, AWS, Vultr, DigitalOcean, and more to host your site offering full management. For small business web hosting, we would recommend getting the entry-level plan hosted on DigitalOcean
Unfortunately, they don't have email hosting, but you can easily Integrate other Mail Boxes. If you are willing to overlook that, below are their plans
A feature that will benefit your business right out of the gate is getting a dedicated environment with a free dedicated IP, perfect for hosting secure online stores. In addition, you get New Relic tool Integration for providing you site statistics to help in your marketing efforts.
Resources you get on the entry-level plan include
RAM – 1GB
Processor – 1 Core
Storage – 25GB
Bandwidth – 1TB
CloudWays allows easy scaling if your business outgrows these resources.
Pro Tip
On Google Cloud and AWS servers, you get free on-demand bandwidth.
Ease of Use for Businesses
As mentioned above, CloudWays offers fully managed hosting; you don't have to worry about server management. It's an almost hands-off hosting experience where their team takes care of security upgrades, OS management, and patch installations.
To make everything much easier on your site management role you get:
Access to the CloudwaysBot that you can use to send real-time notifications via Slack, API, and HipChat.
1-click enabled installer over with over 10 apps such as WordPress, Magneto Drupal, WooCommerce, and more supported. You can install unlimited applications to improve site functionality.
An intuitive, simple to use, modernly designed Account Management Dashboard. You can use it for configuring your server, apps and performing easy DNS Management.
Team collaboration supported where you can add and manage team members if you have multiple employees in different locations.
1-Click Server Cloning for backups and site staging.
Advanced Server Management with 1 –click settings changes for tools like you Varnish.
Automated Server & App Monitoring (15+ Metrics).
Performance and Reliability
CloudWays claim they provide 99.99% uptime, which is what you should expect with a cloud environment with auto-healing restarts and high redundancy implemented. However, they don't commit to it with a guarantee or a compensation policy for downtime.
Speed is among CloudWays strong suits; they have insanely fast servers enabled by their optimized stack which got :
Breeze plug-in for improved WordPress performance
Built-in Advanced Caches such as Memcached, Varnish, Nginx server, Redis, and Magento Cache
HTTP/2 and PHP 7 (Pre-configured PHP-FPM) enabled
Over 60 global data centers with global availability to help reduce latency for your customer depending on their location concentration.
In Addition
You also receive real-time updates through Email and even text from the CloudwaysBot. It is a smart assistant that does real-time monitoring of your site's performance 24/7.
You get managed ironclad security to keep your business site safe.
Features include:
Dedicated Firewalls
Automated backups
Regular Security Patching
Two-Factor Authentication
1-Click Free SSL Installation
Getting SSH and SFTP access guarantees you easy yet secure data and file transfer operations.
CloudWays provide 24/7/365 problem-solving for their clients through live chat and online ticketing center with guaranteed 3hrs response.
They also have extensive Knowledge base and an active community forum to share and get information from.
CloudWays use a "pay-as-you-go" structure, which gives you the ability to pay hourly or monthly rates.
Considering their quality of cloud hosting, they are cheap when compared to traditional hosts.
Their hourly rate for the entry-level plan is $ 0.0139/hr which totals to $10/month.
Pro Tip
You get a 3-day free trial without giving your credit card details.

If you are looking for best web hosting for small business in terms of both speed and reliability, SiteGround delivers just that. They have 5 data centers, and they recently moved to Google Cloud to improve their services.
Pros
Free Cloudflare CDN caching integration
Free SSL certificate
Officially recommended for hosting WordPress
Good customer support
Innovative custom software solutions like firewalls and caching plug-ins
Low introductory prices
Free professional site transfer (except starter plan)
Free SiteGround migrator plug-in.
Fast hosting for WordPress and WooCommerce
Free auto daily backups
Cons
No free domain
Paid email spam protection
No dedicated IPs
Expensive compared to other providers
Big price hike for renewals
Business-Friendly Features
With their business hosting plans, you get unmetered traffic, unlimited databases, and email accounts.
The Email Service has important business features and protocols like IMAP for secure access on mobile (Supports WebMail), Spam Expert Protection is available but not free.
The GrowBig and GoGeek are highly recommended since you can host unlimited websites, and they get more resources. They also get the best features for E-Commerce hosting.
Major supported e-Commerce apps supported include WooCommerce, Magento and Prestashop
Ease of Use for Businesses
Be Smart
SiteGround offers the same features for their shared plan, but by choosing a WooCommerce or WordPress plans come with extra advantages tailored to these CMSs.
SiteGround offers beginner-friendly usability and seamless user experience on their platform. Below are the array of business-friendly site management hosting features you should expect:
WordPress sites get fully automated installation and auto-updates.
Managed support provided with patches and updates for plug-ins implemented by their team.
Installations which just takes 1 click.
Access to hundreds of apps to improve site functionality
A User-Friendly Client Area and a cPanel with convenient access to hosting accounts, and domains management and other site tools
Time-saving 1-click Software installer for all major CMSs such as Joomla, WordPress and more
Both Joomla and WordPress toolkits for automation of domain address changes and passwords resetting.
Access to a Weebly site builder.
Freedom to add other team members to your hosting account, if you need to collaborate.
Unique advantages for the GoGeek plan are the ability to white label clients and getting Prioritized Customer Support.
Here's More
White-labelling clients helps developers who build sites for clients and sell them as their own without SiteGround branding.
Performance and Reliability
SiteGround got a super-competitive 99.9% uptime guarantee, its and backed by a compensation plan where downtime to 99.0% gets you 1 month of free hosting credit, for any extra 1% breach you get an additional month
SiteGroung hosting has super-fast speeds from free Cloudflare integration. Dynamic caching using their in-house SuperCacher plug-in. However, it is only available on GrowBig and GoGeek plans.
Security features include:
Custom WAF (Web Application Firewall)
AI-powered free security tools
Free pre-installed SSL
Free daily backups and easy restoration.
On-Demand scheduled backups available for GrowBig and GoGeek
Their customer support team is proficient and swift. Available 24/7, you can reach them using phone, chat, and tickets. They've also got a comprehensive knowledge center.
SiteGround has a 30-day money-back guarantee, but you should note it doesn't cover add ons, renewals, or domains.
Their monthly fees are:
StartUp $0.33
GrowBig $5.95
GoGeek $11.95


iPage is a very suitable platform for hosting your business. With only a single budget-friendly plan, you will be their big focus which ensures you get the best of services.
They have the cheapest plan in this review that's sufficient for the needs of any small business. iPage should be your first choice if you want to save smart & and stick to a tight budget.
Pros
1-year free domain registration
$500 worth of extras
Marketing credits provided
Free SSL certificate
Green hosting (100% powered by wind energy)
Site Traffic Statistics implemented
E-commerce ready plans with great support tools and features
Very secure hosting with top security features implemented
Cons
Not the best speeds
Only 2 Boston-based datacenter locations
Free site builder limited to only to pages
No free site transfer
Significant price increase when renewing
Business-Friendly Features
To get you started after setting up your website, you're given $200 in ad credits, i.e., $100 Google AdWords and $100 Bing credit. On top of that, iPage provide you with Site Analytics to help you optimize your marketing strategy as well as free YP.com listing (it's an online advertising platform).
SEO extra
Optional SEO tools (paid) are available for getting more traffic to your website.
Unlimited features include disk space (under normal usage), domains (websites) MySQL databases, and email accounts. Email features extend to:
Supporting secure Webmail Access
Auto-Responding and Email Forwarding functionality
POP3/IMAP protocols
Personalization with @your domain extension.
What's more, you have 1 GB of Cloud storage and bandwidth is scalable.
Beware
For every mailbox, you have a maximum storage of 500MB or can only host 10,000 email messages, which is fine for most businesses.
Ease of Use and Businesses
On iPage, you get lots of site building tools favourable for non-technical users, which most of the business people are. They include:
Access to 1000s of pre-built and mobile-optimized website themes and templates.
iPage Mobile Optimized Weebly Website Builder for a 6-page website.
Quick and easy installation of e-commerce add-ons and plug-ins. Supported shopping carts are OpenCart, TomatoCart. OSCommerce, PrestaShop, AgoraCart, and Zen Cart.
PayPal Payment Integration for online stores.
FTP manager with easy and secure FTP access.
1-click installs for select CMSs such as WordPress, Drupal, Magento .
vDeck – their intuitive and clean control panel aids in simplification of server, apps and site management.
Site Metrics and traffic analysis as mentioned earlier.
They also have a Premium Site Builder, which helps you implement, ecommerce functionality, coupon codes, more than a 6 pages site featuring modular designs, and lastly, full checkout processing.
Performance and Reliability
iPage speeds are not among the top in the industry, but they fair quite well and are "okay" for hosting for an entry-level Flyer website.
You get a 99.99% uptime guarantee. They implemented load balancing in their server to give you assured performance.
iPage has rock-solid security implementations, which include:
Daily Malware Scans and 24/7 Network Monitoring
Free SSL certificates
Emails accounts get Virus Checking and Spam Filters
SiteLock Security is available for free. Note, it's a paid add on other hosting platforms
Business verification
Nightly backups and restores enabled
iPage provide 24/7 support through phone (2-minute response guarantee), live chat, and email tickets. In addition, you get access to a large Knowledge base full of useful tutorials.
iPage's single plan gets you a 30-day money-back guarantee; If you cancel within 30 days, you get a full refund. It costs $1.99/month but renews at the regular $7.99/month fee.

Only started in 2010, HostWinds came to bring disruption in the web hosting sphere. With their shared business plans, you get premium features that other hosts include as paid add-ons or on their expensive plans.
But that's not even the best part; they charge you to pay low prices compared to the competition.
Do they cut any corners? NO.
If you are skeptical because of their low pricing here's more to help you make a quick decision.
Pros
Quick sign up, setup and upgrade process
A free domain name included
Free website migration service
Free SSL certificate
Very high 99.9999% uptime guarantee
Full management provided
All plans get a free dedicated IP
Attractive introductory prices
Cons
No money-back guarantee, only a pro-rating system
Pricier renewals
Limited security features
Nightly cloud backs backups are not free
Business-Friendly Features
HostWinds's most affordable shared hosting plans are Basic, Advanced, and Ultimate, give you a free domain name for 1 year. If you want to run an online store, you can do it on the even on the entry-level plan as all of them get a dedicated IP and SSL certificate.
Pro Tip
As a business owner who doesn't want their reputation compromised by the illegal actions of another site, the dedicated IP is a big plus you shouldn't overlook.
Other features include unlimited bandwidth, databases, disk space, subdomains, and email accounts (With WebMail access supported)
If you plan on hosting multiple domains (sites), you should get the Ultimate plan. The Basic Plan only gets you single domain hosting while the Advanced plan supports hosting 4.
Ease of Use for Businesses
HostWinds help you to comfortably move to their platform with their free website transfer service. You get full management support for you hosting account plus ease of use tools and features such as
A Weebly drag-and-drop website builder with access to pre-built templates to use
An intuitive beginner-friendly cPanel. – which you can demo on their site- to help you perform tasks such as domain, email, database as well as FTP management comfortably.
A Softaculous installer for performing installs with a single click.
Simple FTP transfers from your computer.
Performance and Reliability
Their speeds are good, but we can't say they are super great. Shared hosting plans get only SSDs enhancements to boost speed; more optimization is available with their next tier plans.
HostWinds are committed to offering your business reliability and online access every time. They've implemented lots of redundancy features in their data center infrastructure, and that's why they give you a 99.9999% uptime guarantee.
Stellar Uptime
Only DreamHost has a 100% guarantee. HostWinds come second, which should give you confidence going with their platform.
The only security feature you get for your specific plan is an SSL certificate.
Don't get me wrong; you're not unsecured; most of their security features are implemented on their networks and servers.
For any technical issues you get, they provide 24/7/365 support. They support live chat, phone, and ticket communication. Furthermore, they also have a Knowledge base for supplementary support resources.
HostWinds use a pro-rated refund policy for all shared hosting plans.
Monthly prices are:
Basic – $3.29
Advanced – $4.23
Ultimate – $5.17


Pros
Best eco-friendly hosting company
Automatic daily backups
Free SSL certificate
Free domain name
Free migration
Full management provided
Ecommerce-friendly plans
Free nightly backups
SSDs with RAID-10
Free CDN integration
Multiple data centers location choices
Scalable computing resources
Cheap plans
Cons
Setup fee charges for monthly billed plans
No uptime commitment
Higher prices for renewals
Business-Friendly Features
GreenGeeks have three plans, Lite, Pro, and Premium. Perks of hosting your business site on their eco-friendly platform include getting a free SSL as well as a single free domain dedicated IP with the Premium plan, which is a valuable addition for ecommerce hosting.
We recommend going with either the Pro or Premium (configured for high performance) as you can host unlimited websites with each. The Lite plan only allows you to host a single website, and it's only configured for standard performance.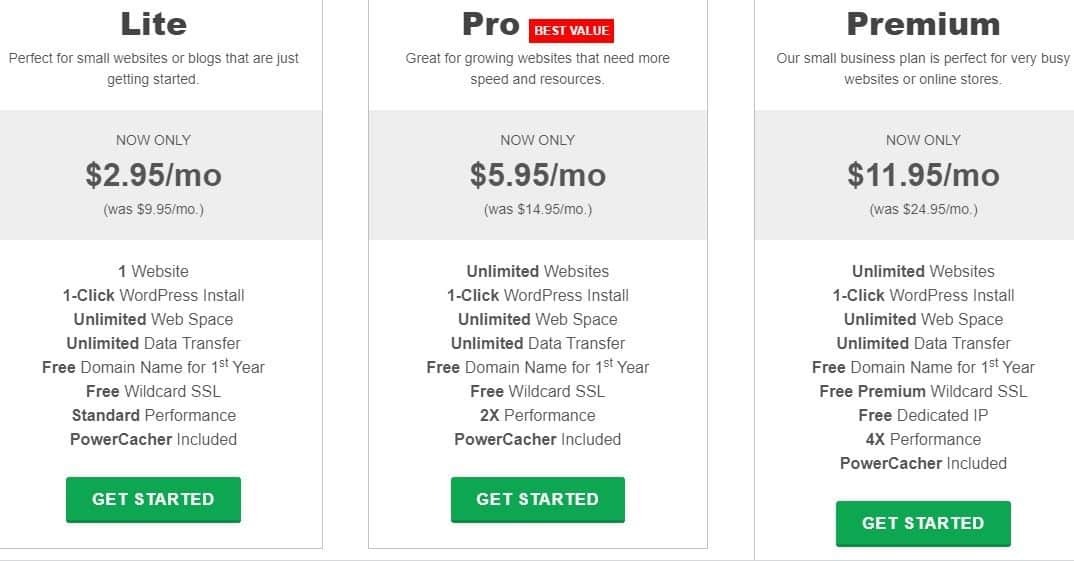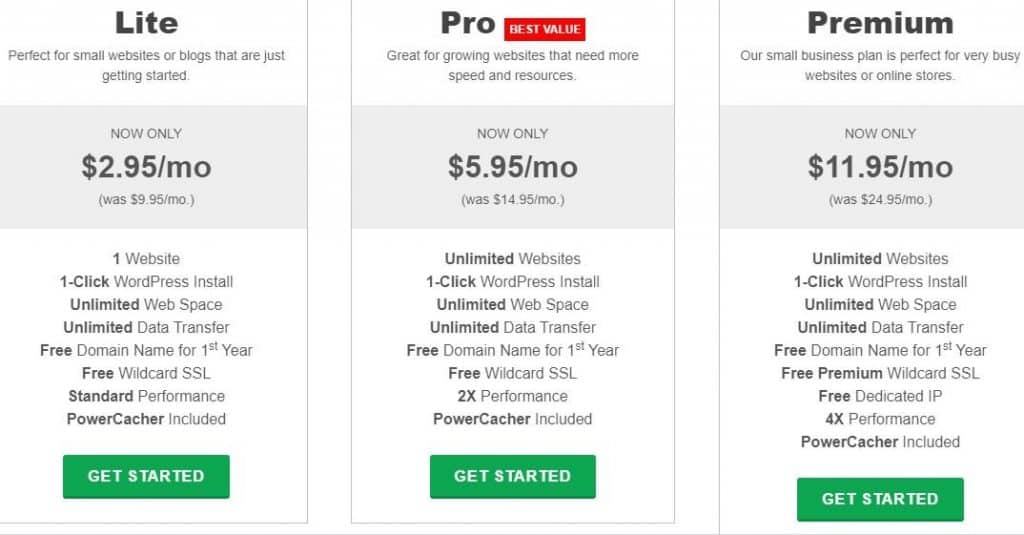 Across all the plans, you get unlimited:
Email accounts,
My SQL databases,
Storage,
Data transfers(bandwidth),
Subdomains,
Parked domains.
For ecommerce hosting, they support apps like Magento, PrestaShop, and OpenCart out of the box.
Ease of Use for Businesses
To ensure their hosting platform competes with the best in the web hosting space in terms of being easy to use and beginner-friendly for inexperienced webmasters, they provide:
Free professional migration to GreenGeeks without major downtime.
A cPanel with Softaculous 1-click app installer and Fantastico script installer integrated. Supported CMSs include WordPress, Drupal, Joomla.
Automatic applications updates.
A free drag and drop website builder for creating websites without any developer experience.
Free installation for WordPress, Magento, PrestaShop, with zero-day security fixes, implemented.
You can request free shopping cart, e.g., OpenCart installation for e-commerce hosting.
Performance and Reliability
GreenGeeks advertise 99.9% uptime. However, there no uptime guarantee that you will get refunded hosting credit for downtime below 99.9%.To make sure you get steady uptime; they've implemented measures to keep their server online through thorough redundancy measures like Hardware & Power Redundancy and use of a Container-based Technology.
When it comes to speed performance, GreenGeeks is no slouch; they provide you with fast hosting. Their speeds are among the top in the small business web hosting industry, and it's no surprise as they include their in-house developed PowerCacher on all plans. Other speed optimizations come from :
Fast SSD storage (RAID-10),
HTTP/2 and PHP 7 enabled servers,
Fast LiteSpeed server and MariaDB databases,
Free CDN Integration.
GreenGeeks do not compromise on security. Their security suite got:
Both Real-Time Security Scanning and Pro-active server monitoring.
Free nightly data backups.
Free Wildcard SSL certificates.
Enhanced Spam protection for all email accounts.
GreenGeeks provides 24/7 expert support via phone, Live Chat, and Email tickets.
When it comes to pricing, GreenGeeks got super affordable prices, and you get covered by a 30-day money-back guarantee. Monthly prices are:
Lite – $2.95
Pro – $5.95
Premium – $11.95.
It's a battlefield out here when it comes to web hosting. Big marketing budgets from web hosting providers and huge affiliate fees paid out play a part in influencing most reviews which might make go with the big names only, who might not even be providing what your infant business project needs.
Our review is an honest one. You can see we have a good balance; we have some big hitters who offer excellent value such as SiteGround as well as disruptors such as GreenGeeks and HostWinds, who offer great services at low costs.
We stuck to the criteria mentioned in the introduction to ensure every host we cover meets almost all those business requirements comprehensively. With all the choices above, you can't go wrong with any, just make sure you check if they tick all the boxes your small business web hosting strategy requires to thrive.
FAQ – Frequently Asked Questions