If you've been having trouble making up your mind, in this BlueHost vs HostGator comparison, we tell you which web hosting provider is better currently.
The fact is, no matter the host you choose between the two, you'll be in good hands.
But since no-one is offering free, I bet you want the best value for your money. Hosting on both platforms to test and try out their services isn't putting your money and time to good use. Don't bother with it.
We've done all the research and testing on your behalf. All you have to do is read.
What can you expect?
You'll find valuable information on plans, free features, customer support, speed, up-time, pricing, eCommerce support and more. These are among the most important features you should look for when choosing a web hosting company.
We've simplified this information as pros and cons for easier and faster reading.
Here is a taste of the content you get below in a summary format.
You've seen what you can expect, want more details?
Let's dive in!
Overall, HostGator comes out as the better web hosting provider in this comparison. HostGator wins in 9 sections vs BlueHosts 4 wins. In 2 sections, they drew.
This is just the short version, continue reading for more.
Before we continue, here's some background on both.
BlueHost was started as 0catch.com in 1996; it was only offering free web hosting then. BlueHost (as a brand) got established in Provo, Utah (2003) by Danny Ashworth and Matt Heaton. Its main data center is still located there, but the headquarters got moved to Burlington, Massachusetts.
On the other hand;
HostGator has been around from only 2002 when Brent Oxley, a University student then, came up with an idea of starting a web hosting company in Florida. The company has seen tremendous growth and has become a household name in this industry.
Here the thing; both companies have changed ownership over the years and are currently owned by Endurance International Group (EIG). EIG is a conglomerate that owns a lot of top web hosting companies around the globe.
BlueHost has 750 employees and hosts over 2 million websites, while HostGator hosts over 10 million domains and has 850+ employees. As you can see, these are pretty big, reliable and hugely popular companies.
Remember, being big doesn't translate to being better; below, we look at their plans and what you get.
BlueHost and HostGator offer very similar services. Who offers the type of plan you want? Check for yourself below
BlueHost Plans – shared hosting, managed WordPress hosting, VPS hosting, dedicated server hosting, and reseller hosting.
HostGator Plans – shared web hosting, managed WordPress hosting, Windows-based plans, VPS hosting, Cloud hosting, dedicated server hosting and reseller hosting.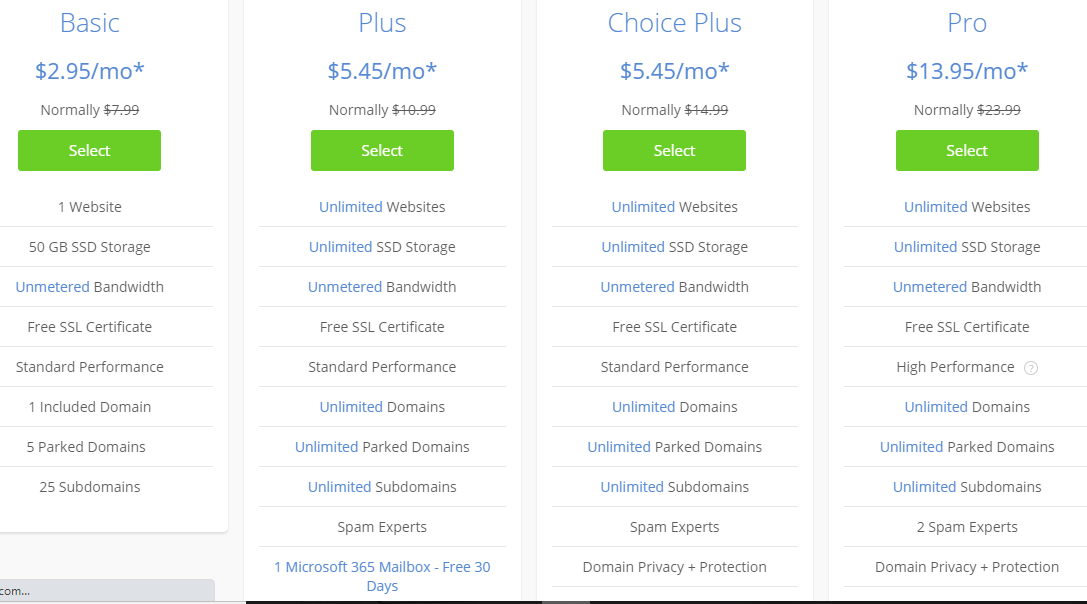 It's hard to make a case for BlueHost here, their plans cost more, and the best free features are only available with the highest plans. For the entry-level, BlueHost's basic plan is quite gimped compared to the Hatchling plan on HostGator, which has a couple of unlimited features.
Most of the freebies on both platforms are almost similar except for the minor differences of extras offered with the most expensive plans.
All in all, excellent value can be found on HostGator's platform for every price point.
Verdict: HostGator Wins
For the ultimate WordPress hosting experience, we recommend going with BlueHost. They offer comprehensive managed support, lots of beginner-friendly tools, and more extras than HostGator. Furthermore, you get premium marketing and SEO tools.
If you're planning to add WooCommerce to your site, even better, they support you with lots of free services like the pre-installation of eCommerce tools. They also plan-specific priority customer support access, and essential developer tools are provided.
Main downsides? No free automatic guaranteed backups and WordPress site migration.
So, how else does HostGator lose this section?
The lack of site staging, disallowing some plugins, and not having extensive managed support, e.g., no WordPress pre-installation service. As a note, their prices are significantly lower, but it's easy to see why.
Verdict: BlueHost Wins
BlueHost plans are all Linux-based, Windows hosting is only available with HostGator. Check our in-depth HostGator review for more on their Windows plans.
Still, only HostGator has Cloud hosting plans. If you're looking for Cloud hosting, they are the default option in this BlueHost vs HostGator comparison.
In this section, roles reverse. You get more features (lots of unlimited), server resources (storage), freedom, and flexibility, i.e., root access, a superior backup solution, and you can even add RAM to your server, something not available on BlueHost. To make it all interesting, HostGator's plans are cheaper.
BlueHost's plans have managed server support. Is it worth to give up root access?
Well, it depends on what you want.
One common downside is neither host mentions a free SSL certificate, but at least you get a free domain on BlueHost.
In terms of overall value, HostGator delivers.
Verdict: HostGator Wins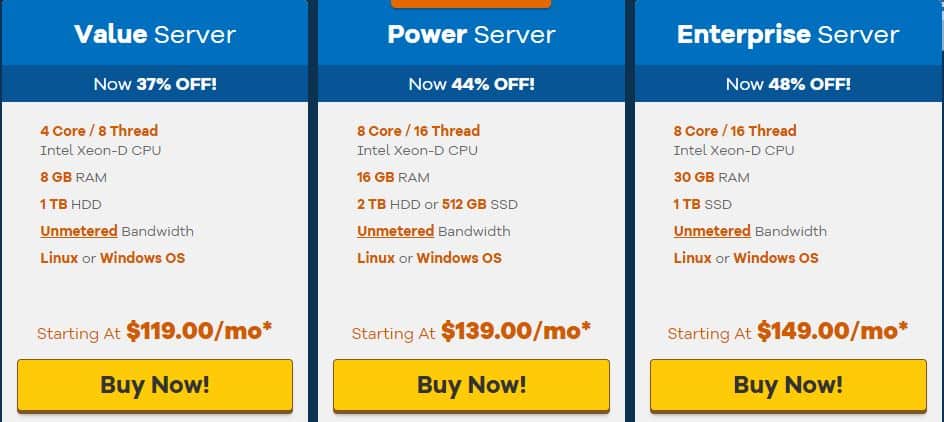 In terms of dedicated server web hosting, BlueHost and HostGator are both excellent. They simplify everything by offering only three plans.But when going head to head, everything HostGator provides gets matched by BlueHost (except Windows Hosting).
Additionally, BlueHosts plans are cheaper; you get more storage space, dedicated support, and freebies such as a domain name and SSL certificate not provided by HostGator.
BlueHost proves better in this section.
Verdict: BlueHost Wins
Renewals Prices/year for BlueHost Domains:
.com $17.99
.us $15.99
.info $15.99
.net $18.99
.org $17.99
.biz $16.99
Renewals Prices/year for BlueHost Domains:
.com $17.99
.us $17.99
.info $17.99
.net $17.99
.org $17.99
.biz $17.99
You won't be losing out in terms of a free domain with either BlueHost or HostGator, but with BlueHost, you get a domain-add on for free. However, all this value gets undone by requiring you to pay an activation fee for your domain and no free domain transfer like HostGator.
The rest of the domain tools and features are the same irrespective of who you chose.
We recommend going with HostGator as your registrar because their prices are better than BlueHost's.
Verdict: HostGator Wins
The BlueHost managed support for their plans is so good that the benefits stretch to eCommerce support. They hit two birds with one stone. BlueHost support lots of store apps, but WooCommerce, which has dedicated plans, will give you the best shop hosting experience. All those marketing and SEO tools, Jetpack licenses, PayPal integration, Ad credits, and more, we mentioned earlier trickle down to this section.
However, their platform is not PCI- compliant (same as HostGator), Private SSLs and Ad credits have conditions to be met. HostGator requires none of such, but that doesn't mean HostGator is better. They lack payment integration and provide minimal managed support for store apps.
BlueHost is still better despite its few shortcomings.
Verdict: BlueHost Wins
With BlueHost lack of investment in environmentally friendly hosting, it is a big red mark that disqualifies them in this section.HostGator is the go-to hosting provider if you, your business has eco-friendly goals to meet.
Verdict: HostGator Wins
With HostGator having higher up-time scores than BlueHost and an up-time guarantee that ensures you get compensated if they breach their promise, you'll be in better hands on their platform. If you run a website that depends on visits to make revenue, it will be available longer on HostGator than BlueHost.
The fact that BlueHost keeps information on their infrastructure private and doesn't have an up-time guarantee to adhere to, make's us shy of recommending them even though they have decent up-time scores.
Verdict: HostGator Wins
Here are the best average site loading speeds on each platform tested with a premium multipurpose theme:
Bluehost: 2.76 seconds
HostGator: 1.38 seconds
As you can see, HostGator doesn't take speeds as an afterthought; they don't shy from implementing speed-boosting features. Even better, most of their plans are hosted in a cloud environment that offers faster speeds.
All in all, both are not in the same class as the fastest web hosting providers.
Verdict: HostGator Wins
I know I am repeating myself, but the awesome managed support by BlueHost also influences their wins in this section. It is a big welcome for beginners and makes everything easy for everyone hosting a website with them. Adding that to their intuitive cPanel and clean customer area with all the functions you need, they are much better than HostGator.
Their onboarding service for beginners makes sure you grasp everything on their platform easier and faster. You also get two – not one – website builders to help you build your websites quickly. However, you only access them for a trial period.
The lack of a Softaculuos installer, and free website transfer service that is offered by HostGator, swing the advantage back to HostGator favor but it's not enough to topple BlueHost. To add on, HostGator's platform and tools are clunky, not as intuitive as BlueHost's.
As a beginner, you will have a better experience on BlueHost.
Verdict: BlueHost Wins
Just looking at the features, programming languages, modules, and technologies offered, HostGator's support is more comprehensive. In fact, they cover everything BlueHost supports on its platform and even Microsoft developer technologies (features and tools) for their Windows-based plans.
Both platforms lack support for developers' collaboration, but HostGator even misses a Site staging environment, another very essential tool. This really puts a red mark on them but looking at the bigger picture; they are still better than BlueHost in terms of developer support.
Verdict: HostGator Wins
Despite their claims, neither provider has excellent backup and restore features out of the box. We recommend just getting an add-on for that.
Most of the security features and tools provided by BlueHost cover only the basics (email pam protection, SSL certificates, 2FA authentication etc.); it's as if they are forcing to go for add-ons.
But HostGator is different, they have custom WAFs for providing DDoS protection, and you get Automatic Malware removal tools, which makes them win here.
Verdict: HostGator Wins
BlueHost Plans Prices/Month:
Shared Hosting – Basic $3.95, Plus $5.95, Choice Plus $6.95, and Pro $13.95
Managed WordPress (WP Pro) – Build $19.95, Grow $29.95 and Scale $49.95
VPS – Standard $19.99, Enhanced $19.99 and Ultimate $19.99
Dedicated Servers (managed) – Standard $79.99, Enhanced $99.99, and Premium $119.99.
HostGator Plans Prices/Month:
Shared Hosting – Hatchling $2.75, Baby $3.95 and Business $5.95
Managed WordPress – Starter $5.95, Standard $7.95 and Business $9.95
VPS – Snappy 2000 $19.95, Snappy 4000 $29.95 and Snappy 8000 $39.95
Dedicated Servers – Value Server $119.00, Power Server $139.99 and Enterprise Server $149.00
Both platforms have a few things in common; they give enticing first contract discounts (depending on the length of the contract), upsell add-ons consistently, and increase prices during the plan renewal, which also happens with most of the web hosting industry hosts.
Across the plans, the majority of them are cheaper on HostGator. They also offer a monthly billing option that is not available on BlueHost.
Verdict: HostGator Wins
If you check the pros and cons of both providers in this section, they tell the same story. We strongly believe that they use the same outsourcing company to provide customer support. Remember, EIG owns both BlueHost and HostGator.
That said, we cannot recommend any customer support department because they both lag behind most of the web hosting companies in the industry.
Verdict: It's a Tie
Despite HostGator giving you a more extended trial period, i.e., moneyback guarantee, they have downsides that don't instill confidence when it comes to getting your money back. They are poorly rated by the Better Business Bureau, take longer to process your refund, and don't refund payments made with most of the popular payment methods.
BlueHost has a shorter refund period, but you will have a smoother experience. Most of the problems with HostGator aren't there.
This section is quite tight; there's no clear winner.
Verdict: It's a tie
With such an in-depth BlueHost vs HostGator comparison, we believe you now have a clearer picture of how fare against each other.
Who do we recommend?
HostGator wins in very important sections though usability, not the best. If you want extras, features, online store support and exceptional ease of use, go with BlueHost. If you want faster speeds better up-time, green hosting, and top-notch developer features, HostGator is the better option. Overall, HostGator is still better as we mentioned earlier.